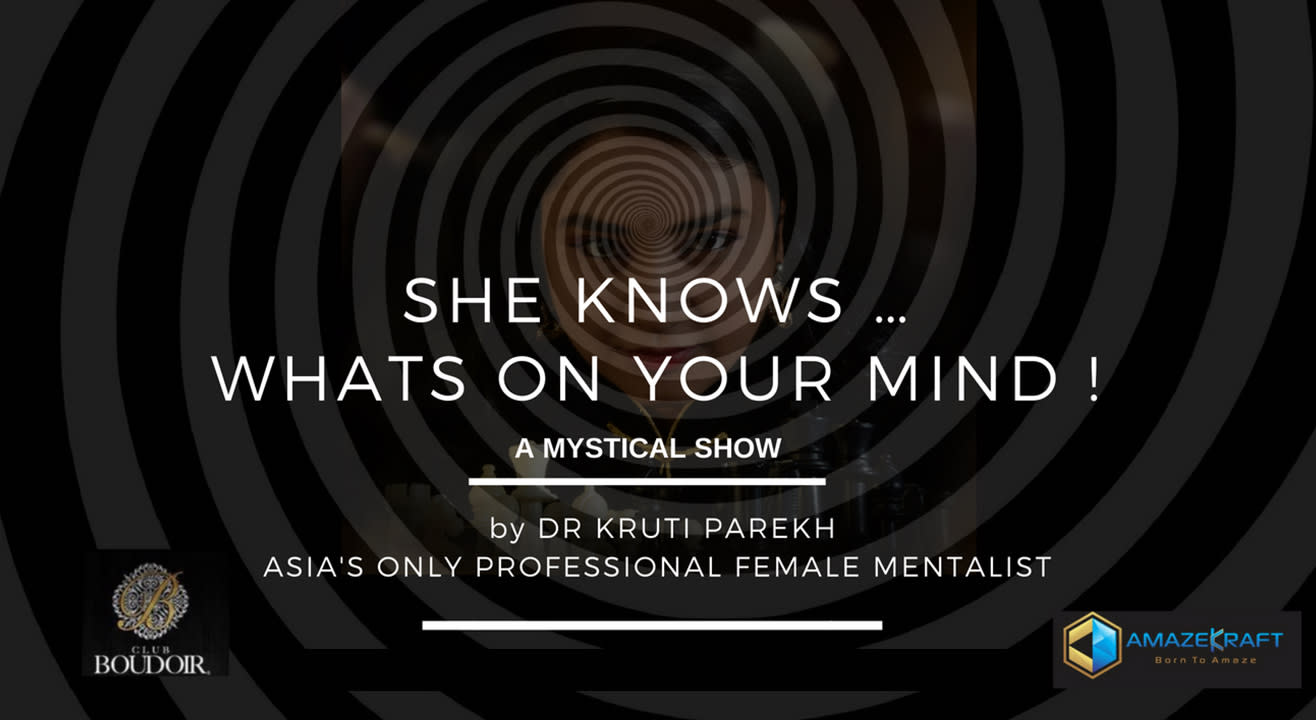 Other
She Knows … Whats on your Mind …
About
Do you want to know what your girlfriend / boyfriend /wife / husband , thinks about you or what's on their mind ? …. Be there with him/ her …. You may just get lucky!
A truly international performer with an Indian heart is now out with her new show , where she amalgamates human behavior , psychological techniques , Telepathy , ESP, with the art of magic to create her whole new magic genre of amazing , hilarious and memorable entertainment .
A mystical magical entertainment show By Dr Kruti Parekh , Asia's only professional Female mentalist and a celebrity in her own right. She will read your mind , predict the future , & demonstrate other mental phenomena . You can experience the acts yourself or just sit back and enjoy the invasion of the minds of other people . All this will happen right in from of your eyes ….
Dr. Ms. Kruti Parekh is a star performer ,Asia's only professional female mentalsit Corporate Speaker ,A Young Mind Genius ,an I.T engineer , World's Youngest artistic Illusionist , and a Phd in Magical entertainment and humanities . She surely wears many hats. And truly an inspiring youth icon . She also happened to be one of india's first test tube babies … so She has been magical from her birth .

She has also been a Jury Member for Children's Nobel Prize . She has conducted her Shows in More than 25 countries of the world and been presenting her talent to Emperor and Empress of Japan , Queen of Sweden , Prime Minister of Australia , Premier of China to name a few .

A truly international performer with an Indian heart is now out with her new show " She knows … whats on your mind … where she amalgamates human behavior , psychological techniques with the art of magic to create her whole new magic genre of amazing entertainment . You will be smitten by her infectious energy levels and a stint of positivity and mystery which forms her persona .

Winner of : Best Speaker Performer in the World , Global Event Awards 2016 Sophia , Bulgaria
Iconic leader Awardee at World Forum , The Hague , Netherlands 2017
National Youth Award Winner 2013
Venue
Club Boudoir,Kolkata
Shakespeare Point, 3rd Floor, Near Bhajanlal's, 40 Shakespeare Sarani, Elgin, Kolkata, West Bengal 700017