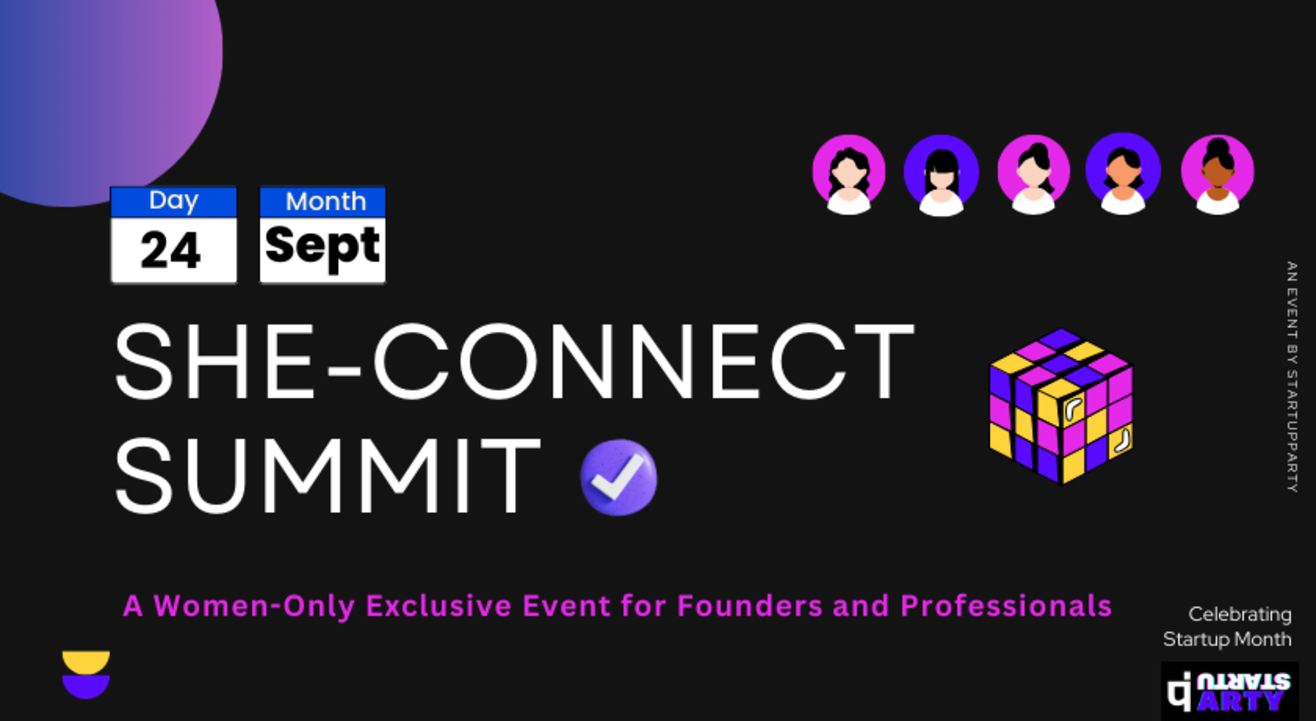 Event Guide
Game
Participate and have fun
Invite your friends
and enjoy a shared experience
Event Guide
Game
Participate and have fun
Invite your friends
and enjoy a shared experience
Event Guide
Game
Participate and have fun
Covid 19 Safety Measures
This event adheres to the following

Health & safety measures
Invite your friends
and enjoy a shared experience
Covid 19 Safety Measures
This event adheres to the following

Health & safety measures
🌟 A woman with a voice is by definition a strong woman, but the search to find that voice can be remarkably difficult. Though a safe & empowering space that celebrates women founders & professionals can be a wonderful start and She-Connect Summit is just that.
We're breaking the mold and shaking things up with a day of epic connections, fun games, and hilarious activities that'll leave you wondering why the events weren't always this fun! 🤩
So what's gonna happen at She Connect Summit -
Funky Icebreakers: Forget the awkward handshakes and small talk, share laughs and bond like long-lost BFFs. 🤝
She Circle: Play games in a circle with a whirlwind of incredible women who are changing the game! 💨
Playful Challenges: Bring out your inner boss babe while ensuring loads of giggles along the way.🏆


💌 An-Invite Only Event - Because we're all about keeping it intimate and extraordinary by inviting the right kind of people. So you will get the chance to build connections with handpicked women. Fill out the form and tell us about yourself, best individuals will be filtered out based on their answers and will get an official invitation.
🎟️ A Totally-Free Event - It's free for all, with no strings attached and it's an advertisement-free, sponsorship-free space truly dedicated to bringing women together to build meaningful connections and helping each other grow.
🎁 Special Gift - The women who will be selected to be invited to the She-Connect Summit will get the chance to become a member of StartupParty Community, an invite-only & not-for-profit community.
🎯 Startup Month - StartupParty is celebrating September '23 as Startup Month and organizing 4 specially-designed events with creative themes, She-Connect is one of them. Other events are Founder's Cypher, Shark Tank Games & Product Showdown. Visit StartupParty's website to know more about Startup Month
What's StartupParty BTW🤨
🚀 StartupParty is a super-cool community of founders and Startup Enthusiasts. More than a Community, we are a community-building movement being created in the 20 cities of India. We have created a unique social experience called StartupParty which is one of the biggest Startup Events in the country, it happens once a month along with curated events like Startup Hangouts and Community Initiatives such as Post Box, Startup Killer, etc. 🏙️🎈
Everything at StartupParty Community is end-to-end free for all forever, StartupParty is for the love of Indian Startups! 💗🇮🇳
It is something that has never been created before, it took around 18 months of research involving successful founders, investors & clinical psychologists to create StartupParty, visit StartupParty's Official website to know more - https://cutt.ly/L5rcuRP ⏪
She-connect Summit is an invite-only event by StartupParty
Know more about us - Startupparty.in
koramangala
XJJ5+V8H, Commercial Street, Tasker Town, Shivaji Nagar, Bengaluru, Karnataka 560001, India
GET DIRECTIONS
Event Guide
Game
Participate and have fun
Invite your friends
and enjoy a shared experience