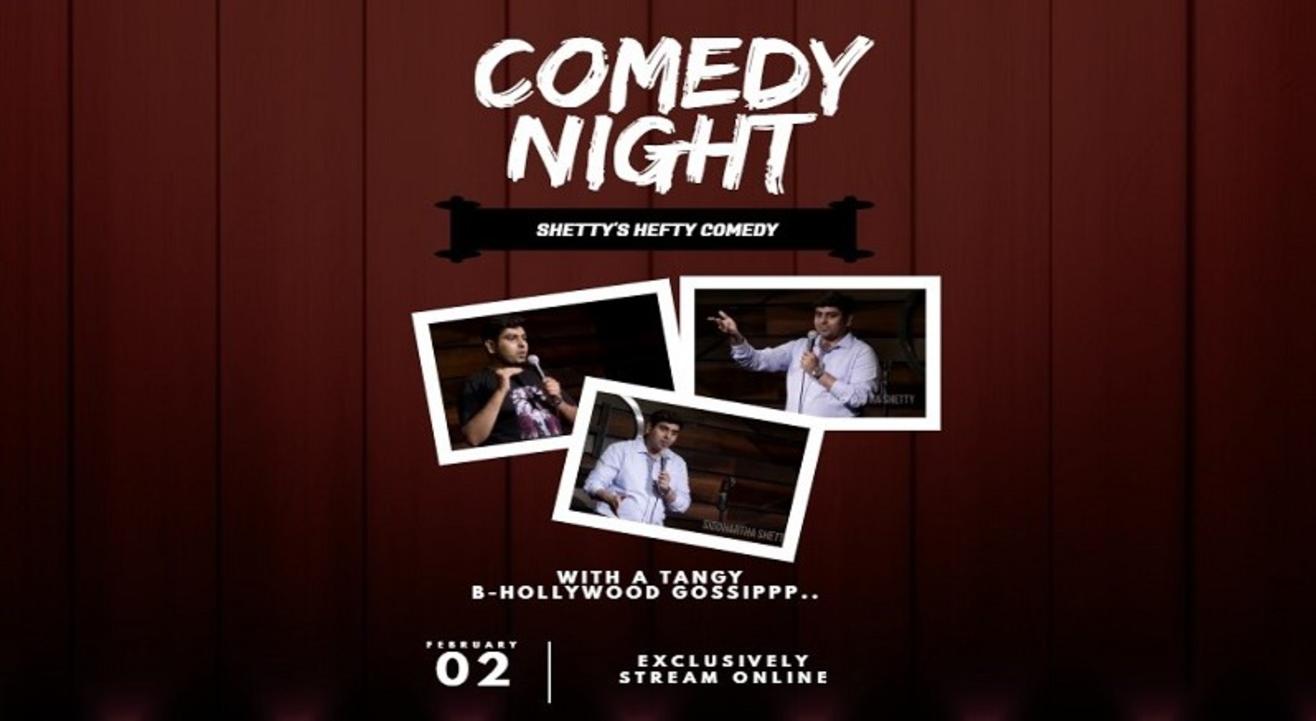 Invite your friends
and enjoy a shared experience
Invite your friends
and enjoy a shared experience
About the Event
ABOUT
Tangy B-Hollywood Gossippp: Shetty's Hefty Comedy
First ever Online Comedy show where you can enjoy the Freedom of your house
Watch the show live (Online),
Ask Questions , Joke , Have fun with the Artist as well as the audience.
Buckle up your stomach for a humongous comedy treat.
ARTIST
Siddhartha Shetty
This time it'll be more than just a Standup
Witness exotic flavours of Tangy Gossippp nobody has witnessed ever.
Terms and Conditions
Age limit 13+
Internet handling fee per ticket may be levied, please check your total amount before payment.
By registering and making a payment you agree that all details provided are accurate, any change in details will result in cancellation of registration.
All participants have to join the show link provided at the scheduled time.
Tickets once booked are non-exchangeable or non- refundable.
No video recording or any malicious behavior will be tolerated in any case.
Any unethical measures used in Trivia will lead to immediate ban of the participant
FAQs
Q. How to watch the Comedy Show?
Every participant will receive the Online Platform link where they can watch the show live
Q. What happens if Im late for the show?
You can watch the repeat telecast of the show the next day
Q. What happens if the internet connection is suddenly lost during the show?
You can join in again at any point of time during the show
Q. Will there be interactive session with the Artist?
Yes
Q. How will we play Trivia Game?
You will play the trivia game through an online platform whose link will be shared to every participant after registration
Q. Where to find sample of the trivia game to be played?
You can watch the sample trivia game in our instagram and facebook page
Q. How will I receive the winning amount?
Winners will receive the prize amount via Paytm/UPI/Bank transfer
Q. How to contact the helpline?
You can contact the helpline at 9934932552 and also our instagram and facebook page
TRIVIA
Trivia Prize details
1st prize- 25,000 INR
2nd prize- 10,000 INR
3rd prize- 5,000 INR
4th prize- 3,000 INR
5th prize- 2,000 INR
6th- 10th prize- 1000 INR
11th-25th prize- 500 INR
TRIVIA Rules
Trivia is based on guessing game where you have to guess the hindi movie names from the given clue
Trivia will feature 2 rounds
Round 1
A 100 people groups will be formed
20 Trivia questions will have to be answered within 10 seconds for each question.
Trivia will feature Multiple Choice Answers where one is correct
Top 10 Players from each group will be declared as winners
Round 2
A 100 people group will be formed
20 Trivia questions will have to be answered within 10 seconds for each question.
Trivia will feature Multiple Choice Answers where one is correct
Top 25 players will be declared as winners
TRIVIA Timing
Round 1
09:30 PM - 10:30 PM on 2nd February 2020
Round 2
10:30 PM on 2nd February 2020
Virat Kohli aur Sarfaraz Ahmed | Stand Up Comedy by Siddhartha Shetty