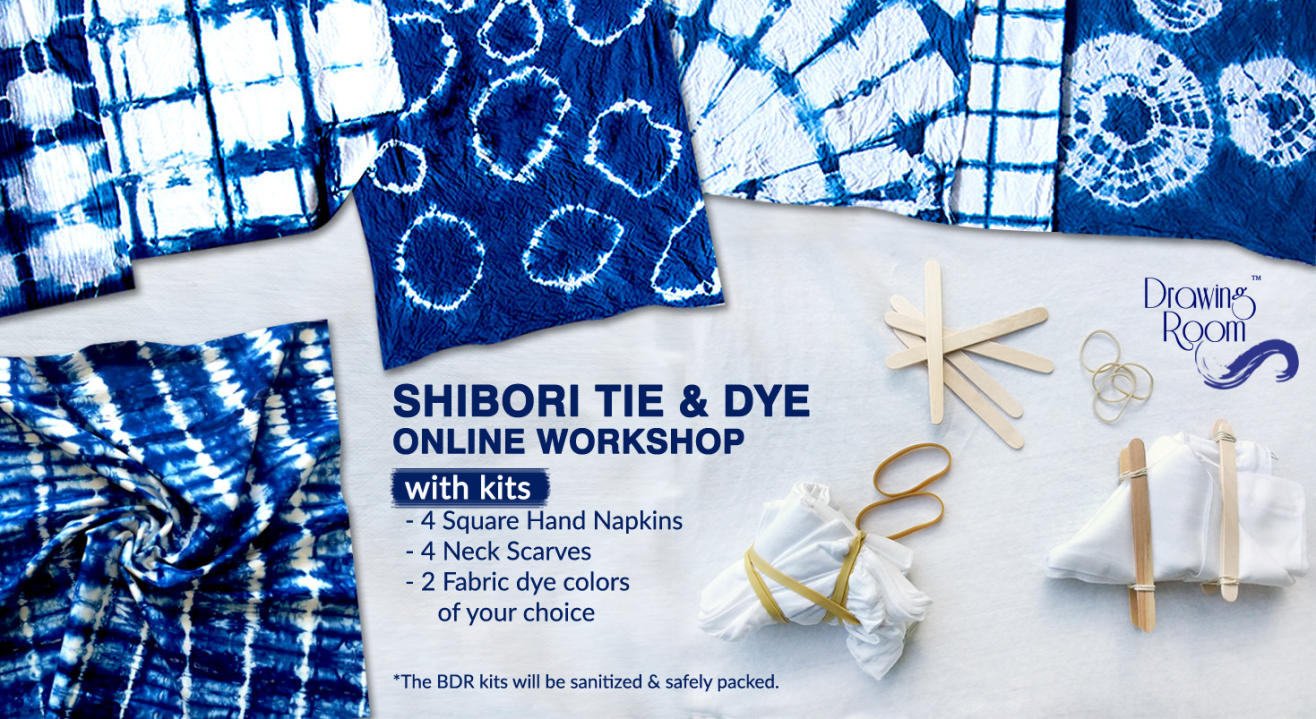 Shibori Tie & Dye Online Workshop with Home Delivered Kits by Drawing Room
Enjoy this event from your home
Invite your friends
and enjoy a shared experience
Invite your friends
and enjoy a shared experience
About the Event
Pan India Home delivered Shibori Tie & Dye Kits, with workshop
The Drawing Room is very happy to bring you the Shibori Tie & Dye workshop with home delivered kits.
Get ready to create 4 neck scarves and 4 square napkins.
Shibori is the ancient art of resist-dyeing techniques that have been around almost as long as civilization itself. Many cultures have contributed techniques to this ancient craft. Perhaps none have contributed as widely as the Japanese, who began developing their methods, known as shibori, as early as the 8th century.
Tie-dye is a method of tying or stitching fabric together to prevent the absorption of dye to a particular area, dyeing is the process of applying color on cloth to produce a design.
The design obtained from the placement of the pleats, stitches and ties can never be an absolute means of predetermining the final visual result. That's the beauty if it all!
We will cover the techniques of
- tying
- clamping
- folding
- honeycombing
- pipe binding
You need to book the event a week prior for you to reach the kit on time. If the kits reach a little later, you can always attend the next Shibori Tie & Dye workshop !
Date : 23 Jan, Saturday
Time : 5.30 PM - 7.30 PM
Venue: On Zoom, at your place!
Ticket : 2600/- Per Person (4 neck scarves, 4 square napkins, 2 fabric dye colors & delivery charges)
Age: 13+ years
Call 9619273009 for offline booking and queries.
Pre-registration compulsory!
Stay Home, Stay Safe & Paint!
Please Note:
The price of the session is 2600/- per person. If 2 people are joining over a single call, 2 tickets need to be booked.
Please ensure you give an accurate WhatsApp number while booking the ticket. The artist will get in touch with you over WhatsApp 30 mins prior to the session and share the zoom meeting link.
Kindly make sure your internet speed is good enough for Zoom Video Call at the workshop time.