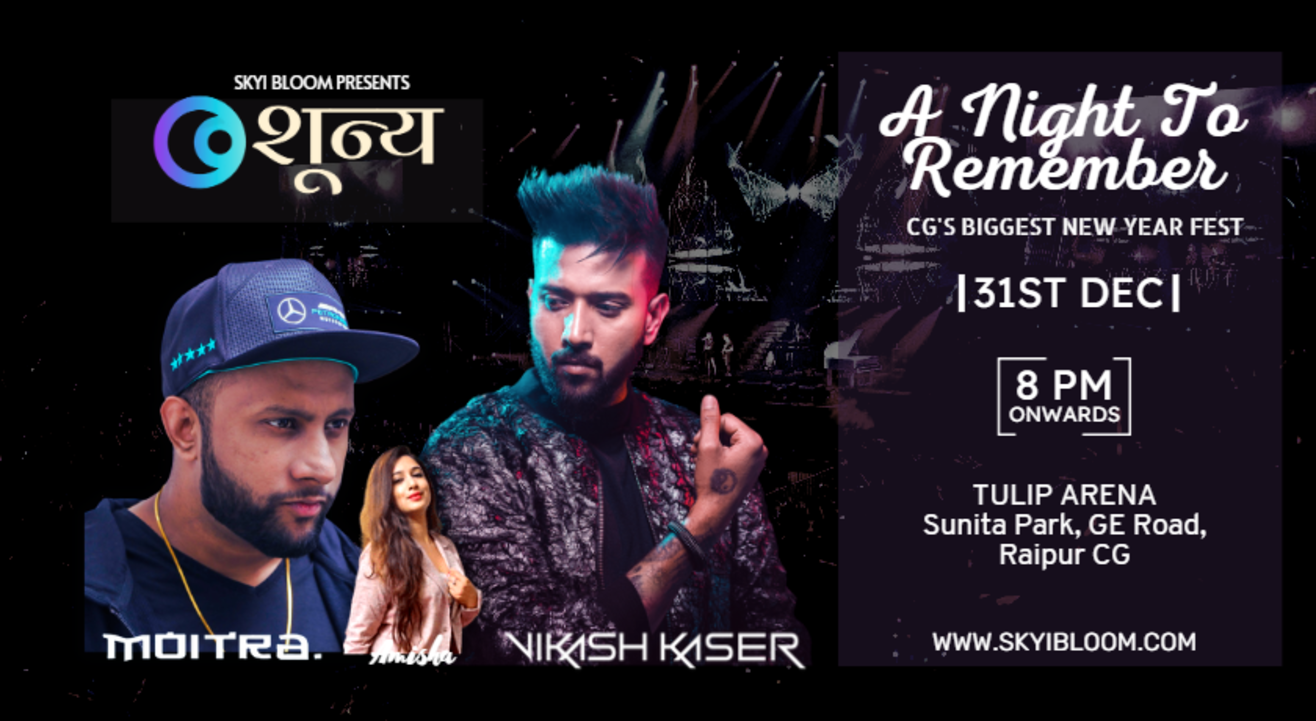 December 31 | 8PM - January 1 | 12AM
Tulip Arena | Hotel, Club & Events by SGL |, Raipur
Event Guide
Celebration
Fun times ahead
Invite your friends
and enjoy a shared experience
December 31 | 8PM - January 1 | 12AM
Tulip Arena | Hotel, Club & Events by SGL |, Raipur
Event Guide
Celebration
Fun times ahead
Invite your friends
and enjoy a shared experience
Event Guide
Celebration
Fun times ahead
Invite your friends
and enjoy a shared experience
Under SHOONYA - Unlimited Music, the upcoming New Year's Eve would be Chhattisgarh's biggest musical event with complete fun filled package for the night.
The Event would be open-air musical night packed with DJ and dance troop performances, crowd cheering by Anchor along with availability of Lip-smacking food and assorted drinks at the venue itself.
Top class security with CCTV surveillance would be provided.
Terms & Conditions
• Ticket prices are inclusive of GST.
• We have a strict No-Drugs policy at the event. No illegal substances or narcotics will be allowed or tolerated.
• Possession of Narcotics and other illegal substances are strictly prohibited and any such activity will be subject to rigorous legal action.
• Please carry a valid ID proof along with you. Age Limit: 18+.
• No refunds on purchased ticket are possible, even in case of any rescheduling.
• Security procedures, including frisking remain the right of the management.
• No dangerous or potentially hazardous objects including but not limited to weapons, knives, guns, fireworks, helmets, lazer devices, bottles, musical instruments will be allowed in the venue and may be ejected with or without the owner from the venue.
• The sponsors/performers/organizers are not responsible for any injury or damage occurring due to the event.
• People in an inebriated state may not be allowed entry.
• Organizers hold the right to deny late entry to the event.
• Venue rules apply.
• Jurisdiction limited to Raipur only
Tulip Arena | Hotel, Club & Events by SGL |
Tulip, Sunita Park, G.E Road, Labhandih, Chhattisgarh 492006, India
GET DIRECTIONS
December 31 | 8PM - January 1 | 12AM
Tulip Arena | Hotel, Club & Events by SGL |, Raipur
Event Guide
Celebration
Fun times ahead
Invite your friends
and enjoy a shared experience