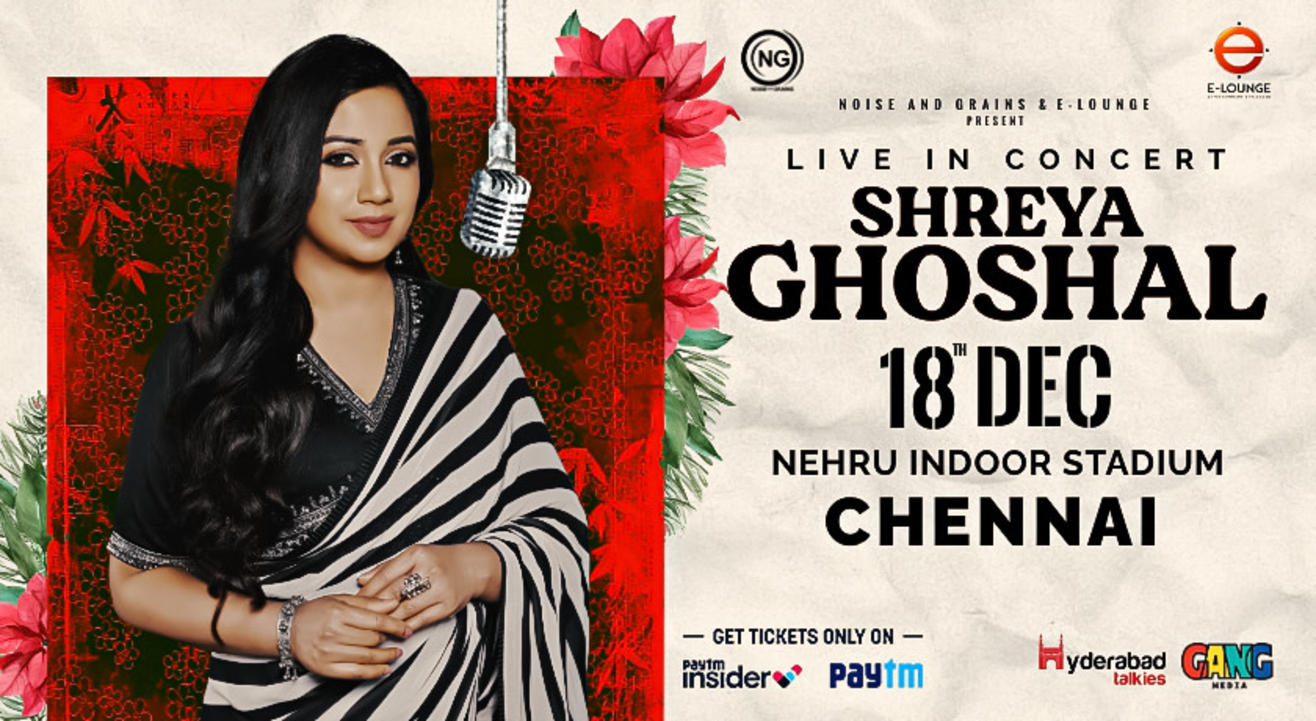 Shreya Ghoshal - Live In Concert | Chennai
Jawaharlal Nehru Stadium, Chennai
Step out and enjoy this event
Event Guide
Live Performance
Enjoy a unique experience
Invite your friends
and enjoy a shared experience
Shreya Ghoshal - Live In Concert | Chennai
Jawaharlal Nehru Stadium, Chennai
Step out and enjoy this event
Event Guide
Live Performance
Enjoy a unique experience
Invite your friends
and enjoy a shared experience
Event Guide
Live Performance
Enjoy a unique experience
Invite your friends
and enjoy a shared experience
Touching hearts and mesmerising souls wherever she goes, critically acclaimed Indian singer Shreya Ghoshal is once again set to land in Namma Chennai after 6 Years. Noise and Grains & E - Lounge, together welcomes you all to celebrate 20 Years of Shreya Ghoshal and enjoy the live performance like never before.
FAQ's
Q. Are Covid-19 protocols mandatory ?
Yes, as per the current GOI guidelines.
Q. Is this a standing or a seated show?
Seated show. The concert has multiple categories of ticket options that grant you entry to a seated area.
Q. Will I get a refund if I cancel my ticket?
No
Q. Is there an age limit to attending the concert?
Age Limit - 5 and above.
Q. Is the concert family-friendly?
Yes
Q. Is there an age limit to attending the concert?
We wouldn't want anyone to miss out on this amazing experience. A few things to keep in mind though, children up to the age of 5 years can enter for free but no seating may be provided for them. Children above 5+ age will require a ticket. Due to the live band performance event, all parents/guardians are requested to bring their kids at their own discretion. If you are under the age of 16, you will need to be accompanied by an adult guardian.
Q. Will there be a parking facility at the venue?
Limited parking only
Q. Will photography or videography be allowed?
No professional photography/videography will be allowed at the concert
Q. Will food, beverages & alcohol be available at the venue?
Yes, food and non-alcoholic beverages are available at the event.
Q. When will the concert start?
Gates will open at 4 PM, and the show will start at 6 PM
Q. Is ticket shift allowed?
No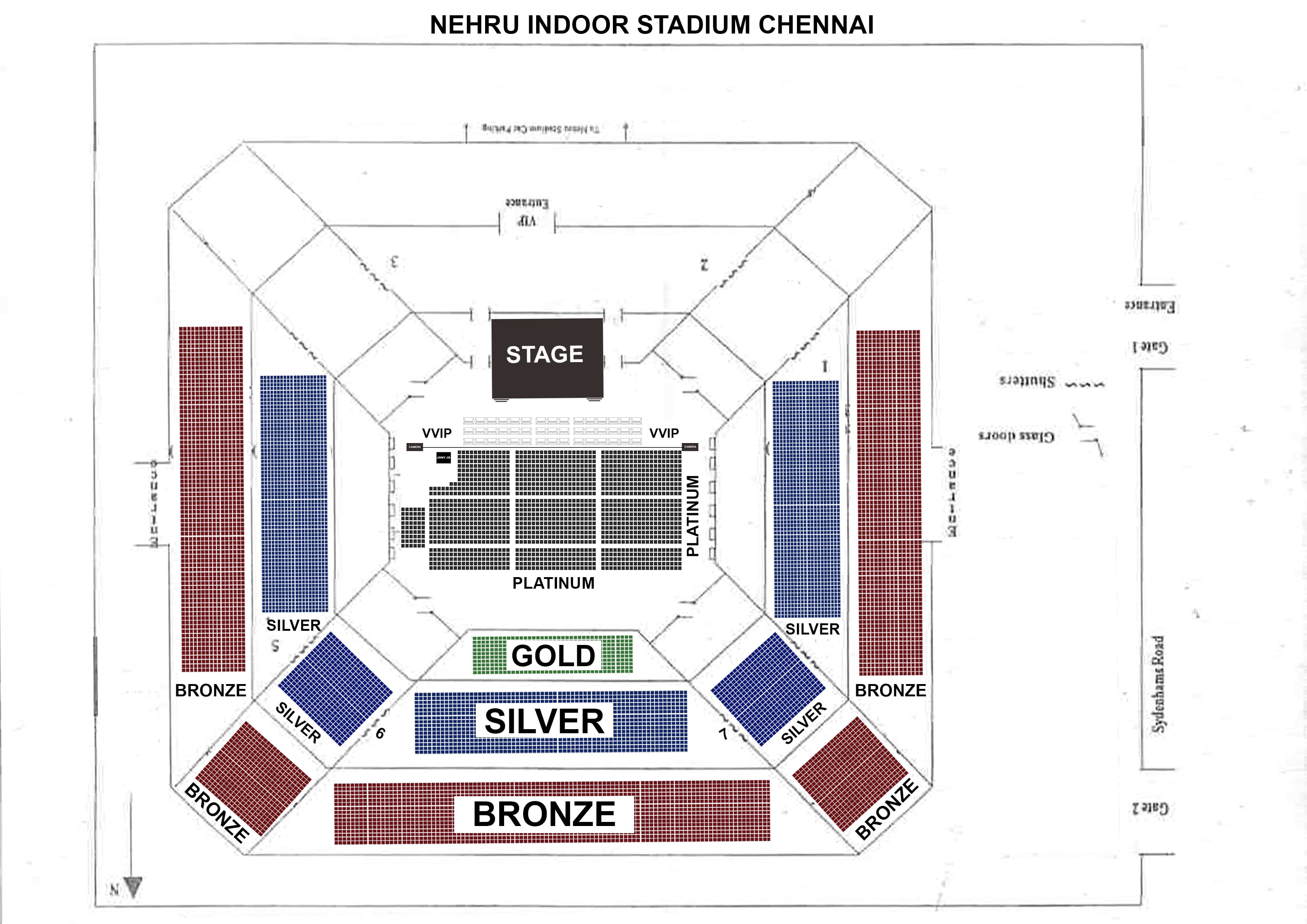 *This is a ticket based access event, valid only for Nehru Indoor Stadium, Chennai.
*Tickets required for age 5+.
*Tickets lost a replacement for the same will not be issued.
*Unlawful resale (or attempted unlawful resale) of a ticket would lead to seizure or cancellation of that ticket without refund or other compensation.
*Tickets tampered with will be rendered invalid and WILL NOT be replaced.
*Duplicate tickets will not be issued for lost or stolen tickets.
*Each ticket admits one person only.
*Online booking should be exchanged for a physical ticket before entering the event arena.
*Artist lineup and billed attractions may be subject to change.
*Organizers reserve the right to perform security checks on invitees/members of the audience at the entry point for security reasons.
*Organizers or any of its agents, officers, and employees shall not be responsible for any injury, damage, theft, losses or cost suffered at or as a result of the event of any part of it.
*Parking at the venue premises is limited. Vehicles parked near/at the venue premises are at risk of the vehicle owner. Organizers will not hold responsibility for any damage or theft of any vehicles within the stipulated parking premises of the venue.
*Consumption and sale of illegal substances are strictly prohibited.
*Cameras, any form of recording instruments, arms and ammunition, eatables, beverages, and alcohol are not allowed from outside the venue. Food and beverages will be available inside the venue.
*Rights of admission reserved, even for valid ticket holders.
*Organizers are not responsible for any negative effects of food items or drinks consumed in the venue.
*Persons suspected of carrying items that may be used in an offensive or dangerous manner, or carrying out illegal activities within the site may be searched.
*First aid/medical facilities will be provided, however, the organizers do not take any responsibility for any problems arising.
*Any disputes are to be settled under Chennai jurisdiction courts only.
*Any person found misbehaving or creating a ruckus in the venue will be escorted out of the venue and no re-entry will be granted for the same.
*The holder of this ticket hereby grants organizers the right to use, in perpetuity, all or any part of the recording of any tape made of the holder's appearances on any channel for broadcast in any and all media globally and for advertising, publicity and promotion relating hereto.
*The organizers reserve the right without refund or other recourse, to refuse admission to anyone who is found to be in breach of these terms and conditions including, if necessary, ejecting the holder/s of the ticket from the venue after they have entered the ground.
*Gates Open - 4:00 PM
*Show Starts - 6:00 PM
*No re-entry.
Jawaharlal Nehru Stadium
Raja Muthiah Rd, Kannappar Thidal, Periyamet, Chennai, Tamil Nadu 600003, India
GET DIRECTIONS
Shreya Ghoshal - Live In Concert | Chennai
Jawaharlal Nehru Stadium, Chennai
Step out and enjoy this event
Event Guide
Live Performance
Enjoy a unique experience
Invite your friends
and enjoy a shared experience