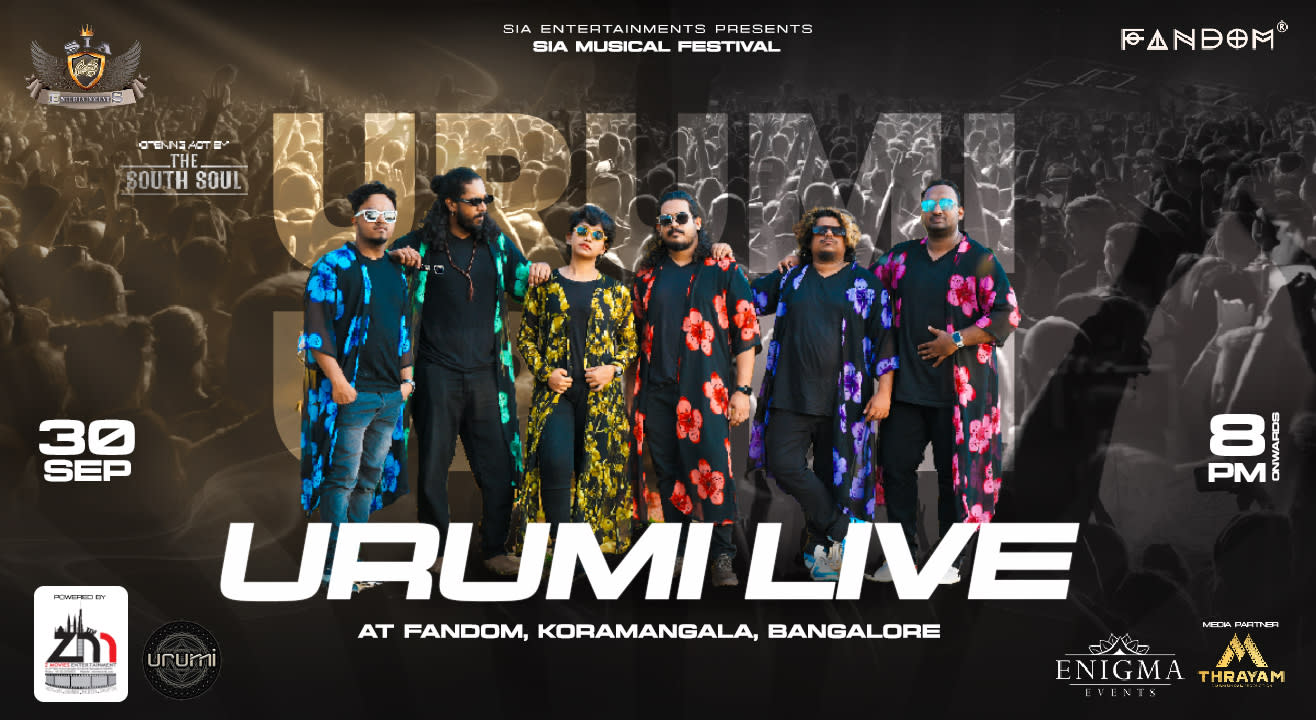 SIA Musical Fest - Urumi Live at Fandom
September 30 | Gates Open at 7:30PM | Event Starts at 8PM
Fandom at Gilly's Redefined, Bengaluru
Event Guide
Language
Malayalam, Tamil, Hindi, Arabic
Live Performance
Enjoy a unique experience
Invite your friends
and enjoy a shared experience
SIA Musical Fest - Urumi Live at Fandom
September 30 | Gates Open at 7:30PM | Event Starts at 8PM
Fandom at Gilly's Redefined, Bengaluru
Event Guide
Language
Malayalam, Tamil, Hindi, Arabic
Live Performance
Enjoy a unique experience
Invite your friends
and enjoy a shared experience
Event Guide
Language
Malayalam, Tamil, Hindi, Arabic
Live Performance
Enjoy a unique experience
Invite your friends
and enjoy a shared experience
The Urumi musical band came together in 2018, with its roots in Kochi. This group was initiated by Faisal Razi, known as the music director of the film 'Poomaram' and an independent artist, along with Shikha Prabhakaran, a finalist of the 2007 Idea Star Singer competition and a versatile Malayalam Tamil playback singer. They showcase their talents in corporate events and public shows across India. The band's lineup comprises Faisal and Shikha as vocalists, Nithin Joseph on drums, Sanjay Arakkal on keyboard, Mohammed Hussain as the lead guitarist, and Abhijith Nambiat handling the bass guitar.
Experience the vibrant and enchanting melodies of a captivating Malayalam and Tamil band that's taking the music scene by storm. This talented group effortlessly weaves together traditional Malayalam and Tamil tunes with modern musical elements, creating a fusion that's both nostalgic and refreshingly contemporary.
Their performances are a celebration of Kerala and Tamilnadu's rich cultural heritage, as they blend soulful folk rhythms with innovative arrangements, transcending genres and captivating audiences of all backgrounds. The band's lead vocalist delivers heartfelt lyrics in the melodious Malayalam and Tamil languages, evoking emotions that resonate with listeners on a profound level.
Each member of the band is a virtuoso in their own right, showcasing their mastery over a variety of instruments, from the traditional chenda and mridangam to the electric guitar and keyboard. This eclectic mix of instruments adds depth and complexity to their sound, ensuring that every performance is a truly immersive experience.
Whether they're performing in intimate coffeehouses or rocking the stage at large music festivals, this Malayalam band's energy and passion are infectious. Their music brings people together, transcending linguistic and cultural barriers, and leaving audiences humming their tunes long after the final note has faded.
If you're ready to embark on a musical journey that's steeped in tradition yet boundlessly innovative, don't miss the chance to witness the magic of this Malayalam band live in concert. Get ready to be transported to a world where melodies know no boundaries and emotions are expressed through the universal language of music.
Fandom at Gilly's Redefined
1st floor of Gillys redefined,# 413, 100 Feet Road,, 4th Block, Koramangala, KHB Block Koramangala, Koramangala 4-B Block, 5th Block, Koramangala, Bengaluru, Karnataka 560034, India
GET DIRECTIONS
SIA Musical Fest - Urumi Live at Fandom
September 30 | Gates Open at 7:30PM | Event Starts at 8PM
Fandom at Gilly's Redefined, Bengaluru
Event Guide
Language
Malayalam, Tamil, Hindi, Arabic
Live Performance
Enjoy a unique experience
Invite your friends
and enjoy a shared experience