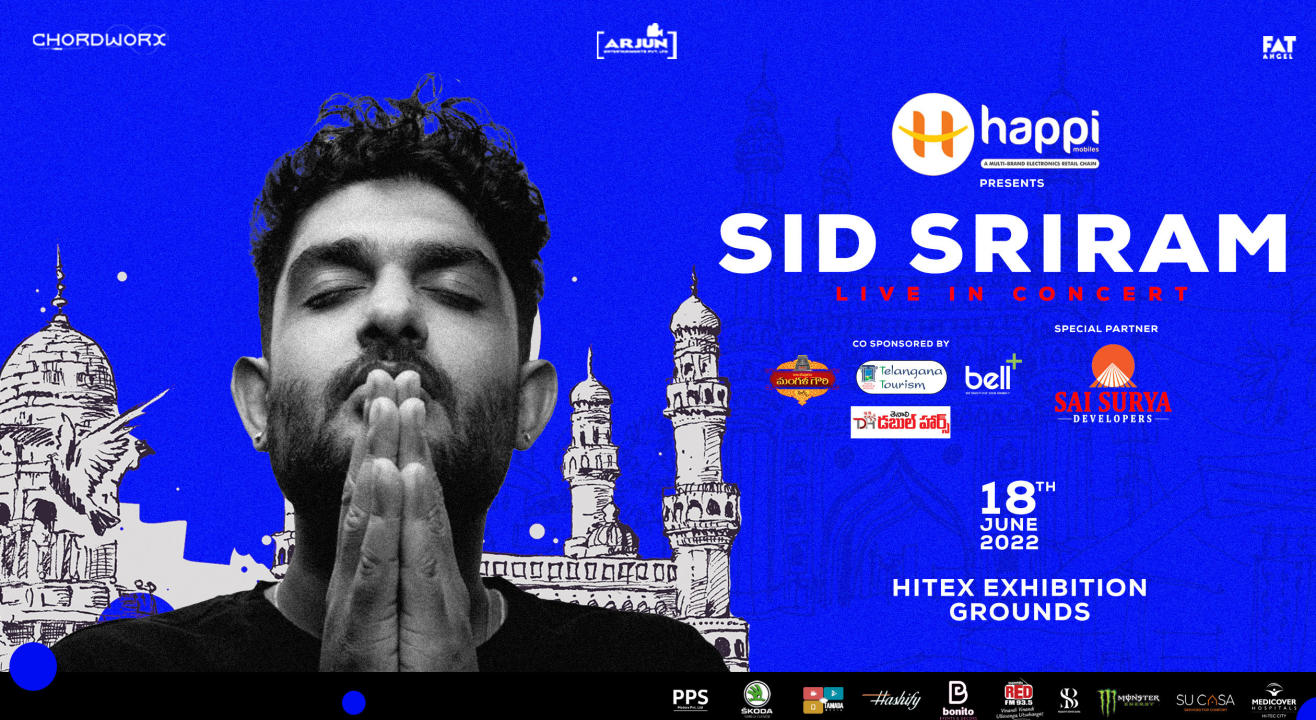 Happi Mobiles Presents Sid Sriram - Live In Concert | WMW 2022
June 18 | 5PM (Gates Open)
HITEX Exhibition Center, Hyderabad
Step out and enjoy this event
Event Guide
Live Performance
Enjoy a unique experience
Invite your friends
and enjoy a shared experience
Happi Mobiles Presents Sid Sriram - Live In Concert | WMW 2022
June 18 | 5PM (Gates Open)
HITEX Exhibition Center, Hyderabad
Step out and enjoy this event
Event Guide
Live Performance
Enjoy a unique experience
Invite your friends
and enjoy a shared experience
Event Guide
Live Performance
Enjoy a unique experience
Invite your friends
and enjoy a shared experience
There have been innumerable vocalists that have created a mark in this country but there are exceptional ones who have not only built their niche,they also touched the aural notes for audience across every age and class. When an artist in the landscape of 'Singing' hones the skills at the tender age when kids barely manage to walk without support, it becomes apparent, the kid will break into prominence across every household.
Sid Sriram is one of the most recognized names in India today with millions of fans instantaneously clicking on the 'Play' button when they see his name mentioned on the song title. Having worked with top notch music composers like the legendary - Illayaraja, the Mozart - AR Rahman, the trendsetter Anirudh, Sid Sriram is credited with rendering his voice to some of the most popular faces on the screen, making the song come alive through his vocals.
Having won multiple Filmfare awards and every accolade one can think of – watching Sid Sriram perform live is surely a life altering experience.
How to avail offer:
You will receive the discount code after your 1st purchase to a World Music Week event
You will find this discount code on your e-ticket
Use this code to avail a discount at checkout on your following booking of 2 or more tickets to a World Music Week event

Terms and Conditions
Offer ONLY on World Music Week event
You will get a discount code worth up to 50% OFF* on every repeat purchase
Discount amount limited up to Rs. 300/- on purchase of 2 or more tickets
Offer valid on World Music Week events during June 10 - June 26
Discount can be availed on first purchase of 2 or more tickets
HITEX Exhibition Center
First Floor, Trade Fair Office Building, Izzathnagar, Hyderabad, Telangana 500084, India
GET DIRECTIONS
Happi Mobiles Presents Sid Sriram - Live In Concert | WMW 2022
June 18 | 5PM (Gates Open)
HITEX Exhibition Center, Hyderabad
Step out and enjoy this event
Event Guide
Live Performance
Enjoy a unique experience
Invite your friends
and enjoy a shared experience