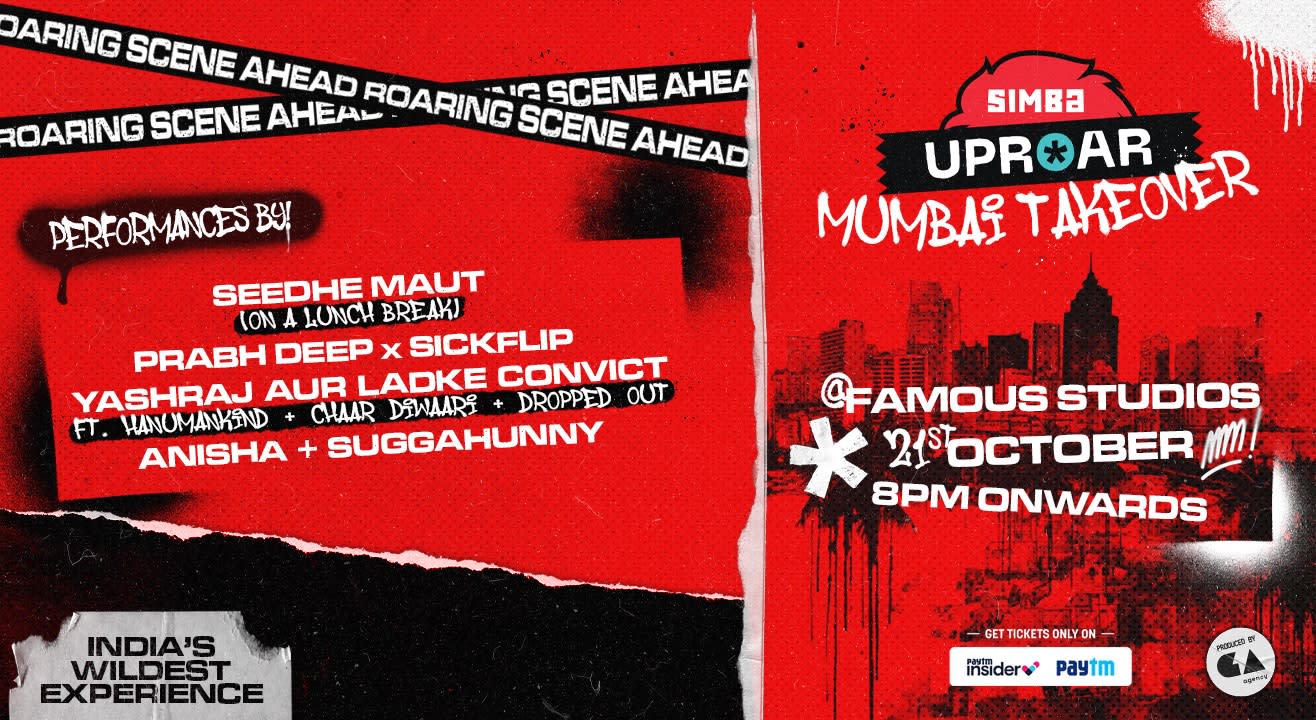 Simba Uproar 2023, Mumbai
October 21 | Gates Open: 7:30PM
Event Guide
Live Performance
Enjoy a unique experience
Invite your friends
and enjoy a shared experience
Simba Uproar 2023, Mumbai
October 21 | Gates Open: 7:30PM
Event Guide
Live Performance
Enjoy a unique experience
Invite your friends
and enjoy a shared experience
Event Guide
Live Performance
Enjoy a unique experience
Invite your friends
and enjoy a shared experience
Simba Uproar is back for its highly anticipated second season of the country's wildest experience beginning October 2023. After a thrilling debut season, Simba Uproar 2.0 promises to be bigger, bolder, and more captivating than ever before, as it expands to six vibrant cities across India. Mumbai, Delhi, Bengaluru, Pune, Guwahati and tri-city region (Punjab) - Simba Uproar 2.0 aims to unite music enthusiasts from all corners of the country for an unparalleled celebration of music and culture.
The second season of Simba Uproar is set to take the country by storm, with a line-up of stellar performances by upcoming hip-hop artists, electrifying music acts, along with immersive experiences, including interactive installations, special performances, exquisite F&B pop ups, creating an atmosphere of fun and excitement.
Join Simba Uproar's #THEWILDTRIBE & roar harder, Together!
Artist Line Up:
Prabhdeep
Anisha
Sickflip
yashraj
Seedhemaut
Hanumankind
Chaar Diwari
Dropped Out
Sugahunny
How will I get my tickets?
M-Tickets will be issued digitally to purchases.
Will the tickets be available for sale on any other platform?
No, the official tickets will only be available for sale on Paytm Insider, we strongly recommend you to not purchase them via any third party to avoid the possibility of counterfeit tickets.
Is the event kid-friendly? Is there an age limit for ticket purchase?
Individual club rules apply, which will vary city to city & in accordance with local laws.
Do I need to be vaccinated to get into the venue?
In the best interest of fans and staff, we encourage everyone to follow COVID-19 protocols mandated by local governments. By purchasing tickets to this event, you agree to abide by the health and safety measures in effect at the time of the event, which may include, but not be limited to, wearing masks, providing proof of double vaccination status and/or providing proof of negative COVID-19 test.
Will there be F&B available at the venue?
Yes, food and beverages will both be available for purchase at the venue, outside food or beverages will not be permitted.
Is the venue air-conditioned?
Yes, the venue is equipped with air conditioning. Although the outside areas, are not air conditioned
Is this a seated show?
No, the parties will be a walk-in experience
Will I be able to switch my ticket to a different category?
No, tickets once purchased will not be upgradable / changeable in terms of category.
Is there an all-area-access ticket with an artist meet and greet?
There are no all-area-access passes. Perks & privileges on special category tickets are mentioned in the ticket descriptions.
Is there parking available at the venue?
There is no parking available at the venue premises. You can park at the designated parking spot near the venue, the availability is on a first come first serve basis.
Is photography permitted during the show?
Phone cameras are permitted. However, we advise against carrying professional cameras.
Is smoking allowed at the show?
Only in designated areas. Patrons are encouraged to dispose of their cigarette waste responsibly.
Are handbags and backpacks allowed into the venue?
Regular sized backpacks or small single compartment bags - like sling bags, handbags, tote bags, etc. are allowed. Please avoid carrying large backpacks with multiple compartments.
What happens if the event is cancelled?
You'll be notified in advance via email & phone. Lineups are subject to change in the event of a rescheduling.
How do I get a refund if I can't make it?
Tickets are unfortunately not transferable or cancellable. In case of any queries, write to us
Famous Studios
20 Dr. E. Moses Road, Mahalaxmi, Worli, Mumbai, Maharashtra 400011
GET DIRECTIONS
Simba Uproar 2023, Mumbai
October 21 | Gates Open: 7:30PM
Event Guide
Live Performance
Enjoy a unique experience
Invite your friends
and enjoy a shared experience