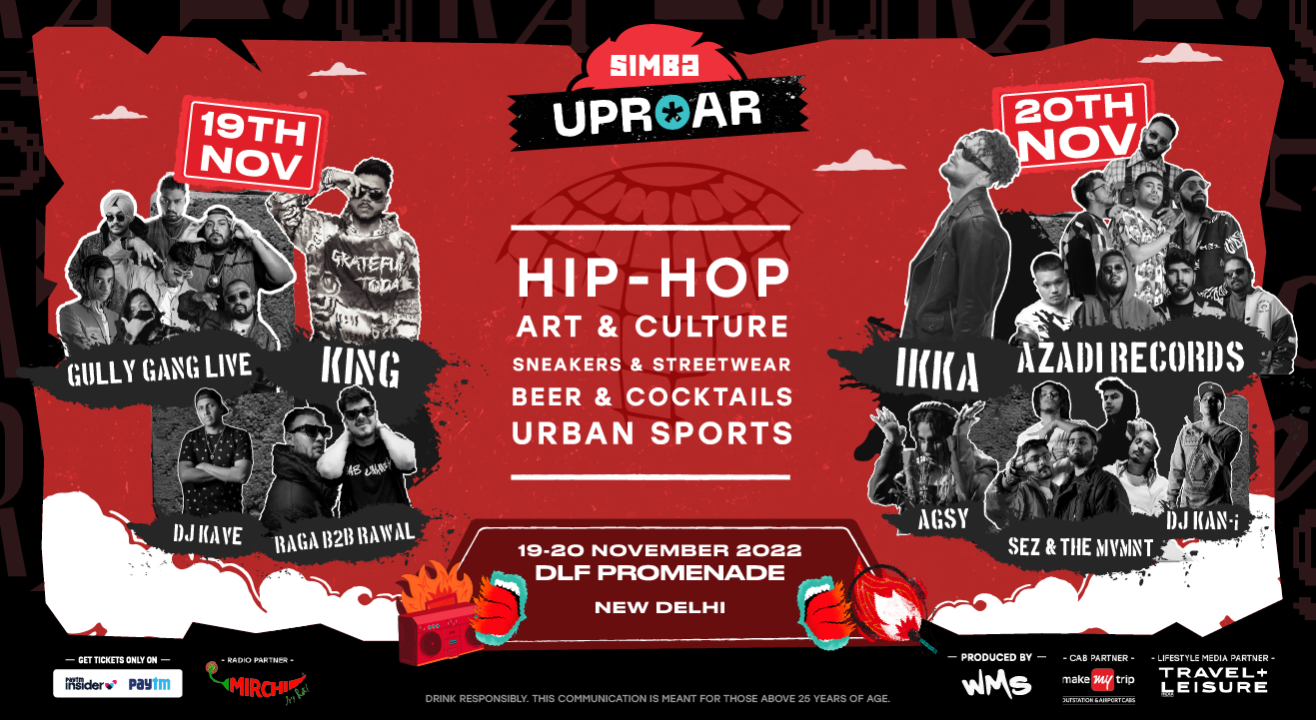 November 19 & 20 | 2PM onwards
DLF Promenade, Vasant Kunj, Delhi
Event Guide
Live Performance
Enjoy a unique experience
Invite your friends
and enjoy a shared experience
November 19 & 20 | 2PM onwards
DLF Promenade, Vasant Kunj, Delhi
Event Guide
Live Performance
Enjoy a unique experience
Invite your friends
and enjoy a shared experience
Event Guide
Live Performance
Enjoy a unique experience
Invite your friends
and enjoy a shared experience
Are you ready to experience the Simba lifestyle? Get ready for a weekend of beer, hip-hop, and the coolest street culture, right here in the heart of Delhi!
Artist Line-Up
Simba Uproar presents India's Wildest Festival. An artist lineup with the biggest names in the Indian hip-hop scene:


DAY 1 - SATURDAY (NOVEMBER 19)


Street Stage
2PM-3PM : Zero Chill x Shia
3- 4:30 PM : Bonehead
4:30 PM - 5:30 PM: DJ Kave


Main Stage
5:30 PM- 6:30 PM: Raga x Rawal
6:45 PM - 8:15PM: Gully Gang Live
(MC Altaf, D'Evil, Shah Rule, Tsumyoki, DJ Proof, Karan Kanchan ,100RBH)
8:30 PM- 10 PM: King
DAY 2 - SUNDAY (NOVEMBER 20)


Street Stage
2 PM - 2:30 PM: Beat Machine
2:30 PM - 3 PM: Dizlaw
3:00 PM - 4:00 PM: Secular Chai
4:00 PM - 5:00 PM: DJ Kan-i


Main Stage
5:00 PM- 5:45 PM: Agsy
6:00 PM - 7:00 PM: Sez + The MVMNT
7:15 PM - 8:00 PM: Ikka x Aghor
8:15- 10 PM: Azadi Records
(Ahmer | DJ BLUnt | Jelo | Prabh Deep | Rebel 7 | Seedhe Maut | Tienas)
What to expect?
Let's set the streets on fiyah; we've got two days of mind-melting beats, the coolest streetwear and sneakers, interactive experiences, urban sports, games & more, all in one place!
Book your tickets now, and let the pride roar!
FAQs
Q.) What type of tickets are available?
There are two types of tickets - A single day pass and a two-day festival pass. We also have buddy (group of 2) and group of 4 passes available.
Q.) When should I reach the venue?
The festival entry starts at 2 pm.
Q.) Is parking available at the venue?
Yes, the venue is DLF Promenade, and you can park your car in the mall parking itself.
Q.) Are outside eatables and drinks allowed in the venue?
Eatables and drinkables, including from the mall, are not allowed. You can, however, purchase food and drinks from within the venue.
Q.) Will photography or videography be allowed?
Photography and videography for commercial purposes are strictly prohibited.
Q.) Can I re-enter the concert venue if I leave it?
Yes, you can leave and re-enter the venue multiple times. Make sure you wear the band that was provided to you when you first entered the venue.
Q.) What forms of payment are accepted inside the venue for food, apparel and activities?
We accept all major forms of payments, including UPI, Debit/Credit Cards, Paytm and cash.
Q.) What is the nearest Metro station to the venue?
The closest metro stations are the Basant Lok/Vasant Vihar Metro station on the Magenta line (5-7mins, 2.7kms) and Chattarpur Metro station (20mins, 6.8kms) on the Yellow line.
Q.) Is the ticket transferrable?
No, the ticket is valid only for the person in whose name it has been issued.
DLF Promenade, Vasant Kunj
3 Nelson Mandela Road, Vasant Kunj Mall Road, New Delhi, Delhi 110070
GET DIRECTIONS
November 19 & 20 | 2PM onwards
DLF Promenade, Vasant Kunj, Delhi
Event Guide
Live Performance
Enjoy a unique experience
Invite your friends
and enjoy a shared experience