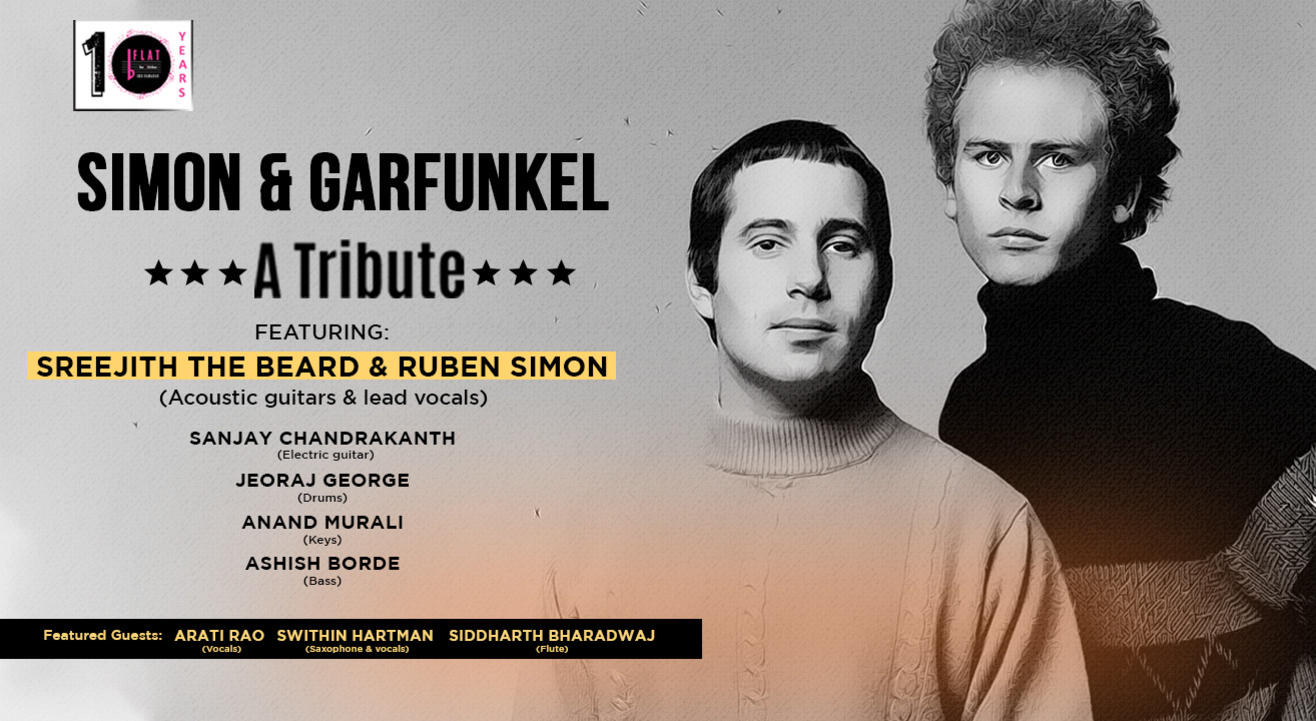 Simon & Garfunkel - A Tribute
Invite your friends
and enjoy a shared experience
Invite your friends
and enjoy a shared experience
About the Event
About The Event
For over 10 years, The bFLAT Bar has firmly established itself as a dedicated performance venue that presents assorted indie music, world, jazz and blues music genres, both Indian and international. But every now and then they take great pride in a specially curated concert comprising a hand-picked ensemble with some of Bangalore's senior and most talented musicians and featured guest artists.
This time they present a Gala gig with a Star-studded band and special guests. The vocalists in this line-up have been especially chosen for their vocal timbres and virtuosity with vocal harmonies. With a stellar band line-up this ensemble will pay tribute to the folk rock duo Simon & Garfunkel, who were arguably among the world's best-selling music artists of all time, having sold more than 100 million records. Known for their superior song-writing, perfect vocal harmonies, rich acoustic guitar tones and everlasting melodies, their music has endured from the 1960's till date.
Expect ALL of your favourite S&G songs. Expect to sing each song from start to finish, all evening.
This is Retro Folk Rock at it's best!
LINE UP:
Sreejith The Beard & Ruben Simon (acoustic guitars & lead vocals)
Sanjay Chandrakanth (Electric guitar)
Jeoraj George (Drums)
Anand Murali (Keys)
Ashish Borde (Bass)
Featured Guests:
Arati Rao (Vocals )
Swithin Hartman (Saxophone & Vocals )
Siddharth Bharadwaj (Flute)
About Simon & Garfunkel
Simon & Garfunkel were an American folk rock duo consisting of singer-songwriter Paul Simon and singer Art Garfunkel. They were one of the best-selling music groups of the 1960's and became counterculture icons of the decade's social revolution, alongside artists such as the Beatles, the Beach Boys, and Bob Dylan. Their biggest hits—including "The Sound of Silence" (1964), "Mrs. Robinson" (1968), "The Boxer" (1969), and "Bridge over Troubled Water" (1970) —reached number one on singles charts worldwide.
Their final studio record, Bridge over Troubled Water (released in January of that year), was their most successful, becoming one of the world's best-selling albums.
Simon & Garfunkel won 10 Grammy Awards and were inducted into the Rock and Roll Hall of Fame in 1990, and their Bridge over Troubled Water album was nominated at the 1977 Brit Awards for Best International Album. It is ranked at number 51 on Rolling Stone's 500 Greatest Albums of All Time. They have been described as "the most successful folk-rock duo of the 1960's" and one of the most popular artists from the decade in general. They are among the world's best-selling music artists of all time, having sold more than 100 million records.
The Bflat Bar
776, 100 Feet Road, Indiranagar (above Kotak Bank), Bangalore
GET DIRECTIONS