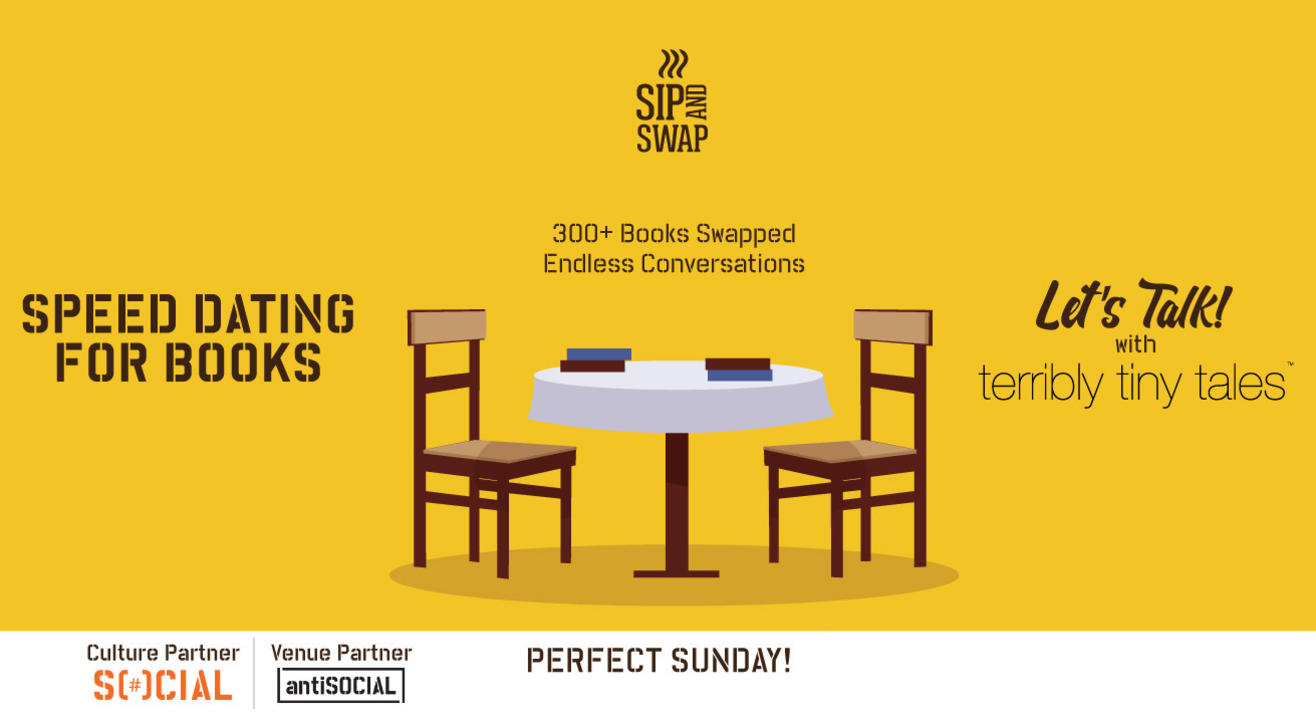 Discussion
Sip And Swap : Let's Talk!
About
Sip & Swap organize a party every month at some really interesting places around the town. The parties don't allow stag entries. You need to come with your partner, i.e your book.
Sounds interesting? Read on!

The party is called Sip and Swap: A Book Swap Party!

What is Sip And Swap?

Sip and Swap is a book swap party where strangers exchange a book for a book with each other over a tea.

Why is this being done?

With a generation who has easy access to things right on their finger tips and pretty much occupied with the world wide web, Sip & Swap felt there was a need to take them offline and get them to do something as simple and uncomfortable as having a conversation.

With the help of the book swap party, they are not just promoting reading books and getting book readers together, but getting them to do something they wouldn't otherwise do - talk to strangers, meet new people and most importantly start building their own stories with interesting experiences.

They will also have their Let's Talk Session with Terribly Tiny Tales co-founder, Chintan And Anuj.

"Let's Talk" Sessions are casual conversations where a person's journey over the years is decoded through the milestones they have achieved.

To know how the book swap party works, read here
Dress Code
This party does not judge you for the clothes you were, but for the book you bring. Please bring books which are in good condition only.
Book Criteria
1. Bring books which are in the English language only.
2. Only fiction or nonfiction genre books.
Sip & Swap
Sip and Swap is a party where strangers exchange a book for a book over a cup of tea, coffee or a pint of beer and spend their day productively.

Terribly Tiny Tales
Terribly Tiny Tales brings together a diverse pool of fantastic writers to create really short stories every day.
Social blends the best of the office and the café. Social is the land of the free (lancer) and home of creative souls looking for an exhilarating alternative to a typical work day. In Bangalore, Delhi and Mumbai, Social is a path-breaking urban hangout that's designed to take you offline while still keeping you connected; a place where networking can happen even if the net's not working (don't worry, the net's always working). Social is a collaborative workspace, a hub for artists, designers, and innovators. It's where entrepreneurs meet photographers, writers meet web developers and creative independents meet to bounce ideas off like-minded peers.
Venue
Khar Social, Mumbai
Rohan Plaza, 5th Rd, Ram Krishna Nagar, Khar West, Mumbai, Maharashtra 400052