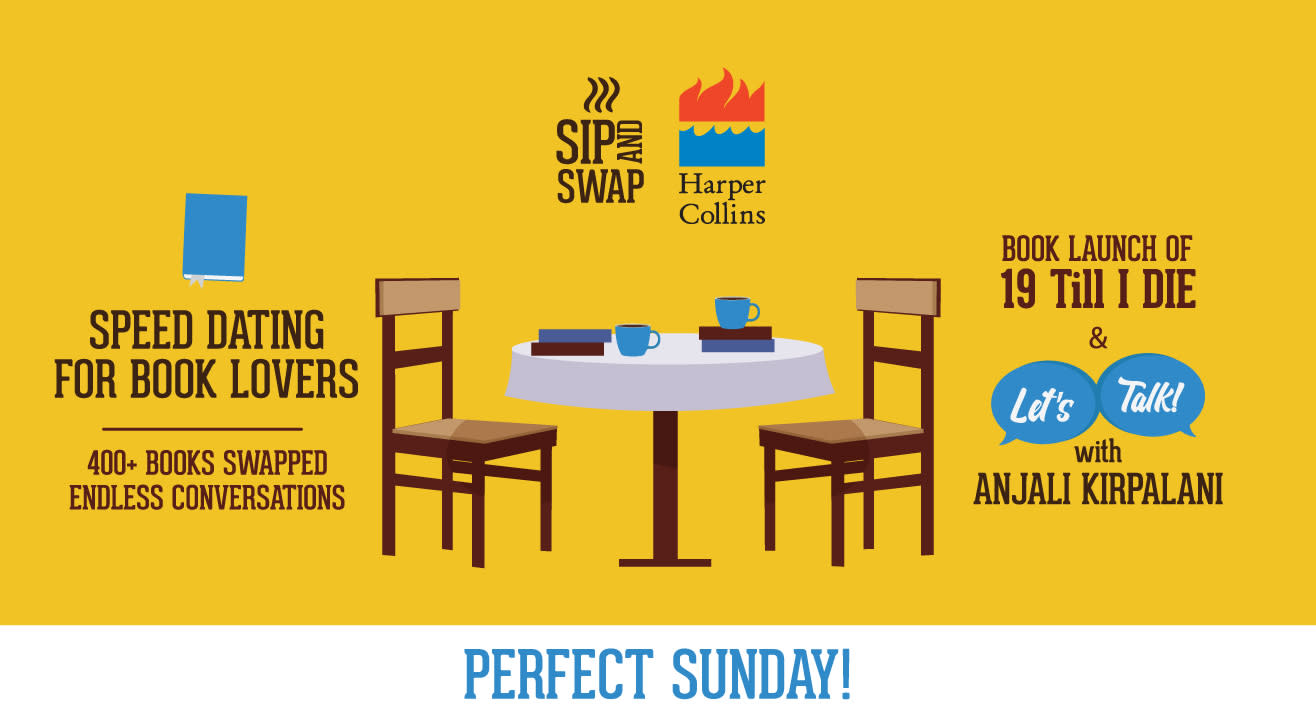 Experiences
Sip And Swap : Speed Dating For Book Lovers
About
What is Sip and Swap?
Sip and Swap is a book swap party where strangers exchange a book for a book with each other over tea.
We organize these parties every month, and at very interesting places around town! Also, we don't allow stag entries – you need to come with your partner, i.e. your book.
Why are we doing this?
For a generation plugged into the world wide web, quality moments spent offline are essential. With the help of the book swap party, we not only promote reading but also socializing face-to-face. This leads to talking, meeting new people and, most importantly, a chance to start building your own stories.
This party is also an opportunity to enjoy the book launch of 19 Till I Die and a Let's Talk Session with the author Anjali Kirpalani.
Let's Talk Sessions are casual conversations where we decode the journey of a person over the years through the milestones they have achieved.
Anjali Kirpalani is the bestselling author of the novels Never Say Never and Written in the Stars.
Born in India, she lived in South Africa for eight years before returning to Mumbai. She has been a Radio Jockey, TV anchor with ET NOW and the editor of Stylekandy.com, a fashion portal. Anjali has written several successful radio dramas for the SABC (South African Broadcasting Corporation). While studying at the University of KwaZulu Natal in South Africa, Anjali received the opportunity to be an exchange student for a semester at the University of Guelph in Canada, an opportunity she will always cherish. 19 Till I Die is her ode to the best year of her life.
Read here to know how the book swap party works:
Venue
Hoppipola,Khar,Mumbai
Hoppipola, Off SV Road (Khar) 759, 5th Ln, Ram Krishna Nagar, Khar West, Mumbai