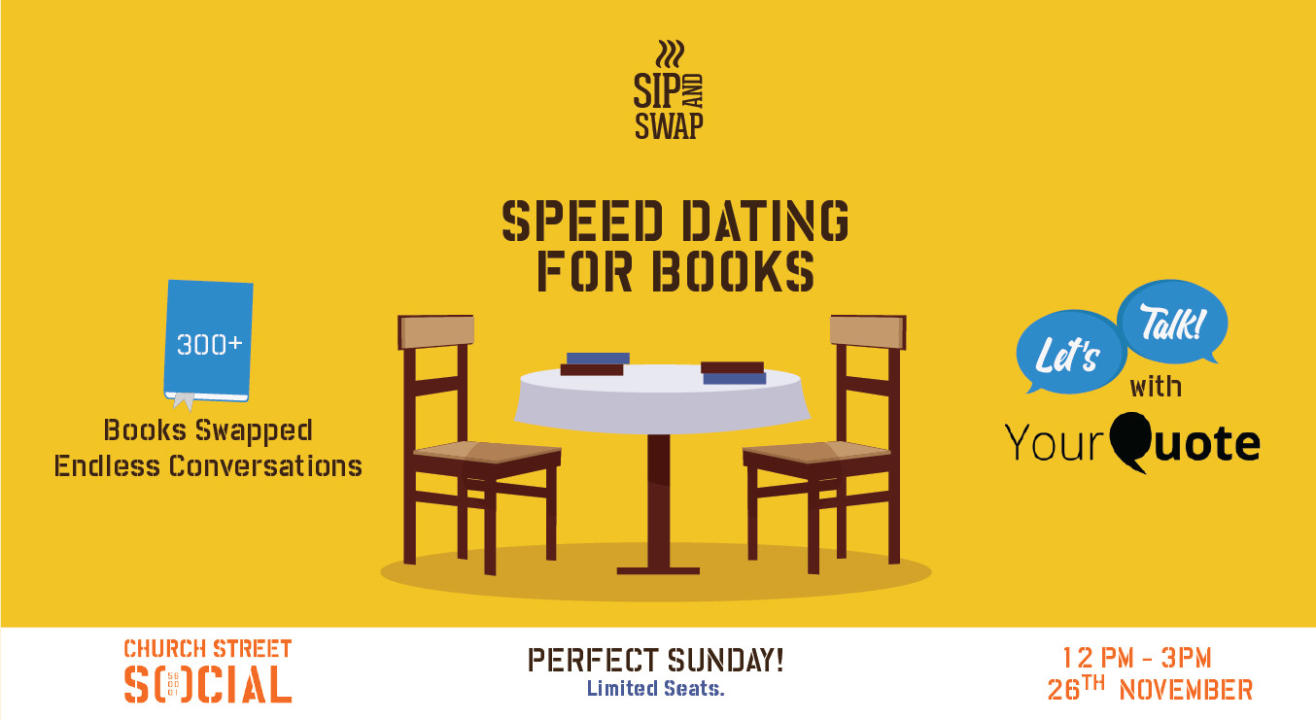 Experiences
Sip & Swap : Let's Talk!
Church Street Social, Bangalore
About
What is Sip And Swap?
Sip and Swap is a book swap party where strangers exchange a book for a book with each other over a tea.
We organize a party every month at some really interesting places around the town. Our parties don't allow stag entries. You need to come with your partner, i.e Your book.
Sounds interesting? Read on!
The party is called Sip and Swap: A Book Swap Party!
Why are we doing this?
With a generation who has easy access to things right on their finger tips and pretty much occupied with the world wide web,we felt there was a need to take them offline. Get them to do something as simple and uncomfortable as having a conversation.
With the help of the book swap party we are not just promoting reading books and getting book readers together but getting them to do something they wouldn't otherwise do - talk to strangers, meet new people and most importantly start building their own stories with interesting experiences.
We are also having a Let's Talk Session with Harsh Snehanshu, co-founder of YourQuote and Sudeep Pagedar, Head of Content at Your Quote and a famous Spoken Word Artist for a casual conversations where we decode the journey of these two individuals over the years through the milestones they have achieved.
This party does not judge you for the clothes you wear, but for the book you bring. Please bring books which are in good condition only.
Bring books which are in English language only.
Only fiction or non-fiction genre books.
We also have happy hours specially for people at this party on Kingfisher Ultra 1+1, another reason to get you motivated to get up on a Sunday.