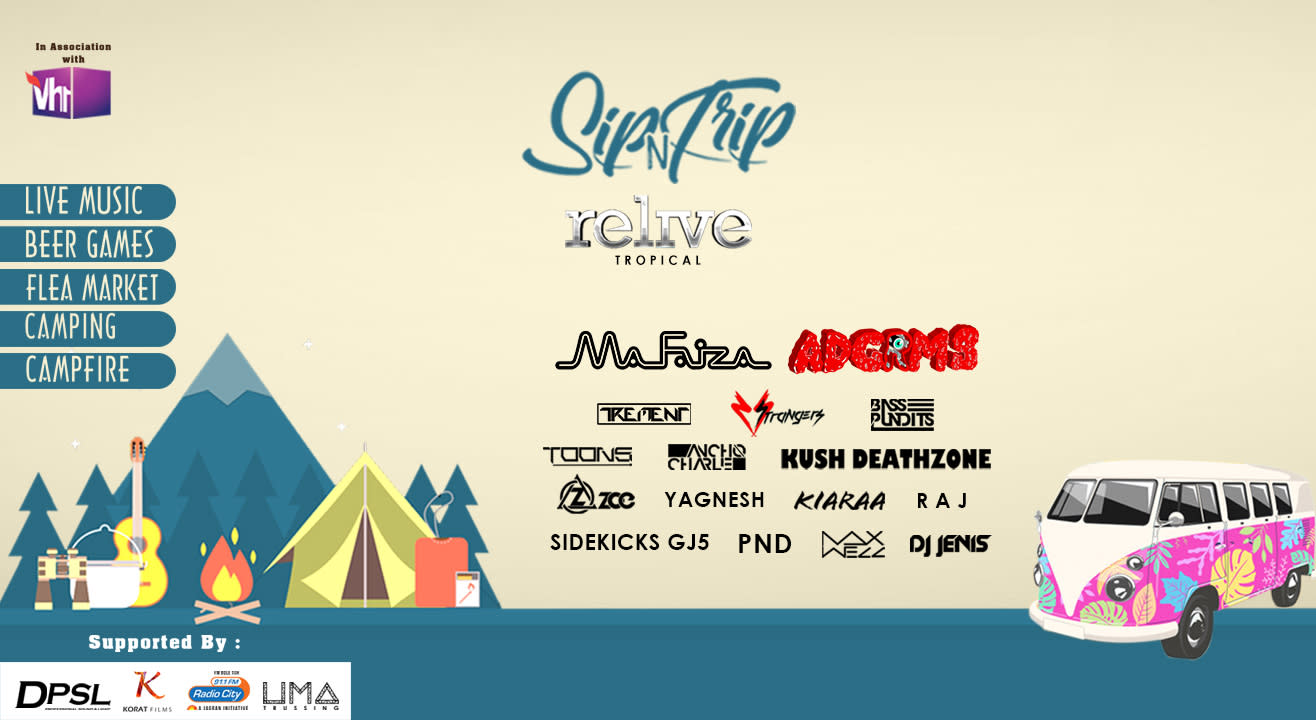 Drinks & More
About
Sip & Trip Festival is Gujarat's First Ever Music Camping Festival with multi-genre music and an amazing camp side amidst nature right on the river banks of Daman Ganga River.
The festival would be filled with finger licking Food and some great brands to have first monsoon bottoms up. This festival brings an ocean of different alcohols to you; you just have to Trip & Sip(s). Get yourself ready for BEER because no good story starts without alcohol.
Dance is love. You would surely thank yourself for the magnificent music treat you'd be giving to your feet to dance on. We are making sure that there will be melodies to feel the breeze deep into your soul.
Atmosphere and the ambience you'll surround yourself with is mesmerising with the essence of camping and you'll definitely feel like heaven with the sparkles of campfires.
This can be one of the most cherishing experiences of your life and you can take memories with you as there will be room for you to shop your heart out.
Can I re-enter the venue during the day if I leave?
No, due to the safety and security concerns of our patrons / audience, no re-entry is allowed for the event.

Where will Sip N Trip Festival be held this year?
Sip n Trip Festival will be held on 16th of June 2018 at Rio – The Frame, Daman.

What time will the concert be on till?
The concert will be on till 12:00 Am.

What time will the concert start?
Gates to the concert will open from 11:00 Am.

Are there parking arrangements at the venue? Will I be charged for that separately?
Yes every small or big car could be parked. And don't worry the venue is huge. You park your vehicle in the venue itself.

Do I have to be 18+ to attend Sip & Trip / Are kids allowed at the concert?
The age limit for entry to the concert is 18 years and above.

I have a GA Ticket for the concert, do I need to get tent compulsory?
Yes, you can enter to the concert as long as you have a valid ticket. But would not be allowed on the CampSide.

I have bought a GA Ticket, can I upgrade it to the VIP Ticket?
Yes, We can help you to upgrade it. Kindly call us.

I have used someone else's credit/debit card to book the ticket, what proof do I need?
We will require the physical credit/debit card to be produced at the venue on the box office, which was used at the time of booking. If this is not possible, a self-attested photocopy of the card will be required and an authorisation letter from the owner of the card.

What other documentation will I require at the time of entry at the Sip n Trip Festival venue?
Ticket holders must carry a valid original photo ID proof such as Driving License, Aadhar Card, or Passport while entering & attending the concert. Further, the Organisers reserve the Rights of Admission even to valid Sip n Trip ticket holders.

Are there any F&B inclusions in any of tickets?
No, there are no F&B inclusions in any tickets.

Will I be able to consume alcohol at the concert?
You have to be above the legal drinking age to be able to consume alcohol at the Concert. Every ticket holder should provide an original Govt. approved id proof if asked for any time during the concert.