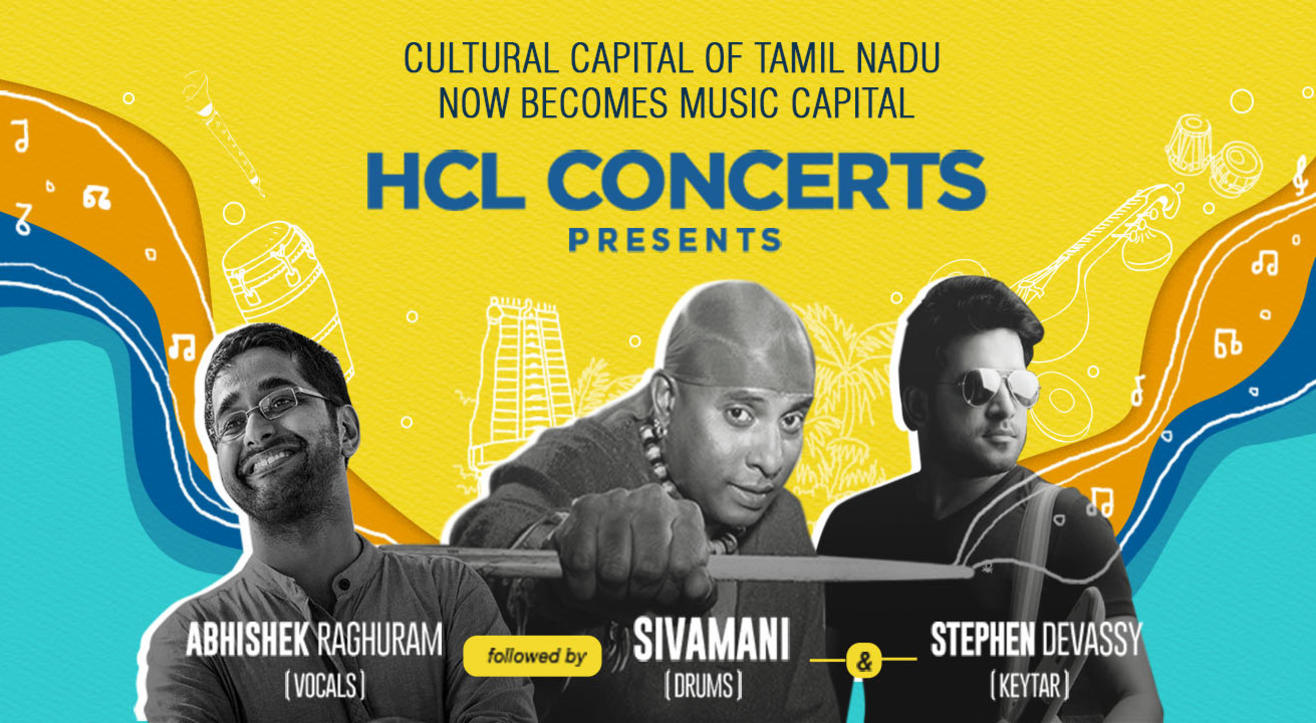 Music
Sivamani, Stephen Devassy And Abhishek Raghuram Live
About
The conservation and promotion of India's art and cultural heritage is very close to HCLs heart. To this end, HCL has been organizing HCL Concerts for 20 years, dedicated to identifying, evolving and promoting talent rooted in the glorious heritage of Indian classical performing arts. Concerts under the umbrella of HCL Concerts are organized in Delhi, Noida, Gurugram, Lucknow, Nagpur, Madurai and Chennai across various venues regularly throughout the year. Over the years, HCL Concerts has evolved into a unique platform for the exceptionally talented veterans as well as upcoming artists be it dancers, vocalists or instrumentalists. Over 500 artists have graced this platform and have contributed towards reinvigorating the Indian classical performing arts.

Classical fusion concert feat. Sivamani, Stephen Devassy & Abhishek Raghuram
Opening performance:
Abhishek Raghuram is one of the leading Carnatic playback singers of this generation. He hails from a family of legendary musicians, as the grandson of the late Mridangam legend, Palghat Raghu.

Second performance:
The Lightning hands of Sivamani on Drums
The Quick fingers of Stephen Devassy on the Keyboard
The Subtle touch of Francis Xavior on Violin
The Taals of Tabla graced by Satyajit Talwalkar
All of this would come together at the HCL Concerts' event.


Sivamani
Schooled in both the Carnatic rhythmic tradition and Western Jazz drums, 'Kalaimamani' Sivamani is truly a World Percussionist -surrounding his kit with an array of instruments. He has played world over with some of the best International artistes & is also a part of World music outfits such as the Zakir Hussain World Drums Ensemble, SILK, Asia Electrik & Shraddha. Infact, no World tour of multi-Oscar and multi-Grammy winner A R Rehman is complete without Siva's daunting presence. What makes him unique is not only his constant search for new techniques, new sounds & newer rhythmic configurations, but also his incredible showmanship.

Stephen Devassy
An artist from Palakkad, Kerala, started his career at an early age, and has performed on stage around the world. He also holds the record for being the highest Asian scorer in Piano exams from Trinity college of music, London. His instrument is a standout as it blends the best of Keyboard and Guitar, famously known as the Keytar.

Satyajit Talwarkar
An enduring temperament, blessed with exceptional talent and a resounding charisma, he continues to have a lasting impact on the entire classical music fraternity, as a very promising young Tabla player of his generation, across the globe!
Venue
Lakshmi Sundaram Hall
129, Alagar Kovil Main Rd, Chinna Chokkikulam, Chockikulam, Madurai, Tamil Nadu 625002