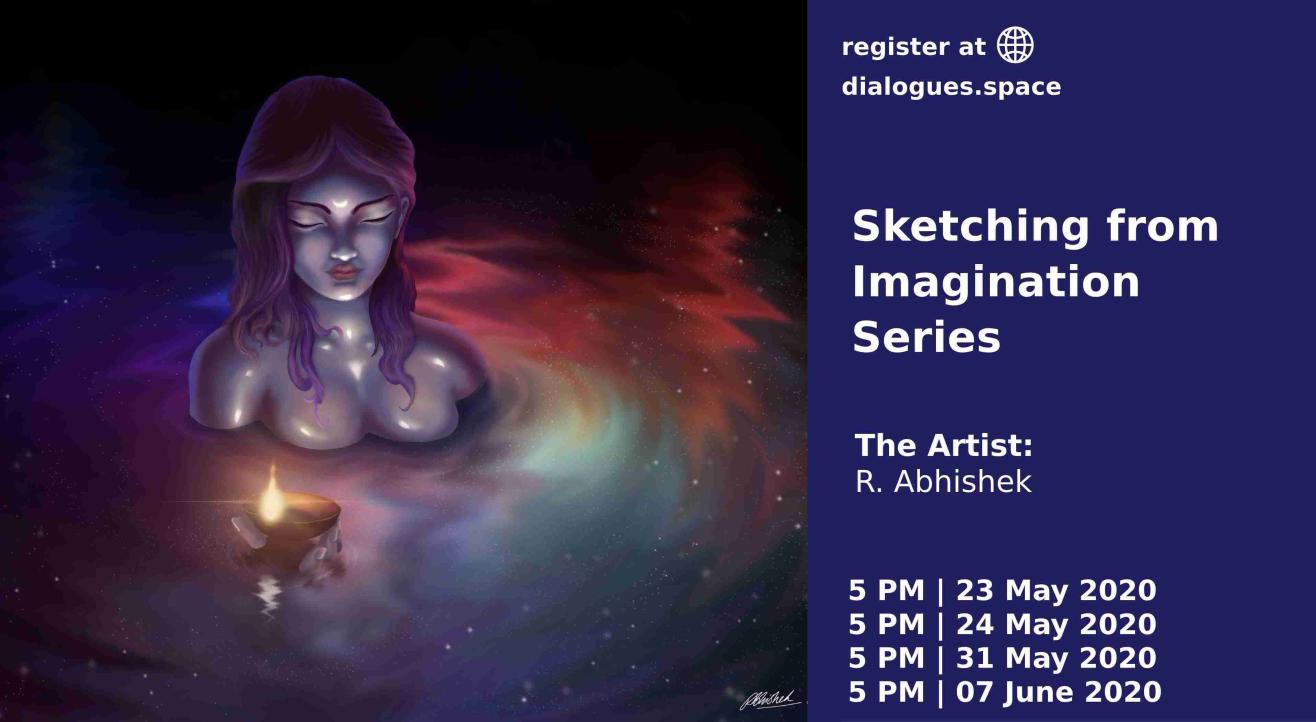 Sketching from Imagination Series
May 31 | 5PM - June 14 | 7PM
Invite your friends
and enjoy a shared experience
Invite your friends
and enjoy a shared experience
About the Event
The sketching from imagination is the guided workshop to skill up the drawing abilities. These abilities can provide high asset values for casting ideas, concepts, stories and emotions. The preferences to connect with people and opportunities using just not words but with visuals as well.
The core motive of these workshops is not just to focus on the skills but to provide the perspective to look and understand your surroundings with a whole new mind set. From people to objects, from architectural structures to nature, We will focus on understand how the world is created and how can we take inspiration from it to revert it on to the paper.
Session details:
Day 1:
Artist portfolio : It is an open session with artist and designer R. Abhishek where he will display his journey towards mastering different skills and opportunities that came along. Will have a detailed discussion on current world challenges and how we can sustain as an artist and a designer. And briefs about the careers and problem solving using drawing skills.
Day 2:
Structures and Anatomy: The basic built of every object and living being using simple geometric shapes. Understanding the animals and human being, and constructing poses with body in action out of scratch with volume study.
Day 3:
Shadow and Highlights: Will elaborate the light falling on different surfaces, objects and beings using sketching, water colour and digital medium. Discussing the essentials of lighting used by masters across different forms of art styles and Lighting techniques using in animation and film making
Day 4:
Perspective and Elemental play: We will thoroughly practice the application of 1,2 and 3 point perspective (along with worm eye and bird eye view) and its application of Objects, monuments and living being. The use of atmospheric perspective while creating landscape will also be elaborated. We will also illustrate the techniques to draw different elements and energies (earth, fire, water, thunders, etc) in action.
Ticket price:
Day 1 - FREE
Day 2 - 400/-
Day 3 - 400/-
Day 4 - 400/-
Full Course - 1100/-
IMPORTANT:
Limited slots available so register soon and we'll save you a spot!
Please note that you will receive the link of the session via email. If, for some reason, you fail to receive the email please get in touch with us on team@dialogues.space or call us on +916361358825 and we will send the invite to you again.
P.S. Do check your Spam or Promotion Tab and drag them to the inbox so you will receive all our future invites in your inbox.