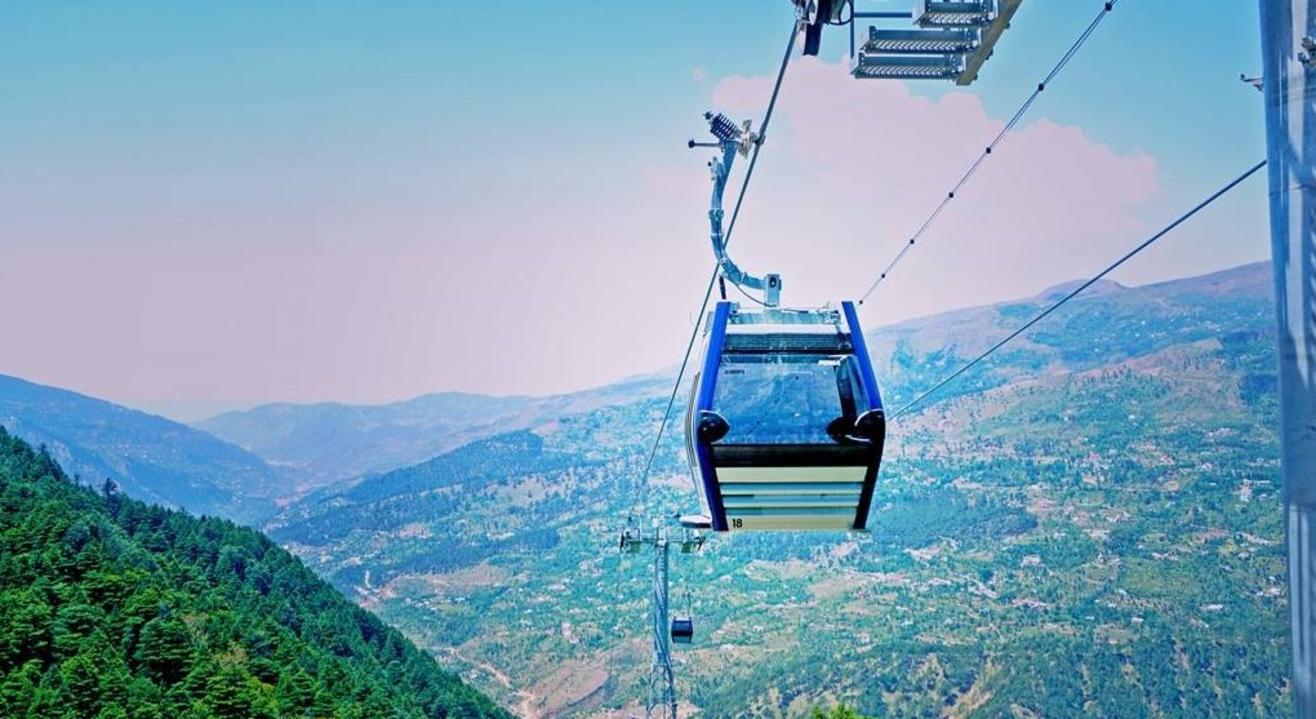 Adventure
About
The first gondola ride in India that soars over tree tops, the ropeway at Skyview Patnitop offers views so stunningly beautiful, you would want to pinch yourself just to ensure it's not a dream.
Skyview Patnitop by Empyrean promises something for everyone. It's a unique destination that sprawls between Sanget and Patnitop, donning the best of sights, serenity, adventure, thrill, culture and tastes. It only takes a 2-hour drive from Jammu, on the four-lane highway and across four spectacular tunnels, to reach Sanget – the lower terminal of this picturesque destination, which is also only 3 km from the famous Chenani Nashri tunnel. The upper terminal in Patnitop offers easy access to this charming town known to be the exotic epitome of natural beauty with magical meadows revealing refreshing bursts of deodar and kail trees.
From relaxing in the splendour of scenic beauty to relishing the best of Indian and international cuisines and the adventure activity thrills that exist in its centre, Patnitop has it all. The pleasant summer winds, stark snow-clad mountains and a view of the Shivalik Range of the Himalayas make Patnitop a surreal experience in any season.
Inclusions
One Way Rope Way Ticket
Exclusions
Does not include any food or consumables on the site. All F&B consumables must be bought on the site itself - no outside food is allowed to be consumed inside.
Cancellation Policy
24 Hours prior to event date Full Refund
On the day of event or less than 24 hours 70% of the total amount shall be refunded
No-Show – fails to turn-up on event day No refund
Empyrean Skyview Projects Private Limited (ESPPL) reserves the right to cancel your booking or change any of the facilities or services or prices described on its website. It shall make reasonable efforts to inform you of the same at the time of booking, however in case of circumstances beyond ESPPL's control like weather conditions and unavoidable and unforeseen technical problems , where it proves necessary to close or suspend the Activities/ ropeway system or the site, ESPPL shall offer you two alternatives –
The option to choose a replacement for an alternate day, if we are able to offer one or Process a full refund.
AMENDMENT AND REFUND
You may amend your booking dates subject to the ticket availability. However, any change in the ticket(s) (cancellations/refunds/re-scheduling) for Activity/Ropeway booked or Combo availed, a processing fee shall be charged on a per person basis for each ticket.
Where refunds are due, they shall be made according to the mode of original payment. Payments made by debit or credit card shall be refunded to the same card. For all the bookings made through travel agency, the refund will be processed and claimed through the respective travel Agents.
Empyrean Skyview Projects Private Limited will process the refund request within 12 business days from the date of cancellation of the booking.
* By booking and participating in the Activities, you agree to be bound in full by above Terms and Conditions (Privacy Policy/ Booking Policy/ Terms of Use/ Terms & Conditions).
Use discount code SKYVIEW30 on all combination tickets!
Venue
Skyview Patnitop
Village Sanget Chenani, Jammu, Jammu and Kashmir 182142
GET DIRECTIONS