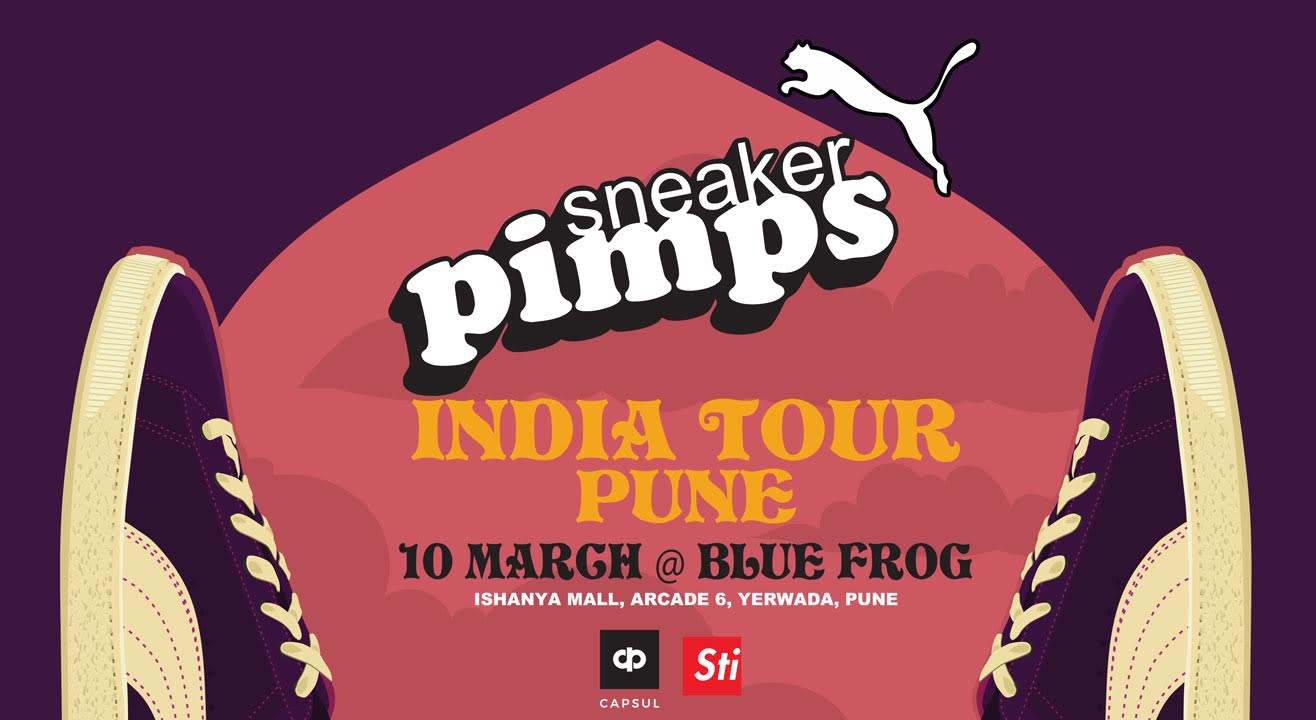 Step out and enjoy this event
Invite your friends
and enjoy a shared experience
Step out and enjoy this event
Invite your friends
and enjoy a shared experience
Invite your friends
and enjoy a shared experience
Sneaker Pimps - the world's largest travelling sneaker exhibit makes its stop in India for the first time ever, partnering with PUMA to celebrate 50 years of the iconic suede. Featuring 500+ rare, vintage, and limited edition sneakers. Plus, a collection of sneaker inspired art-work, fashion and photography.


Get set for an incredible immersive experience with the living legend of the graffiti movement and OG street artist, illustrator, sculptor and culture creator Futura and Jay Z's tour DJ from 2008 – 2010 - DJ Neil Armstrong. The perfect culmination of culture, art, sneakers and music awaits you at BlueFROG!


So join in with your best PUMA kicks and experience an exclusive sneaker showcase of limited, rare, exclusive and custom sneakers!
06:15 PM - 07:00 PM – Cypher by Beast Mode Crew
07:00 PM – 07:45 PM – Conversation with Sneaker Pimps founder – Peter Fahey & VNV Founder Anand Ahuja
08:00 PM – 09:00 PM – Live street art installation by Futura
09:00 PM – 10:00 PM – DJ Set by Grzly Adams from Berlin
10:00 PM – DJ Neil Armstrong

Day-long DJ- DJ Uri (turntable specialist).
Futura
Futura, also known as Futura 2000 is the pseudonym of Lenny McGurr. He is a living legend of the graffiti movement, an illustrator, photographer, sculptor, fashion and graphic designer from New York City. He started to paint illegally on New York subway trains and city walls in the early seventies and as legend goes - was the first artist to cover an entire wagon in abstract graffiti!
Futura began painting 'legally' in the early 80s while on tour in Europe with punk band The Clash, doing banners for their stage and on occasion taking up the microphone.
With a career that spans more than 45 years, he continues to create thought-provoking pieces which influence young artists & culture enthusiasts everywhere.

DJ Neil Armstrong
Born & bred in NYC, DJ Neil Armstrong turned his love of music and hiphop culture into a career that saw him as Jay Z's tour DJ from 2008 to 2010, the highlight of which was performing for the inauguration of the 44th President of the United States, Barack Obama!
Neil initially gained notoriety for his mixtape projects which became the soundtrack of choice for many in the streetwear/fashion/music industry. DJ Neil Armstrong is truly an international DJ who has performed on 6 continents around the world and continues to bring happiness to people through music.

Grzly Adams
As a member of Berlin's new generation of Hip-Hop DJs, Grzly Adams began his career on the decks in Cologne in 1996. In 2003, he moved to Berlin, playing solo-sets at various clubs and continuing to build up a solid household name as a selector of eclectic urban music. His reputation grew quickly within the scene where he co-founded collectives such as BeatEvolution & Urbanology. He plays up to 100+ international shows a year. His extensive repertoire and discipline in staying up-to-date has seen him share the bill with international names like Diplo, DJ Jazzy Jeff, The Glitch Mob, DJ Premier, Gramatik, DJ Craze, Troyboi, RjD2, Hermitude, Mike Skinner, OFWGKTA, Rakim, Nicki Minaj, Tropkillaz, Baauer, Boys Noize & many others.

He does mixtapes for various artists, labels, brands & personal projects. Grzly moves a number of dancefloors on a weekly basis, drawing crowds of up to 1000 people with DJ sets that are constantly changing. Due to the success of his sets and selections, Grzly also holds a residency at the Prince Charles & Gretchen in Berlin. In 2016, he was invited by Red Bull to compete in the "3-style German Finals" as one of the six best club DJs in Germany.

Uri
Born in East London (UK) & based in Mumbai (India), DJ Uri has been rocking 2 turntables since 1987, starting out as a Hip-Hop, Funk & Soul DJ. The depth of his collection and knowledge he has gained over the years are a credit to Hip-Hop culture. The official DJ for Battle Of The Year 2014 South East Asia Finals & Red Bull BC One - India 2016, he was also featured in the Hip-Hop Cookbook, representing India alongside Old Skool Legends, Kurtis Blow, Crazy Legs (Rocksteady Crew) & Grand Mixer DST. Musically, DJ Uri fuses Hip-Hop, Funk, Bass, Trap, Future Beats & Club Classics using turntables, finger drumming & loop stations into one seamless set showcasing skill levels of the highest degree.

The last 2 years have seen him support the likes of Pretty Lights, Diplo, Flying Lotus, Ed Sheeran, Major Lazer, Foreign Beggars, Mark Ronson, Benga & Skream. With regular club & festival gigs both at home in the thriving Indian music scene and across Europe, Uri is definitely an international DJ. A long history in the British music circuit, Uri started his electronic DJ career in the UK under the guidance of DJSS, Legendary DnB pioneer & head of WODB ­ World of Drum & Bass/Formation Records. DJ Uri had residencies at some of the first ever Drum & Bass parties in the world, Amnesia House, Total Kaos & Club Rage, where he played alongside The Prodigy, Carl Cox, Top Buzz, LTJ Bukem, SL2, DJSS, Fabio & many others all before 1993. Not many can match these credentials.

Founded in 2002 in Sydney, Australia by Peter Fahey, Sneaker Pimps has visited over 62 major cities executing over 300 events globally. It has featured the works of artists such as Futura, Dave White, Stash, Mister Cartoon and Shepard Fairey, as well as live skate demos with international pro teams such as Ice Cream, Nike SB, Zoo York and more.
BlueFROG are the country's premiere live music performance club, music consultancy service, and an independent artist promotion, licensing and distribution agency.
blueFROG Pune
Ishanya Mall, Arcade 6, Opp. Golf Course, Off Airport Road, Yerwada
GET DIRECTIONS
Step out and enjoy this event
Invite your friends
and enjoy a shared experience