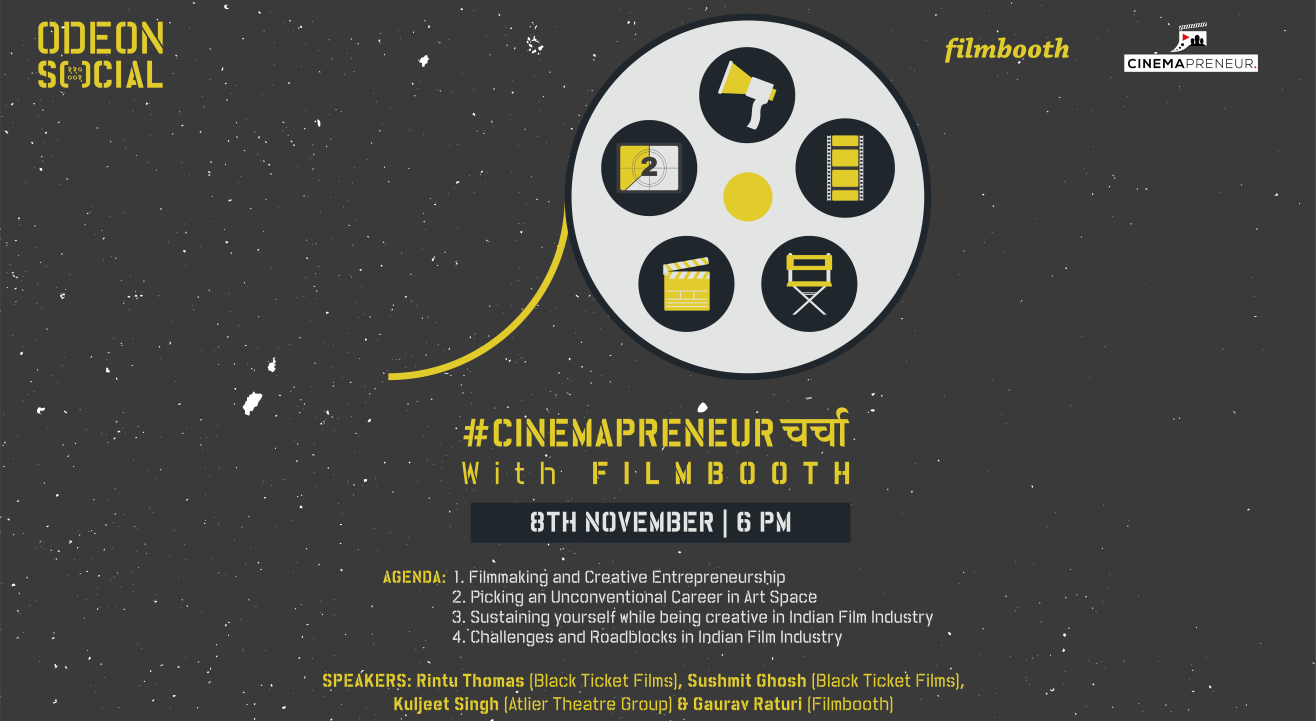 Discussion
Social Presents #Cinemapreneurचर्चा with Filmbooth
About
About चर्चा
चर्चा is a casual panel discussion especially curated for the members of Social's Workspace as well as the general public.
About Cinemapreneurचर्चा
Filmmaking meets entrepreneurship, How to work beyond constraints in the Cinema space - Building a career in art space in India. The dilemma of creativity vs sustainability. We will chat with Award-winning filmmakers, actors about their journeys of being successful entrepreneurs in Cinema, their knowledge, opportunities and overcoming challenges.
Agenda
Filmmaking and Creative EntrepreneurshipPicking an Unconventional Career in Art Space. Sustaining yourself while being creative in Indian Film Industry
Challenges and Roadblocks in Indian Film Industry
About Black Ticket Films(Production Company)
Black Ticket Films (BTF) is a creative and film production agency based in New Delhi, India that designs communication for social transformation. Through its multi-award winning films, BTF has showcased development and responsible business as exciting spaces charged with tangible outcomes. Filmmakers Rintu Thomas and Sushmit Ghosh founded BTF in the summer of 2009.
About Atelier Theatre
Atelier is a twelve-year-old nationally recognized Delhi-based theatre group. Recognized for its distinguished work in the domain of performing arts, Atelier is instrumental in creating spaces, audiences and programmes across different age-groups and regions. As the logo suggests, Atelier is an expression of "movement" and "space". It fundamentally creates space for all sorts of expressions, primarily in theatre arts. The loose moving arms are the "intentions" to gel in with people from all walks of life and the central circle is the neutral-unbiased-space we had created and would intend to create for artists in future. "ACT" Asia's biggest youth theatre week for college goers and the independent theatre-studio is functional since February 2011.
About Cinemapreneur
CINEMAPRENEUR (Community of entrepreneurs working in the field of films) Cinemapreneur is a movement to bring the association of the Start-up community spirit and revolution to the unstructured field of films in India. You are a freelancer, elbowing past the un-acknowledgment all by yourself to build your project. Cinemapreneur is a community for entrepreneurs working in Cinema in India. We are building an association of the start-up community spirit to revolutionize the unstructured field of films in India. Get involved in our series of Interactions, Film Screenings, Pitching sessions, networking events, Masterclasses and workshops, and empower yourself as a Cinemapreneur.
SUSHMIT GHOSH (Director-Producer, Founder Black Ticket Films)
Sushmit has directed and shot several award-winning shorts, many of which have been used globally as education and social impact tools. Winner of the National Film Award of India, Sushmit's work is also supported by the Sundance Institute, The Bertha Foundation and the Gucci-Tribeca Fund. His interest lies in using new technologies and creative strategies to enhance both the visibility and impact that storytelling can create in the digital era. In his spare time, Sushmit enjoys biking and trekking in the Himalayas.

RINTU THOMAS (Director-Producer, Founder Black Ticket Films)
Rintu is an award-winning director-producer whose films have been used as advocacy tools for social impact, included in the curriculum of global universities and used by Governments as policy tools. Her work has been supported by The Japan Foundation, Bertha Foundation and the Sundance Institute. A recipient of numerous awards, including the National Film Award of India, Rintu enjoys producing films that have a transformative social impact and has had these films screened at key global platforms like the United Nations Climate Change Conference and broadcast on international television networks. Rintu loves bookshops, dogs and seashores.

KULJEET SINGH (Actor/Theatre Personality, Atelier Theatre)
Kuljeet is a Lecturer in English Literature and he is the Director of Atelier. His vast experience of performing includes several theatre productions under the direction of Roysten Abel, Avtar Sahni and M.K. Raina, as well as acting in Shonali Bose's National Award winning film 'AMU' and the recently acclaimed "Margarita with a Straw" and Sharad Nigam's INTERVAL. He is a faculty in Theatre and Dramatic Arts with schools of repute, and is instrumental in developing and implementing methodologies of teaching and effective incorporation of specific elements of drama in the classroom.

GAURAV RATURI (Co Founder, Filmbooth)
Gaurav is the co-founder at Filmbooth with more than 10+ years of experience in the art space in Delhi curating film fesitivals on social themes. An MBA in International Business, he started Filmbooth in 2009 to create spaces for showcasing short films for young and budding filmmakers from across India. With more than 500 films screen and 100 + filmmakers showcased he feels still it's a long journey.
Remember when being "social" meant that you actually MET people? Come rediscover the joy of being Social. Offline.
What if your workspace looked more like a super cool café rather than a cubicle? What if your boardroom had a bar attached?
Social blends the best of the office and the café. Social is the land of the free(lancer) and home of creative souls looking for an exhilarating alternative to a typical work day. In Bangalore, Delhi and Mumbai, Social is a path-breaking urban hangout that's designed to take you offline while still keeping you connected; a place where networking can happen even if the net's not working (don't worry, the net's always working).
Social is a collaborative workspace, a hub for artists, designers, and innovators. It's where entrepreneurs meet photographers, writers meet web developers, creative independents meet to bounce ideas off like-minded peers.
Venue
Odeon Social, Delhi
23, First Floor, Odeon Building,, Radial Rd 5, D Block, Connaught Place, New Delhi, Delhi 110001