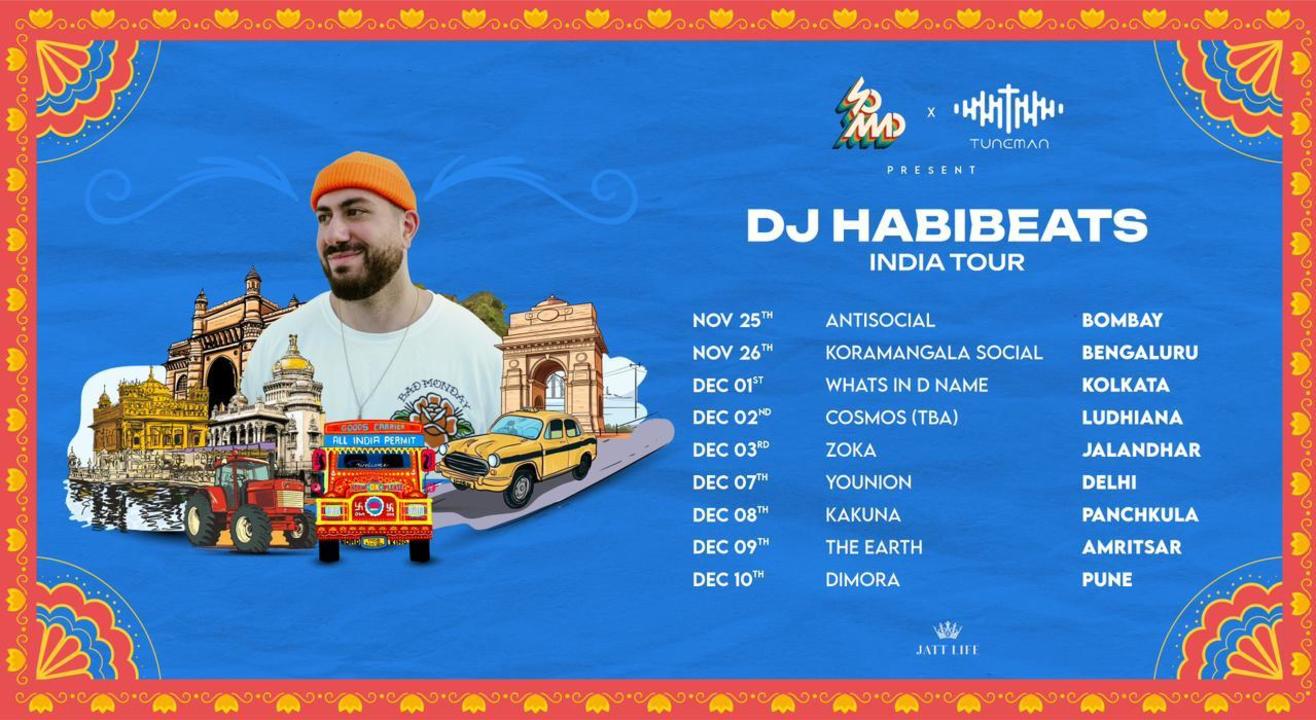 Social Select Sundaze X DJ Habibeats India Tour Ft. Kampai & Friends at Koramangala Social Bangalore
Koramangala Social, Bengaluru
Invite your friends
and enjoy a shared experience
Social Select Sundaze X DJ Habibeats India Tour Ft. Kampai & Friends at Koramangala Social Bangalore
Koramangala Social, Bengaluru
Invite your friends
and enjoy a shared experience
Covid 19 Safety Measures
This event adheres to the following

Health & safety measures
Hand Hygiene Stations
Contactless Service
Sanitisation before the show
Invite your friends
and enjoy a shared experience
Covid 19 Safety Measures
This event adheres to the following

Health & safety measures
Hand Hygiene Stations
Contactless Service
Sanitisation before the show
SoMAD Social Select Sundaze the infamous city hottest and safest Day Party space is Hosting Dj Habibeats 🇵🇸 for the very first in India.
Here is why we call our IP the best Sunday Day Party gathering!
• 10Hrs of NonStop Music with 6+ Artists on the line up! 🎛️🥁🎹🪩
• Best sounding hand made Atomik Audio's. 📢🔊
• BBQ & Grills ! 🍗🌮🧀🍡
💃🏼🕺
• Party and Socialise A Community of 5000+ Like minded individuals and music enthusiasts from across the globe 🌏 under one rooftop ! 🗺️
• 3+ Fashion Pop-Ups with the best of the city.
• MakeUp Glam station 💄💋✨
• Coziest Rooftop + Sundower with a view 🌅☀️🌞🌻
• Best of cocktails by cities finest Mixologist.
Expect no less then a impeccable celebration this Sunday. Thank you for helping us Host 100+ artists over the past 2 years. You have been nothing but amazing Bengaluru.
We welcome you to the Celebrations SoMADers !
• Entry Permitted to Patrons 21 of age or above only.
• Open Pack of cigarettes are not allowed to the party.
• No open slippers allowed at the party.
• Entry permitted to patrons dressed in any Ethnicity or ethnic dress wear.
• Mandatory cover charges Applicable upon entry post 5PM to the party. ( Couple INR 1000/- | Stag INR 1000/- | Single Lady INR 500/- )
DJ HABIBEATS LIVE || DETROIT
Koramangala Social
118, 3rd Floor, Koramangala Industrial Area, 7th Block, Above Bodyworks Spa, 7th Block, Koramangala, Bengaluru, Karnataka 560095
GET DIRECTIONS
Social Select Sundaze X DJ Habibeats India Tour Ft. Kampai & Friends at Koramangala Social Bangalore
Koramangala Social, Bengaluru
Invite your friends
and enjoy a shared experience