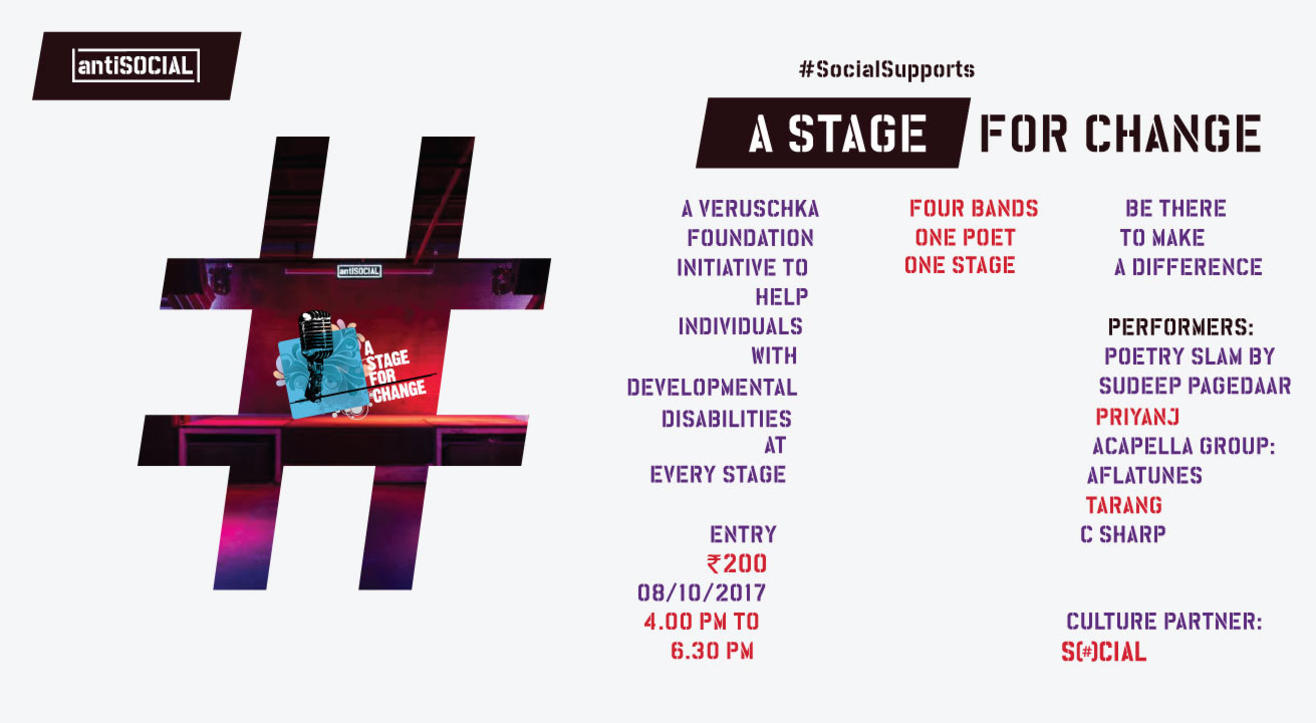 Self Improvement
#SocialSupports A Stage For Change
About
As Shakespeare once remarked "All the world's a stage." Veruschka Foundation in association with antiSOCIL and Social Offline invite you to "A Stage for Change" - our hope for all the world.
A unique fundraiser that gives individuals with developmental disabilities a chance to perform and share their 'music ability' with all the world!
Our star performers and change makers for the evening:
Aflatunes:
Aflatunes is an unconventional 'no instrument' strictly voice box powered band formed of ​7​ musicians who have a common belief:
'There is no greater instrument than the voice'
https://soundcloud.com/aflatunes
Poetry Slam by Sudeep Pagedar:
Sudeep is a Mumbai-based writer, development sector consultant, and spoken word artiste who has received a National Award for Creative Writing in 2004, from the then-President of India, Dr. A.P.J. Abdul Kalam. In 2016, he won the city-level Majhi Metro Poetry Prize in 2016, and some of his poems have also been chosen for publication by journals like 'Kitaab' & 'The Sunflower Collective'. Sudeep has been a featured poet at various events across the city, including Canvas Kavita at Tarq Gallery in Colaba, Crossover Poems in Thane, and the Kala Ghoda Arts Festival 2017. He is also a regular writer with Terribly Tiny Tales.
https://www.facebook.com/turnwrite.sudeep/
And our special performers for whom our stage for change awaits:
Tarang:
Tarang is an initiative of 'Yash Charitable Trust' that aims to use music to enhance quality of life of individuals with developmental disability such as Autism, Down Syndrome and other intellectual disabilities. Started with 3 members, Tarang has grown into 7 members now, all of them are working at Arpan, a supported employment program for adults with developmental disabilities. All genres of music is practiced in Tarang, that include classical, semi-classical, bhajans, popular songs, western music etc. Tarang has performed in quite a few shows recently in Mumbai and Pune.
C Sharp band:
C.Sharp special kids' world is a school for children with ASD (Autism Spectrum Disorder) and other disabilities like learning difficulties and cerebral palsy. Set up by C.Sharp Charitable Trust, it is an initiative of parents supported by experienced and professionally trained team teachers.
Priyanj band:
Members of Priyanj band are students of Priyanj special school,Goregaon (west).Priyanj special school is registered under "Rays of Hope Charitable Trust" They are a group of 6 musically inclined students. Priyanj band is in a process of evolving and finding their groove. Half of our band members are being successfully trained in vocals as well as playing various instruments.
Apart from being a café, bar and a coworking space, #Social pushes the best of #culture in the city by curating events ranging from workshops to guest lectures to art shows to icebreakers besides hosting the best artists of the music industry (be it underground electronica or death metal or sufi or acoustic). #SocialSupports causes, movements and acts which aim to bring a change in the society and strike a chord at the interpersonal level. All of this on a weekly basis across 3 cities and 17 outlets (and counting!)