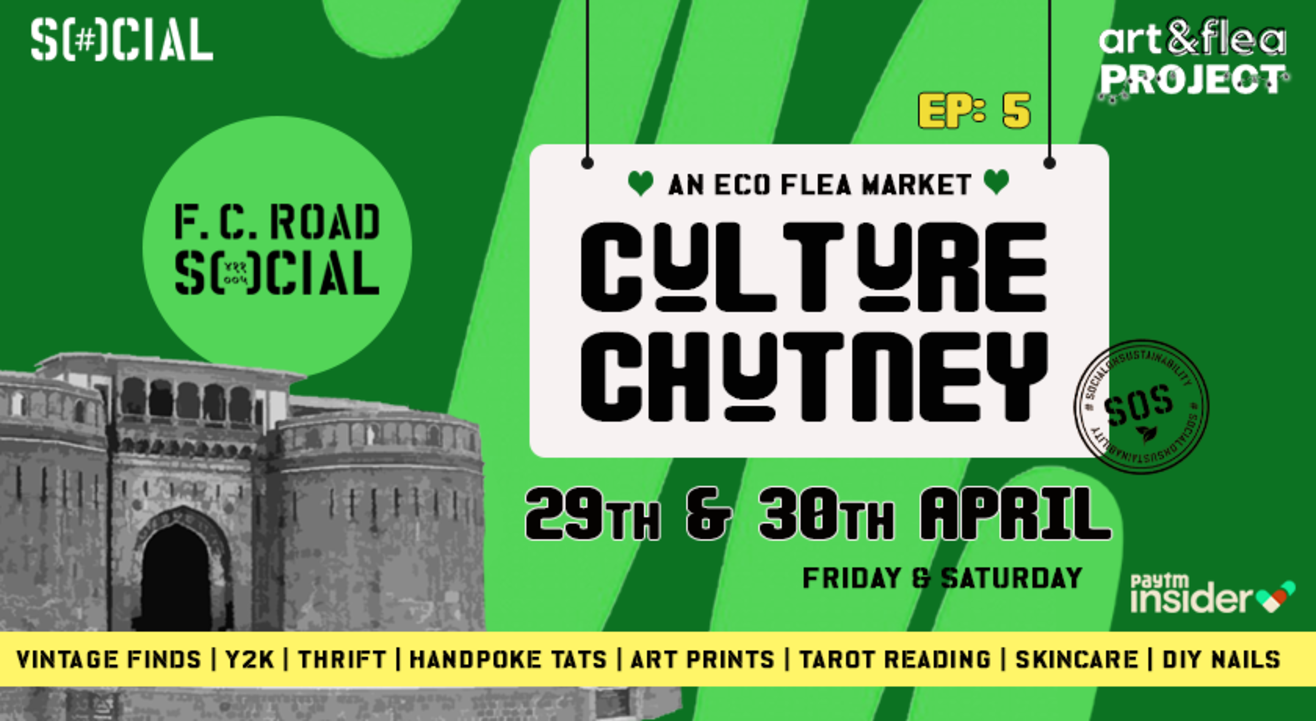 SOCIAL x Art & Flea Project: Culture Chutney - An Eco Flea Market
April 29 | 12PM - April 30 | 7PM
Step out and enjoy this event
Event Guide
Celebration
Fun times ahead
Invite your friends
and enjoy a shared experience
SOCIAL x Art & Flea Project: Culture Chutney - An Eco Flea Market
April 29 | 12PM - April 30 | 7PM
Step out and enjoy this event
Event Guide
Celebration
Fun times ahead
Invite your friends
and enjoy a shared experience
Event Guide
Celebration
Fun times ahead
Invite your friends
and enjoy a shared experience
Pune, we're coming soon! Enjoy SOCIAL's Culture Chutney, a 2-day eco flea market, as part of our green collab with the @artandfleaproject ✨
This #SocialOnSustainability trend is for you to meet some super talented artists and be a part of conversations that matter! Packed with fun activities and a market of lovely sustainable brands - vintage finds, tattoos, y2k, thrift, planters and art.
The idea behind this 2-day eco festival property is to mobilise the idea of sustainability and build a pan-India community of homegrown talent who want to play a role in making conscious lifestyle choices and driving others to do the same.
ECO FLEA BRAND & ARTIST MARKET -
Godbug
https://instagram.com/godbug
Inkte
https://instagram.com/inkte.in
Tinkerings
https://instagram.com/tinkerings.store
Krupali
https://instagram.com/krupali.art
Gush Beauty
https://instagram.com/gush.beauty
Neon Martini
https://instagram.com/neonmartinibyrasna
Anekism
https://instagram.com/anekism
Kasturi
Ikat & block print artist
KiRu
https://instagram.com/kiru_india
The Su Store
https://instagram.com/thesustore
ACTIVITIES -
Tote bag painting by KiRu
Free Entry. RSVP at #LinkInBio.
When: 29th-30th April
Time: 12 to 7 PM
Where: FC Road SOCIAL
ABOUT THE ART & FLEA PROJECT
Art & Flea Project (since 2019) was founded by 3 friends, Disha Das, Sreenanda Ganguli and Sayanika Mukherjee. It is a sustainability platform promoting conscious consumerism and building capacity in Arts and Environment through workshops, eco-festivals and flea markets. The vision is to make sustainable living more accessible to the common person; we discover artists and brands working in the sustainability space and thrust them so that the average population first gains access to these ethical, slow made alternatives before choosing an unethical, unsustainable, mass-manufactured product. It is a practice of patience and empathy and we are very proud to say out loud that our community is getting larger and stronger.
ABOUT SOCIAL
SOCIAL is a path-breaking urban hangout that's designed to take you offline while still keeping you connected. From an all-day café serving great food, coffee, and cocktails, SOCIAL transforms from this creatively charged, collaborative space into a high energy bar when work hours end, striking the perfect balance between work x play. Each outpost is a representation of the neighbourhood it resides in, from the pin code to the people. It's a second home, workplace, and hangout, all wrapped up in one mind-blowing experience.
FC Road Social
Unit No. 101, Mezz & 1st Floor, Cello Platina, C.T.S No. 1183, F.C. R, Maharashtra 411015
GET DIRECTIONS
SOCIAL x Art & Flea Project: Culture Chutney - An Eco Flea Market
April 29 | 12PM - April 30 | 7PM
Step out and enjoy this event
Event Guide
Celebration
Fun times ahead
Invite your friends
and enjoy a shared experience