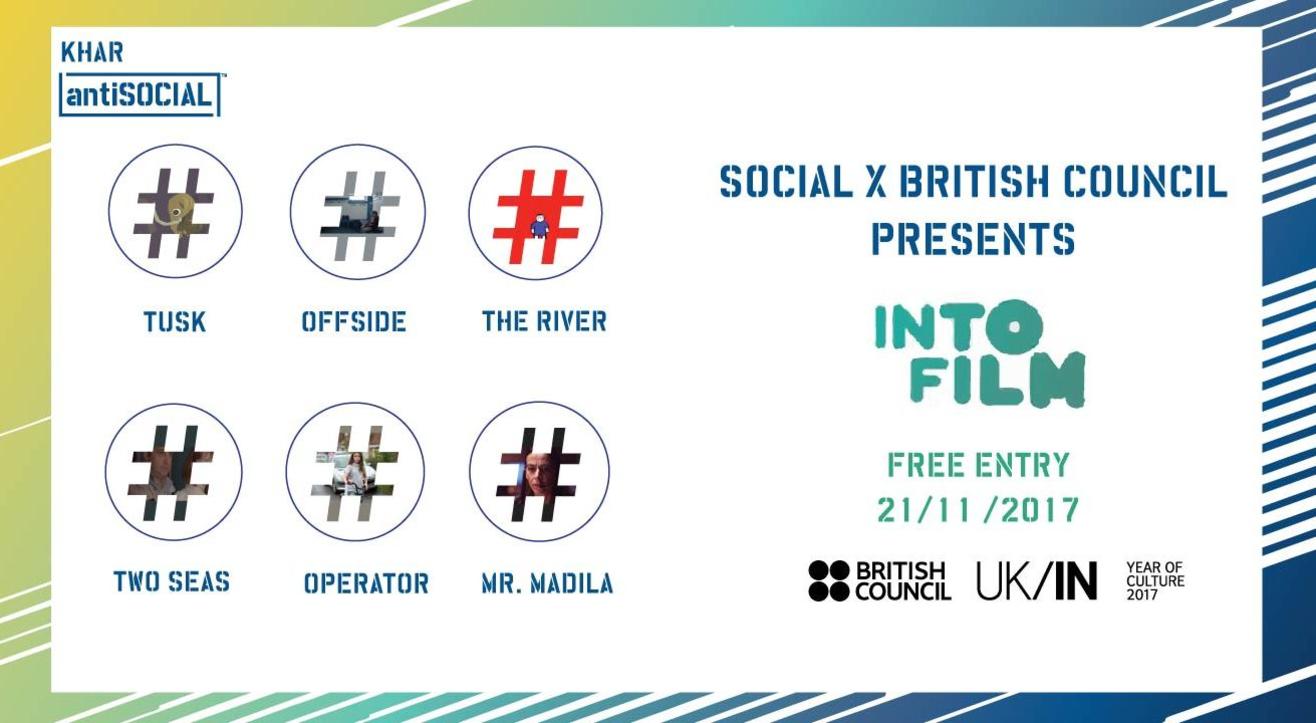 Screening
Social x British Council present: INTO FILM #Mumbai
About
Social and The British Council invite you to spend an evening watching handpicked shorts from Into Films.


These short films cover various topics and subjects on social issues, moralities, ethics and problems that needs a better look at. A free screening, this provides a great opportunity to look into the world of the often ignored short films and give them the credit they deserve!
Tusk: A witty and revealing animated commentary on identity and society through the eyes of a defrosted woolly mammoth and forced into a modern world.

Offside: The only girl on the football team, 11-year-old Kirsty notices her Dad talking to the coach. Told that she won't be able to play with them anymore more she is forced to come to terms with the changes that are happening to her body. With no mum to turn to and her dad unaware, Kirsty tries to figure it out herself in this delicate portrayal of a girl's coming of age.

The River: Two boys, from different sides of a violent war, meet across a river in this highly visual and frank allegorical tale about the futility of war and the innocent victims caught amongst it.

Two Seas: A teenage girl is returned home by the police and threatened with being sent to Tehran by her worried father still grieving the death of her mother. With good exam results all the girl wants to do is study marine biology and so runs away to the sea to think only to be followed by her father and brothers. A touching drama delicately exploring a young person's transition from childhood to adulthood.

Operator: An Emergency Services Operator starts her long shift by picking up a call to a mother whose house is on fire. This nail-biting short film gives a compellingly unique and at times distressing insight into the life and death situations an operator is faced with with not just once, but several times over the course of one evening.

Mr. Madila: An imaginative animation documenting a series of eccentric conversations between a young filmmaker and a spiritual healer whose beliefs and ideas on the universe are wonderfully brought to life through the filmmakers vivid, multi-coloured drawings.
The British Council is the UK's international organisation for cultural relations and educational opportunities. They create friendly knowledge and understanding between the people of the UK and other countries by making a positive contribution to the UK and the countries they work with – changing lives by creating opportunities, building connections and engendering trust.
antiSOCIAL is quite the underground venue. A versatile space, it is perfect for hosting poetry readings, music showcases, film screenings and a lot more.