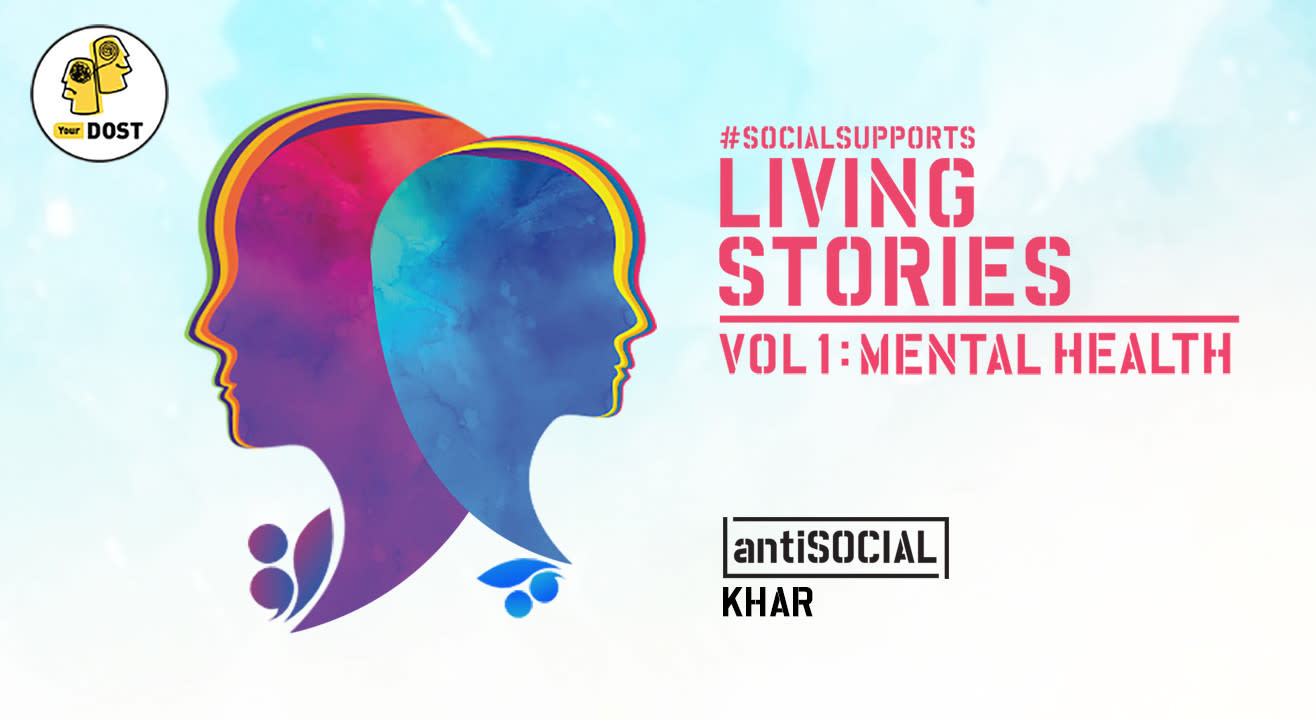 SocialxYourDOST: Living Stories - Vol. 1: Mental Health, Mumbai
Step out and enjoy this event
Invite your friends
and enjoy a shared experience
SocialxYourDOST: Living Stories - Vol. 1: Mental Health, Mumbai
Step out and enjoy this event
Invite your friends
and enjoy a shared experience
Invite your friends
and enjoy a shared experience
"Living Stories" is a project to initiate 1-1 conversations between a person who acts as a book and others who come as readers. The first edition of this project is solely dedicated to Mental Health (and the lack thereof).
The idea is for people to share specific life experiences in the form of stories as they become books whom interested readers can issue and read, through personal conversations. 'Living Stories' is an attempt at creating a space of acceptance of the need for good mental health and healthcare, of the ugly realities that are the consequences of mental illnesses. We hope to promote compassion by sharing knowledge in the form of stories.
What do you do as a 'reader'?
Come to antiSOCIAL, Khar on September 2.
Walk up to a bunch of brave books whose titles and subtitles you can read before choosing to interact with them.
Express interest at wanting to talk to them.
Listen to the myriad stories that your book has to tell you, with open ears and an even more open mind.
Ask them questions if you wish. Please do respect their wishes regarding touchy topics!
Walk away with more colours in your field of view and less judgements muddying that horizon
Volume 1 of Living Stories will feature youngsters whose experiences range from diagnosis of bipolar and borderline personality disorder to nights of insomnia or days flooded with anxiety. It will also showcase stories by experienced professionals and chart out their mental health journeys. This event is important for both the books and their readers, in very different ways. For the books, this experience is a catharsis of sorts. Here are people, who are not friends or loved ones only, who are willingly investing their time and resources into listening to the stories of an absolute stranger. For the readers, the lessons are infinite.
This edition is curated by Sanchana Krishnan, a writer, photographer and travel freak with a personal mission to work on mental health. It is held in association with Social Offline and YourDost.
To be a reader: Ticket: INR 300 (incl taxes) which entitles you for 3 slots of 20 minutes each. You could choose how you wish you to spend these 3 slots — all at once, with one book or different books each slot or anything in between. If you'd like to read more books, you could always purchase more slots. Ticket link to be accessible from 6pm on
22nd July, 2017.
To note: This project is entirely not-for-profit. The ticketing helps us bring this project to 3 cities offline and create enough content to reach the whole word, online.
antiSOCIAL khar
Rohan Plaza, 5th Rd, Ram Krishna Nagar, Khar West, Mumbai, Maharashtra 400052
GET DIRECTIONS
SocialxYourDOST: Living Stories - Vol. 1: Mental Health, Mumbai
Step out and enjoy this event
Invite your friends
and enjoy a shared experience