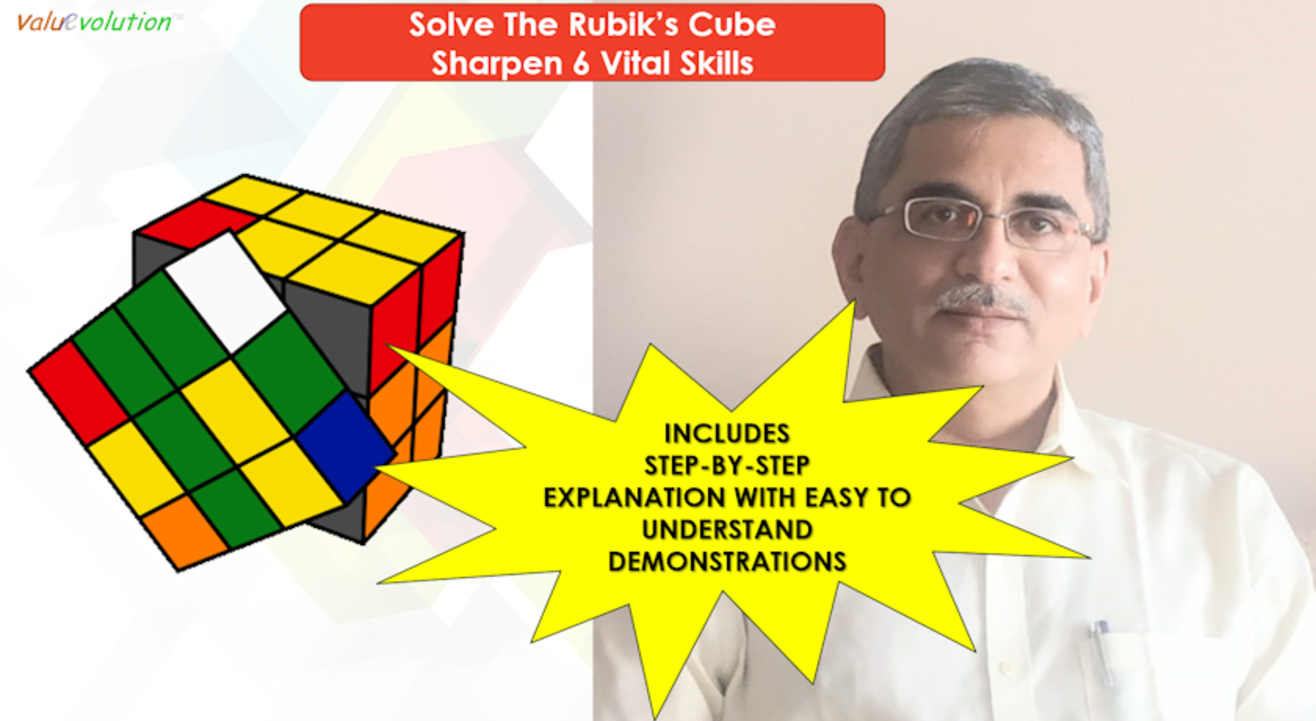 Event Guide
Digital Event
Watch on Insider
Masterclass
Learn from an expert
Invite your friends
and enjoy a shared experience
Event Guide
Digital Event
Watch on Insider
Masterclass
Learn from an expert
Invite your friends
and enjoy a shared experience
Event Guide
Digital Event
Watch on Insider
Masterclass
Learn from an expert
Invite your friends
and enjoy a shared experience
Event Highlights
During this video-on-demand event you can sit back, relax and completely focus on getting to view and solve all the 6 steps to solve the 3 x 3 x 3 Rubik`s Cube step-by-step that will be streamed online and with the course creator himself guiding it forward.
This includes detailed instructions and step-by-step demonstration (slow and steady) of how to solve the Rubik's cube. The explanation is from the 5-star rated course creator and conductor
You will get to know how will you be sharpening 6 vital skills as you enjoy solving the Rubik`s cube
Event Description
In this event, you will learn to solve the Rubik`s cube step-by-step. This mind-boggling puzzle has over 43 quintillion ways to scramble!
Note: 1 Quintillion is equal to 1000,000,000,000,000,000
It is an experience to learn a 6-step method to solve the Rubik`s cube and sharpen 6 vital skills:
+ Critical Thinking
+ Analytical Thinking
+ Reasoning and Problem-solving
+ Systems Analysis and Design
+ Technology Design and Programming
+ Judgement and Decision Making.
This is a 5-star rated experience with a 5-star rated skills trainer who passionately strives for individuals to be happily skilled. This experience is easy-paced and suitable for all learners from 8-80 years of age who have the curiosity and desire to learn and upskill.
The experience is divided into sections, each with a step-by-step learning approach. The course is interesting for you to enjoy and valuable enough for you to gain a sense of accomplishment from the outcome of solving the Rubik`s cube and having sharpened 6 vital skills of immense value in your personal, academic, and professional life.
To avoid interruptions in the stream due to internet connectivity issues, we suggest you have good speed internet connectivity.
Terms
1. Tickets once booked cannot be exchanged or refunded
2. An Internet handling fee per ticket may be levied. Please check the total amount before the payment
3. Recording or uploading of this stream is not permitted. Strict action will be taken against those who break these guidelines.
4. These terms and conditions are subject to change from time to time at the discretion of the organizer
Solve The Rubik's Cube, Sharpen 6 Vital Skills
Event Guide
Digital Event
Watch on Insider
Masterclass
Learn from an expert
Invite your friends
and enjoy a shared experience