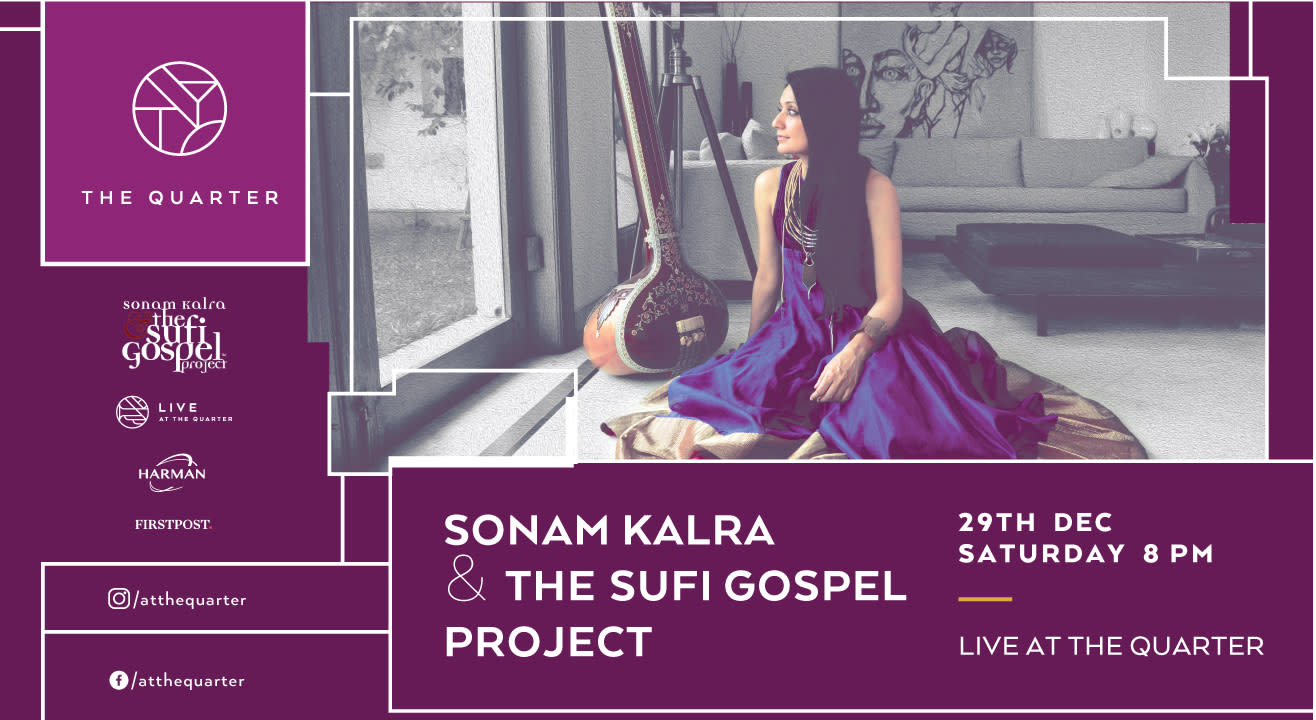 Music
Sonam Kalra & The Sufi Gospel Project at The Quarter
Saturday | December 29 | 8PM
1,249 - 1,699 (Prices subject to change)
About
An original and new genre of music that combines the many voice of faith-sufi, gospel and bhakti with poetry, rhythm and recitation. This mesmerising evening awaits you at The Quarter on the 29th of December.
About Sonam
Sonam Kalra is a vocalist whose skill spans both Western and Indian musical traditions. She has trained in Indian classical music under Shubha Mudgal and Sarathi Chatterjee and has also studied varied genres of Western music including gospel and jazz under gospel singer Ashley Clement in Singapore, as well as classical opera under the noted tenor, Hur Chul Young. Sonam is also a writer, a stage and television actor- she is a national award winning actress of The Mahindra Excellence in Theatre Award.
She is also a well know voice-over artiste and was the Live voice host of the Commonwealth Games 2010.
Sonam is known for her powerful yet sensitive voice and ability to blend stlyes and yet stay true tothe music. Her music is a joyous mix of everything she has learnt. Sonam's music reflects the special meaning it holds for her and she brings to it, a truth that moves you from deep within, and a freshness and gaiety that's invigorating and infectious.
Sonam is proficient in and known for her Jazz performances and the new genre of music she has created called The Sufi Gospel Project which has been making waves in India and abroad. She has received great reviews from the press and audiences alike, and she has been invited to perform at leading venues and festivals in India like the NCPA mumbai, The Weavers centre for the arts Kolkata, India Habitat Centre, Epicentre, India International Centre and Kamani auditorium , New Delhi. She has opened the The World Sufi Spirit Festival, Rajasthan, The Rajasthan international Folk festival, The Bengaluru International Arts festival, to name a few.
Venue
The Quarter
Royal Opera House, Mathew Rd, Opera House, Girgaon, Opera House, Girgaon, Mumbai, Maharashtra 400004, India