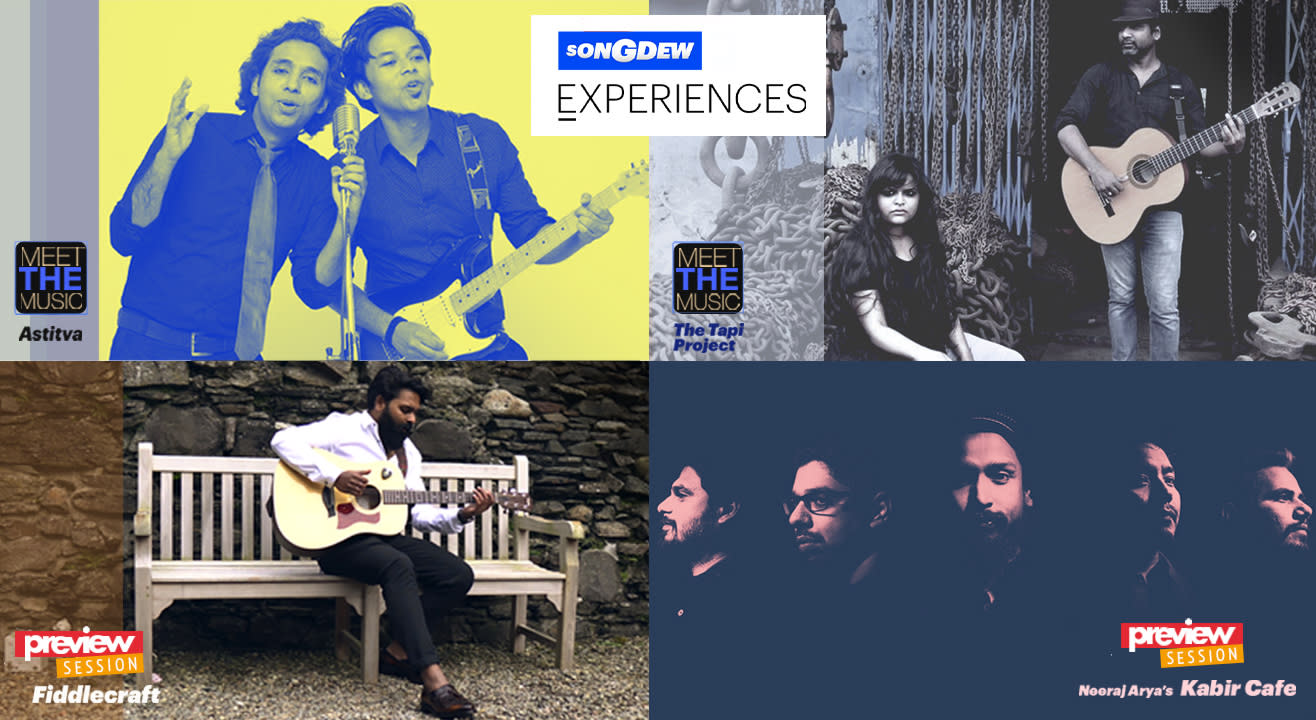 Get your gig routine back on track
Live music performances are back, and this time they're happening at your home. Get ready to watch your favourite musicians live online. So, stay in and stay entertained.
Invite your friends
and enjoy a shared experience
Songdew Experiences are here with a curated series of digital gigs that give you the chance to watch live music performances from home, and yes - these experiences are interactive. So when you wave at your favourite artists saying, "once more, once more" they know it's you.
To begin with, you can watch Annamika (the Indipop Queen from the 90s), Delhi based pop-rockers - Astitva, Neeraj Arya's Kabir Café, Fiddlecraft, EPR, The Tapi Project and more such musicians from the country.
New format, who dis?
Each and every one of these at-home experiences feature a well-formatted, storyboarded show which offers the viewers a unique opportunity, to enjoy a live music performance in a freshly designed format. Some of the formats are: 1. Preview Sessions: a show built around the reveal of a new track, 2. Rewind: a musical show to celebrate some of the biggest independent albums of the industry, 3. Naughty Nites and 4. Meet The Music. Each digital experience features about an hour of entertaining music, lots of interesting conversations and a whole lotta fun!
These online experiences by Songdew are designed for viewers to get up close with music in a more intimate way. Come over to enjoy interactive live programs and get to know your kind of music & artists, a little more closely.
"It is going to be like watching a TV show bringing their favourite artists closer to them" - Sunil Khanna, Founder (Songdew).
What do the artists have to say?
Annamika
Often referred to as the Indipop Queen, Annamika rocked through the 90s with hits like Kala Shaka La to Kahi Karta Hoga Mera Intezaar. She kept the world grooving to her music ever since her first album release, Catwalk in 1996.
Here's what she has to say about her upcoming digital experience:
"It's exhilarating to be a part of this amazing initiative. I am looking forward to connecting with my fans through this unique concept. It is just not another live gig. The show has been designed to give viewers a very unique experience. And it has been very exciting to work with the team on the concept and bring it to life."
We still remember the day we heard these songs for the first time:
Astitva:
A multi-genre Hindi band, Astitva true to their name, have always worked towards carving a niche since they began their journey in 2007. Their music is a blend of rock, jazz, and Hindustani Classical that bring out the true magic of their lyrics, which are written in Hindi and Urdu.
Delhi based Pop-Rock band, Astitva is also a part of Songdew's digital concert series. On asking about the new format and the online experiences, Salman Khan Niazi, (lead vocalist) said, "We are very excited to be a part of this initiative. We loved how the team has re-invented live gigs and added something different to it. I think it will be something that our fans and listeners would look forward to. Also, it is a great way to create monetizing opportunities for artists during this pandemic with live gigs coming to a halt".
So gear up to watch Astitva live from home:

Subscribe to receive our newsletter!
Find the best experiences happening out there in your city or enjoy handpicked content while sitting comfortably at home. Paytm Insider is your go-to place to figure out what to do today!