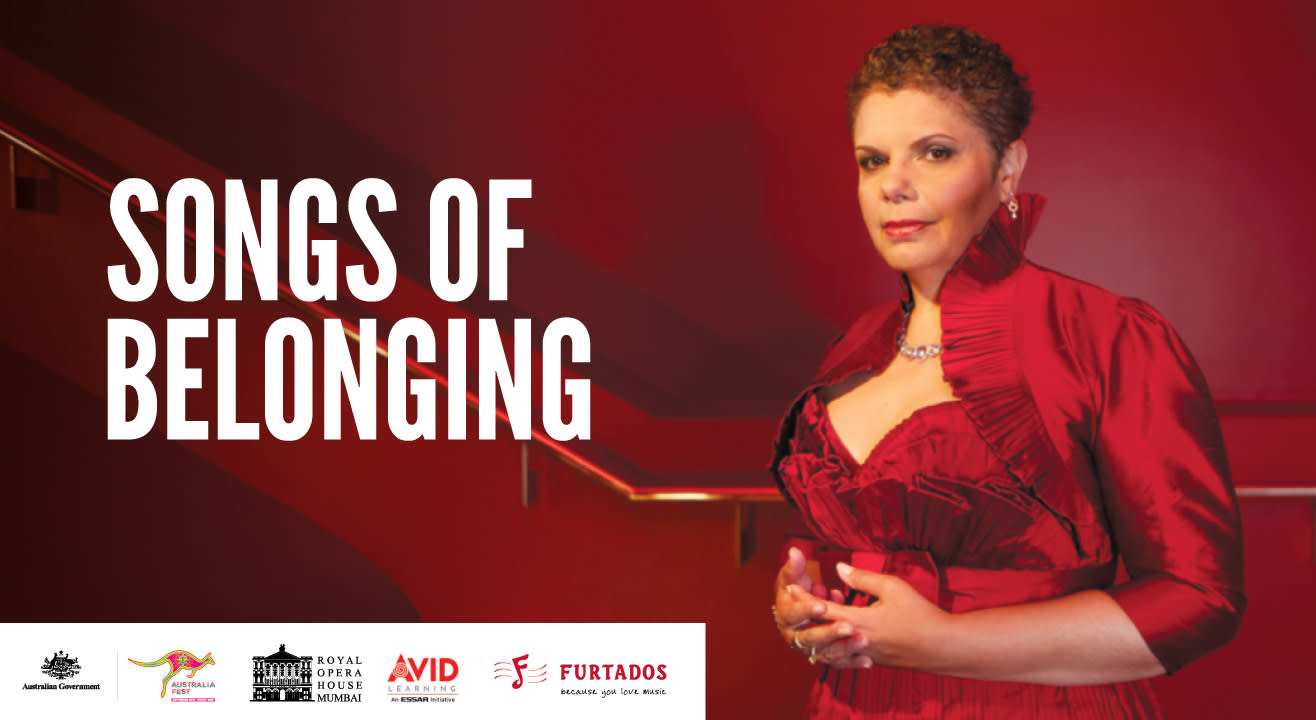 The Royal Opera House, Mumbai
Step out and enjoy this event
Invite your friends
and enjoy a shared experience
Invite your friends
and enjoy a shared experience
About the Event
The ancient song-line of Australia's Indigenous people is brought to life by acclaimed Soprano, Composer and Artistic Director of Short Black Opera Deborah Cheetham, through a unique narrative recital and powerful commentary which focuses on themes of belonging and human rights.
Australian Consulate-General, Mumbai, Royal Opera House, Mumbai and Avid Learning Present Songs of Belonging – A special operatic performance featuring admired Australian and Indian performers, where indigenous aboriginal music comes together with classical western and contemporary Australian sounds along with Indian percussion.
This unique performance will be led by Cheetham, who will be accompanied by Pianist Toni Lalich, as she shares her unique life story and traces the journey she has embarked on to discover her sense of belonging.
Together with the music of legendary European composers such as Puccini, Catalani, Cilea, Dvorák, Strauss and Vaughn Williams, Cheetham will also be joined on stage by Tabla Master Pandit Sengupta and Contemporary Art Music Ensemble Rubiks Collective – one of Australia's most exciting new music ensembles, for the premiere of her latest composition Article 27, based on the 27th article of the UN Declaration of Human Rights and translated into the ancient language of the Pintubi people to create an evocative musical piece.
This production is presented as a part of Australia Fest, a festival celebrating Australia's cultural diversity, creativity, and dynamism through major events across India.
Join us for an exclusive evening featuring one of Australia's most admired performers!
Deborah Cheetham, Yorta Yorta woman, soprano, composer and educator has been a leader in the Australian arts landscape for more than 25 years. In the 2014 Queen's Birthday Honours List, Deborah was appointed as an Officer of the Order of Australia (AO), for distinguished service to the performing arts as an opera singer, composer and artistic director, to the development of Indigenous artists, and to innovation in performance. Short Black Opera Café, Death Scenes and Drama Queens and 'Til The Black Lady Sings were early successes for Deborah Cheetham combinging her talents as a writer, performer and entrepreneur. 'Til the Black Lady Sings has toured to London, New York, Eastern Europe and around Australia for almost a decade. Deborah's early career was shaped by an opportunity to study in New York with vocal coaches and repetiteurs from the Metropolitan Opera and Julliard School of Music. Upon returning to Australia, Deborah created her first major work, the critically acclaimed White Baptist Abba Fan and toured extensively with this show for the next five years. The success of Pecan Summer led to the creation of Short Black Opera Company, a national not-for-profit opera company devoted to the discovery and development of Indigenous opera singers. As Artistic Director of Short Black Opera Company Deborah Cheetham has assisted many Indigenous singers to find their voice through the powerful medium of opera. Successive seasons of Pecan Summer have included performances at the Melbourne Arts Centre (Melbourne 2011), WA State Theatre Centre (Perth 2012) and Her Majesty's Theatre (Adelaide 2014) and the award winning Sydney Opera House production in 2016.In March 2015 Ms Cheetham was inducted onto the Victorian Honour Roll of Women.
Short Black Opera Company is Australia's national Indigenous opera company, providing training and performance opportunities for Indigenous singers in classical vocal music and opera.

Australia Fest is a six-month long celebration of Australian culture and creativity across India being presented by the Australian Government.

Royal Opera House, Mumbai is widely touted as Mumbai's Cultural Crown Jewel and India's only surviving Opera House. The original idea for the space was conceived of in 1908, inaugurated in 1911 by King George V, and eventually completed in 1916. The design incorporated a blend of European and Indian detailing. The space became a cinema in later years before falling into disrepair and shutting by the 1990s. Fittingly, the space has been owned by the Royal Family of Gondal since 1952 and was eventually restored by conservation architect, Abha Narain Lambah under the leadership of His Highness, Maharaja Shri Jyotendrasinhji of Gondal. The Royal Opera House Mumbai, now one of the last remaining Baroque structures in the city, reopened after 23 years in October 2016. The building was included on the 2012 World Monuments Watch to raise awareness about its history and significance, and support preservation efforts. The building has since been recognized with an Award of Merit in the 2017 UNESCO Asia-Pacific Awards for Cultural Heritage Conservation. The restored facilities feature a 575-seater 3-level auditorium with an orchestra pit and state of the art technological upgradations, including acoustics, stagecraft, lighting and air-conditioning, alongside retaining the old world charm of the proscenium stage, the royal boxes and the magnificent regal chandeliers. Some more enhancements to the venue include a motorized screen, co-axial ceiling speaker system, Four-zone volume control and all round wifi access. Today, it stands as a key performance and creative hub in the city's cultural landscape, while being a premier heritage landmark.

Facebook: MumbaiOpera
Twitter: @MumbaiOpera
Instagram: @mumbaiopera

Avid Learning, a public programming platform and cultural arm of the Essar Group, has conducted over 1000 programs and connected with more than 125,000 individuals since its inception in 2009. Driven by the belief that Learning Never Stops, AVID's multiple formats like Workshops, Panel Discussions, Gallery Walkthroughs, and Festival Platforms create a dynamic and interactive atmosphere that stimulates intellectual and creative growth across the fields of Culture & Heritage, Literature, Art and Innovation.

Facebook : www.facebook.com/Avidlearning
Twitter : www.twitter.com/Avidlearning
Instagram: instagram.com/avidlearning

Furatados: Established in 1865, Furtados has always been a leader in the field of Western music education and knowledge in India. From musical instruments & accessories to print music and digital equipment, having a complete spectrum of musical instruments in the Western and Indian categories. Furtados has grown into a household name in the music business and are spread across Mumbai, Pune, Delhi, Chandigarh, Bangalore, Ahmedabad, Mangalore, Dimapur, Panjim and Margao. It has a growing retail network (17 showrooms) and over 350 dealer outlets. Furtados also holds a record number of international dealerships for top-of-the-line brands in music. www.furtadosonline.com is the quintessential Musical Instruments e-commerce site for India. In January 2011, Furtados launched a publishing joint venture with one of the world's leading music book publishers, Music Sales Ltd, UK. Music Sales Furtados (India) Pvt Ltd, is focused on publishing Indian editions of best-selling Music Sales books and special local content. Furtados School of Music (www.fsm.net.in) was launched in June 2011 to provide quality and organized music education to students and aspiring musicians across India. With the help of a path breaking international curriculum for the Piano, Keyboard, Guitar, Drums and Violin, they have been able to bring music to and currently teach over 25,000 students in over 70 points of presence. Furtados invests in developing musical knowledge through training workshops, master classes, clinics, demonstrations and exhibitions, and the sponsoring of local talent and artistes. Furtados also invests in community development and supports several organizations across the country, including school and college events, musical activity in religious and charitable organizations, festivals as well as social upliftment projects involving a musical element.


The Royal Opera House, Mumbai
Mathew Rd, Charni Road East, Opera House, Girgaon, Mumbai, Maharashtra 400004
GET DIRECTIONS