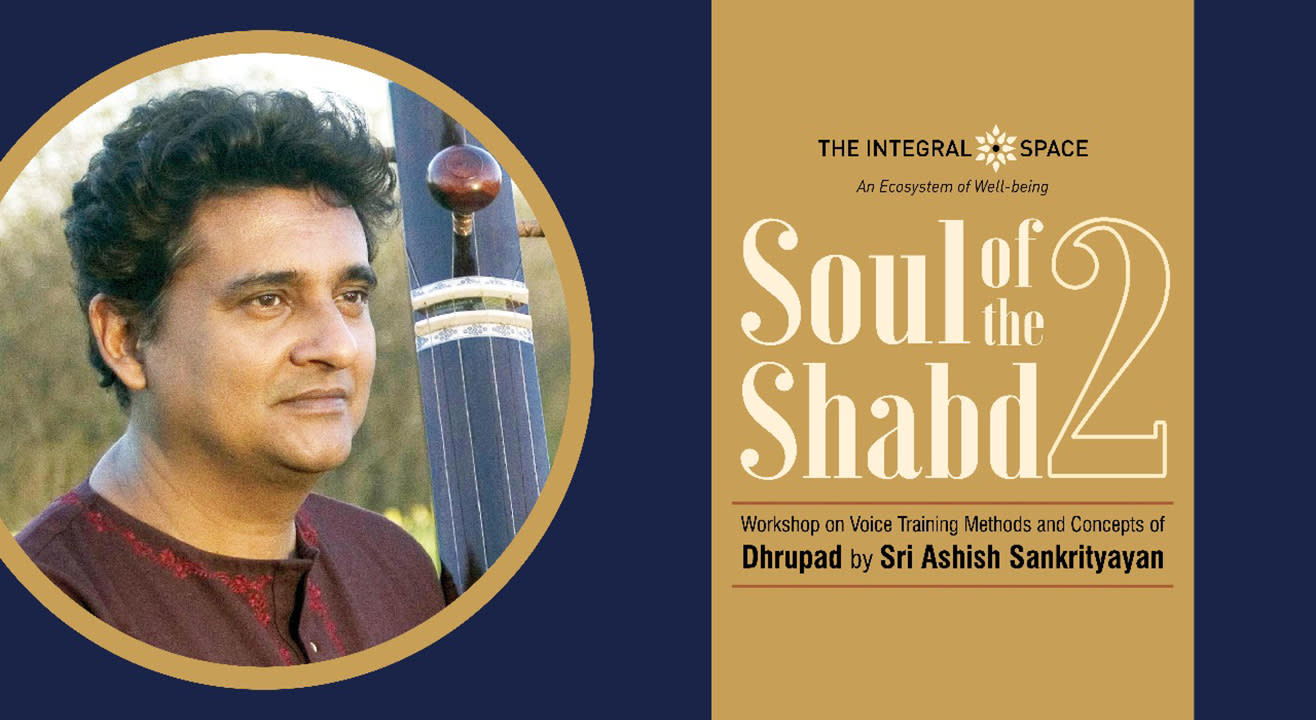 Music
Soul of the Shabd- 2
The Integral Space, Lower Parel
About
Ashish Sankrityayan, a renowned exponent of the Dagar Dhrupad tradition, is the Guru of the Madhya Pradesh Government Dhrupad Kendra in Bhopal. He is doing a workshop on the voice training methods and this will be followed by a free concert.

At the workshop, he will be sharing practices that are fundamental to Dhrupad and have a Universal significance for the training of the voice. (All concepts below will be introduced and taught through actual practice using singing exercises).
Focuses on the voice training methods of dhrupad which are based on practices derived from yoga and the sāma vedic mantra chanting tradition.
Fundamental practice of the ākār – the long vowel ā and its use in dhrupad for developing the voice and goes on to the concept of variation of voice resonance through the use of various positions and energy channels in the body.
The use of gestures of the hand or mudrās in controlling sound, different aspects of vowel and consonant pronunciation in dhrupad, the use of the breath and silent internal processes through changes of position.
It introduces the tonal system of dhrupad with the concepts of grāma and mūrcchanā - scales made up of 22 śrutis or microtones, which are generated by the iterative process of shifting the starting point or origin within a scale and also shows how śrutis or microtones can be employed in a practical music only through a system of colouring them through changes of resonance.
The workshop deals with the relation of śruti, grāma, and mūrcchanā to the concept of rāgas, and how subtle changes in intervals are used in dhrupad to create feelings and sentiments in the treatment of various rāgas.
The workshop also explains the concept of laya or the flow of time and its relation to the vedic svaras and its role in the concept of tāla or rhythm cycles.
The methods and concepts that are taught can be used in general to understand the voice and its development through systematic training and could be adapted and used in various kinds of singing.
The workshop also deals with the evolution of Indian music from the vedic chants and how aspects of the vedic chantings are used in a very fundamental sense in dhrupad through the tonal system of śrutis or microtones and the system of vedic svaras or changes of resonance.
Workshop Timing: 1 - 5PM
Concert: 6 - 8PM
About Dhrupad Maestro Sri. Ashish Sankrityayan
Ashish Sankrityayan is an exponent of the Dagar tradition of dhrupad. His main teachers have been Ustads Rahim Fahimuddin Dagar, Zia Fariduddin Dagar and Hussain Sayeeduddin Dagar. He has also received valuable guidance from Ustads Nasir Aminuddin Dagar and Zia Mohiuddin Dagar. Since 2011, he has been the Guru and director of the Ustad Alauddin Khan Academy's Dhrupad Kendra in Bhopal, where he is currently implementing for the first time in the country a Bachelor and Master of Arts program in classsical music of the Madhya Pradesh Raja Bhoj Open University with a primary focus on dhrupad, so that students of dhrupad, while learning in the guru shishya system, can also get a university degree through a flexible scheme of examinations that can be spread over several years.
He has been a consultant for the Maharana of Mewar Foundation of Udaipur for the restoration and release of their archival recordings of the Elder Dagar Brothers.

Below are some of his performances and a beautiful article on him.
https://youtu.be/QKIEUIM4Wf4

A Unique Treat-The HINDU
https://www.thehindu.com/entertainment/music/a-unique-treat/article18489350.ece
Venue
The Integral Space, Lower Parel
14, Janata Estate , Opp. Palladium Mall, Lower Parel West, Lower Parel, Mumbai, Maharashtra 400013