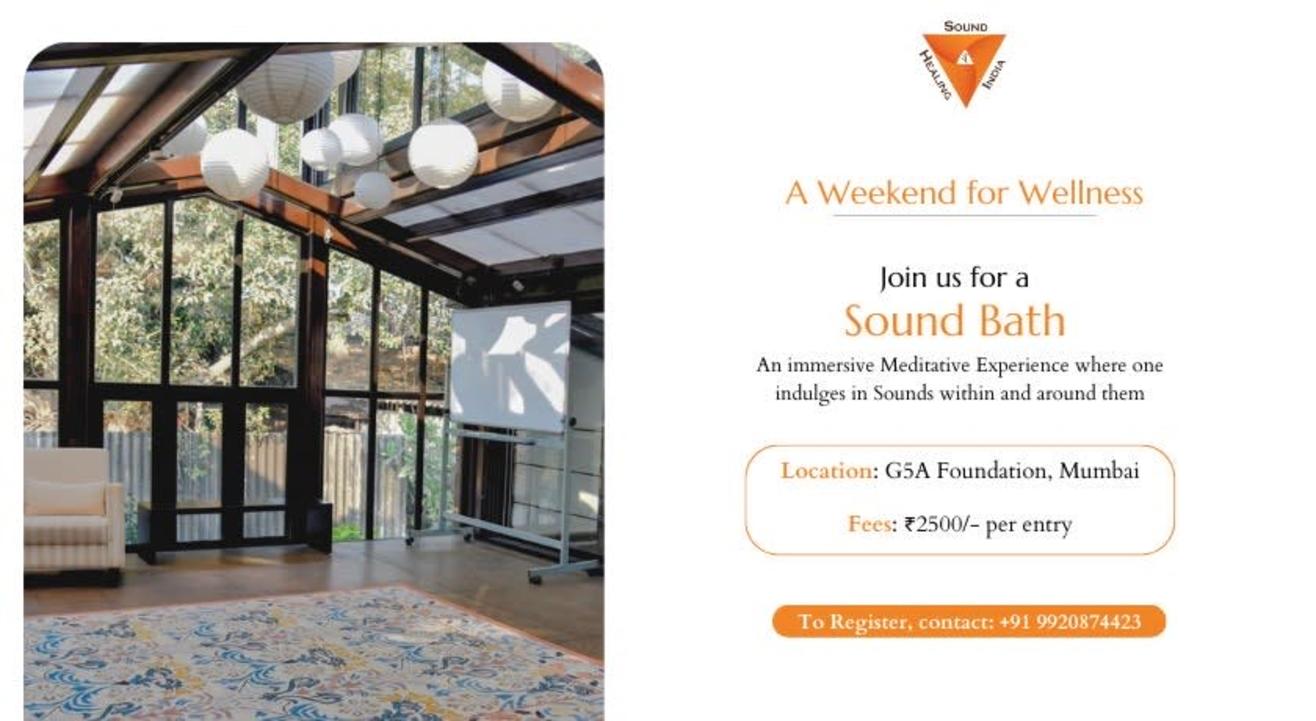 Event Guide
Live Fitness
Workout with a pro
Invite your friends
and enjoy a shared experience
Event Guide
Live Fitness
Workout with a pro
Invite your friends
and enjoy a shared experience
Event Guide
Live Fitness
Workout with a pro
Covid 19 Safety Measures
This event adheres to the following

Health & safety measures
Limited Capacity
Sanitisation before the show
Invite your friends
and enjoy a shared experience
Covid 19 Safety Measures
This event adheres to the following

Health & safety measures
Limited Capacity
Sanitisation before the show
An immersive Meditative Experience where one indulges in Sounds within and around them.
Sound isn't that which we hear but is that which we choose to listen to and to understand sound is to understand oneself. Sound Therapy is popularly considered to be an immersive experience with singing bowls, gongs etc.
Please Note: This Sound Bath is a guided meditation that can be experienced by anyone and doesn't require the participants to be well versed with the concept of Sound Therapy. We welcome first timers with open arms.
Here's the flow of the workshop that I plan to facilitate:
Breathwork | Voice Healing | Sound Bath
Breath to become aware of this present moment.
⁃to connect with the rhythm of the breath is to connect with the rhythm of the life itself.
Voice to bring alignment to the mind, body & spirit.
⁃to use your own voice to explore the power of vibration in healing & bringing harmony within.
Sounds to surrender, yet observe & heal.
⁃to deeply heal & surrender to the sounds & vibrations of various sound healing instruments.
Participants will dwell & get immersed in the vibrations of the singing bowls, Gongs, Chimes, Rattles, Nature sounds & Percussions. These vibrations will take them deep inside themselves to experience silence, to heal, to calm the nervous system, to release anxiety etc.
Benefits of the session:-
⁃ connect with the sounds within
⁃ heal physical pains if any
⁃ overcome stress, anxiety etc
⁃ learn to manage anger
⁃ develop a deep sense of well being
⁃ reconnect with self
⁃ reconnection with the Prana that's flowing within
⁃ raised awareness
⁃ expanded consciousness
⁃ deeper connection with life itself
- Wear loose & comfortable clothes.
- Carry a yoga mat & shawl (if you easily feel cold, as the body temperature drops).
- Carry a water bottle.
- Turn off or put your phones on silent (strictly no vibration mode) before entering the space.
- Enter and Leave in Silence.
G5A Warehouse
G-5/A, Laxmi Mills Estate, Shakti Mills Ln, Mahalaxmi West, Worli, Mumbai, Maharashtra 400011, India
GET DIRECTIONS
Event Guide
Live Fitness
Workout with a pro
Invite your friends
and enjoy a shared experience