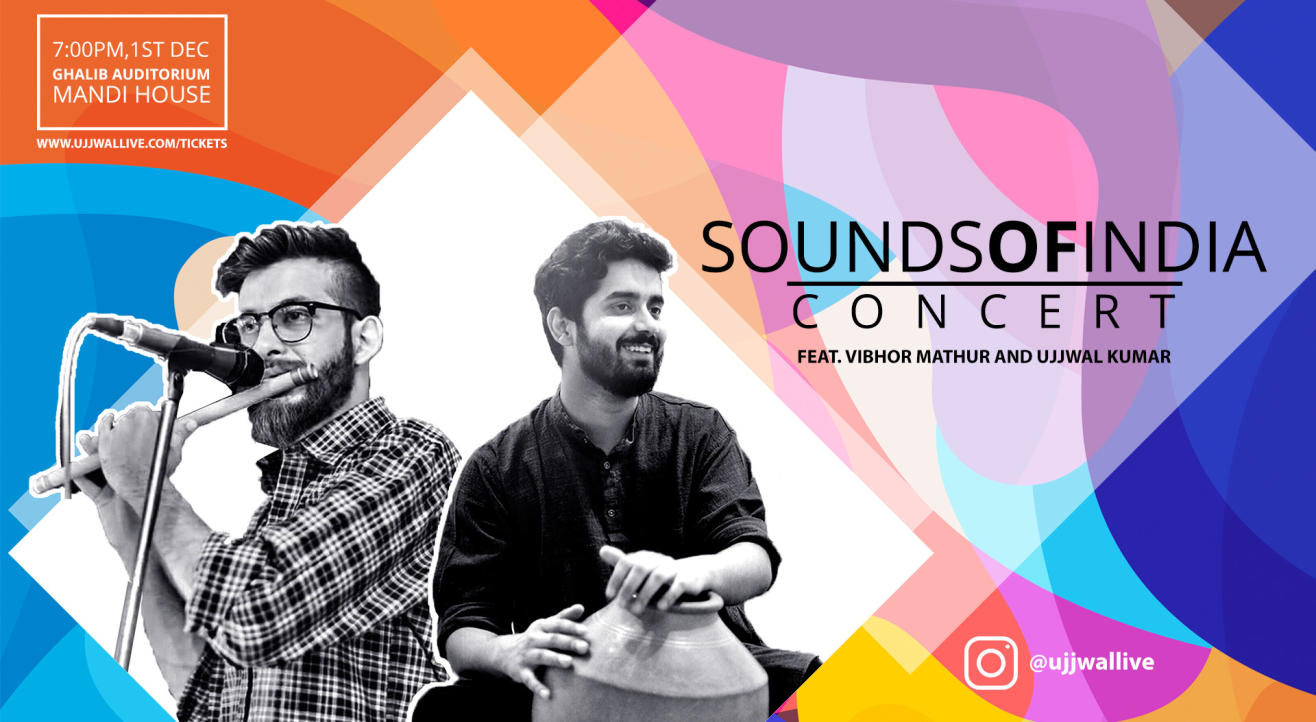 Sounds of India Concert (Mandi House)
Ghalib Institute, Delhi, Delhi
Step out and enjoy this event
Invite your friends
and enjoy a shared experience
Sounds of India Concert (Mandi House)
Ghalib Institute, Delhi, Delhi
Step out and enjoy this event
Invite your friends
and enjoy a shared experience
Invite your friends
and enjoy a shared experience
What is Sounds of India Concert?
1. It's not a classical concert, it's a fusion of Indian and modern sounds.
2. It's a concert where Indian culture and history meets.
3. It has viral Ghatam mixes, flute rendition of some familiar tunes and sounds from the world.
4. It's an experience where your mind meditates but your body grooves.
5. It's also an excuse to wear Indian.
Sounds of India is an initiative by Ujjwal Kumar, to present a classical music instrument in an all new avatar. The first volume will have dialogue between two profound instruments of this multi-cultural nation: Ghatam and the Bansuri.
About the Artist:
Ujjwal Kumar
Ujjwal Kumar is a percussionist from New Delhi and has been doing live music for the past 16 years. He is also classically trained in Tabla and has then transformed his skills to other instruments. Currently, he is playing the "Ghatam" and is one of the very few in the world to have developed a fusion style with this Carnatic instrument.
Vibhor Mathur
Vibhor Mathur has been training in Indian classical music for the past 7 years. He began playing the flute (Bansuri) before he started his formal learning and has been associated with many renowned musicians and bands. One of his recent collaborations was with the band Parikrama and the Indian Ocean. He is currently on a journey to explore new and different sounds with his instrument
Come, join us in the first edition of "Sounds of India" and experience a musical narrative between the Bansuri and the Ghatam.
Through the kaleidoscope of sensory epitome, let's sit down and listen to some good music together in the heart of New Delhi on the 1st of December, 2019 at Ghalib Institute, Mandi House at 7:00 p.m.
Ghalib Institute, Delhi
Ghalib Institute: Mata Sundari Lane, Aiwan-E-Ghalib Marg, Near Bal Bhavan, (Nearest Metro-ITO. )
GET DIRECTIONS
Sounds of India Concert (Mandi House)
Ghalib Institute, Delhi, Delhi
Step out and enjoy this event
Invite your friends
and enjoy a shared experience