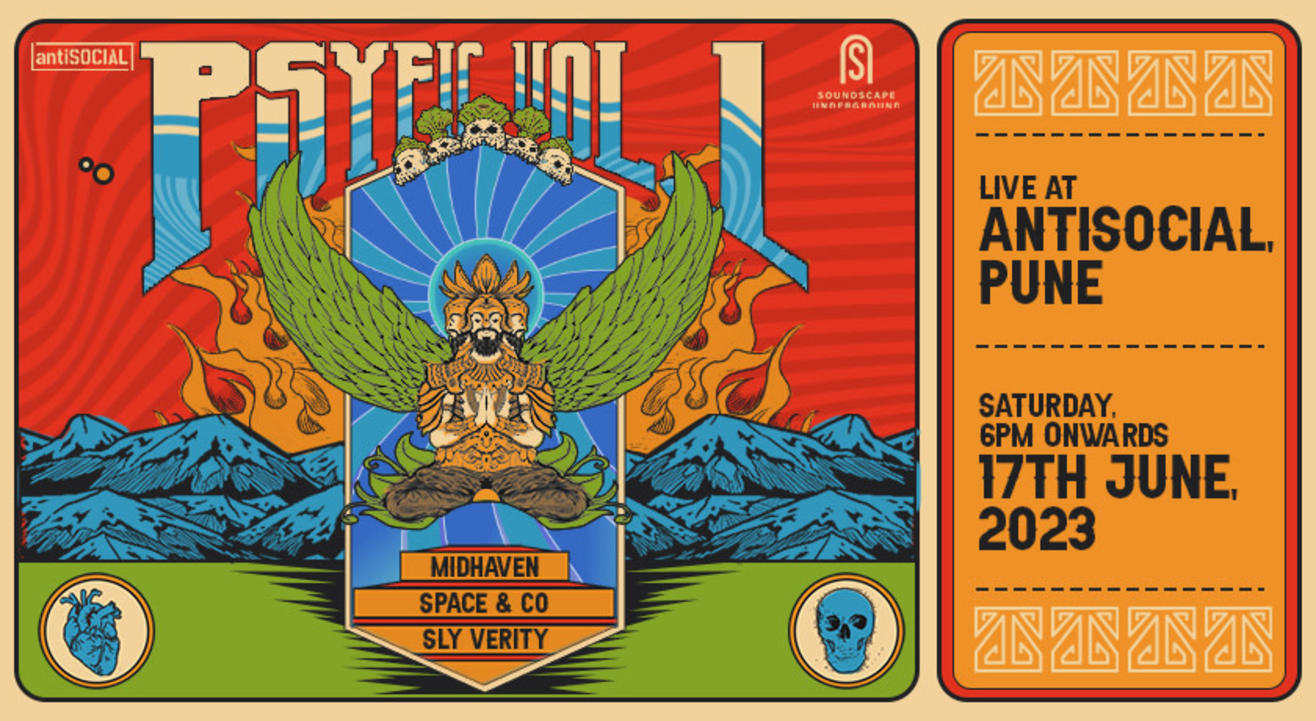 SOUNDSCAPE UNDERGROUND PRESENTS: PSYFIC VOL. 1 (PUNE) | World Music Week 2023
Event Guide
Live Performance
Enjoy a unique experience
Invite your friends
and enjoy a shared experience
SOUNDSCAPE UNDERGROUND PRESENTS: PSYFIC VOL. 1 (PUNE) | World Music Week 2023
Event Guide
Live Performance
Enjoy a unique experience
Invite your friends
and enjoy a shared experience
Event Guide
Live Performance
Enjoy a unique experience
Invite your friends
and enjoy a shared experience
We're proud to present our debut event series, Psyfic. Vol. 1 features three amazing bands - Midhaven, Space & Co. and Sly Verity happening on June 17, 2023 (Saturday).
Psyched about this, it's going to be terrific!
Original artwork by Gaurav Basu / Acid Toad. Poster by Lenin.
-----------
MIDHAVEN
Midhaven is a three piece metal act from Mumbai, India. Striving to bring new sounds with an 'indic' touch to the world of heavy music - the band's strength was birthed in a confluence of heavy, western music - blended in with indian 'Ragas', creating evergreen, earth-shattering art with every release.
SLY VERITY
Sly Verity is the voice of a jaded generation. A generation that has lived a lot in a small amount of time and is unable to feel the normal, vanilla version of emotions. The genre? The band starts in the neighbourhood of Rock and goes wherever the song needs to go to convey the feelings that it needs to. They've lived many lives in Pune and continue to live many more in the same city.
SPACE & CO.
Space and Co. is a ray of sunshine. What started out as a simple rock band with a "let's never stop playing music" is now living up to that goal. They just don't stop playing; the light, the sunshine, simply never stops shining. The band designs a time capsule and takes you up... Well... Into space.
antiSOCIAL
Unit No. 102, Mezzanine, Fergusson College Rd, above FC Road Social, Revenue Colony, Shivajinagar, Pune, Maharashtra 411005, India
GET DIRECTIONS
SOUNDSCAPE UNDERGROUND PRESENTS: PSYFIC VOL. 1 (PUNE) | World Music Week 2023
Event Guide
Live Performance
Enjoy a unique experience
Invite your friends
and enjoy a shared experience