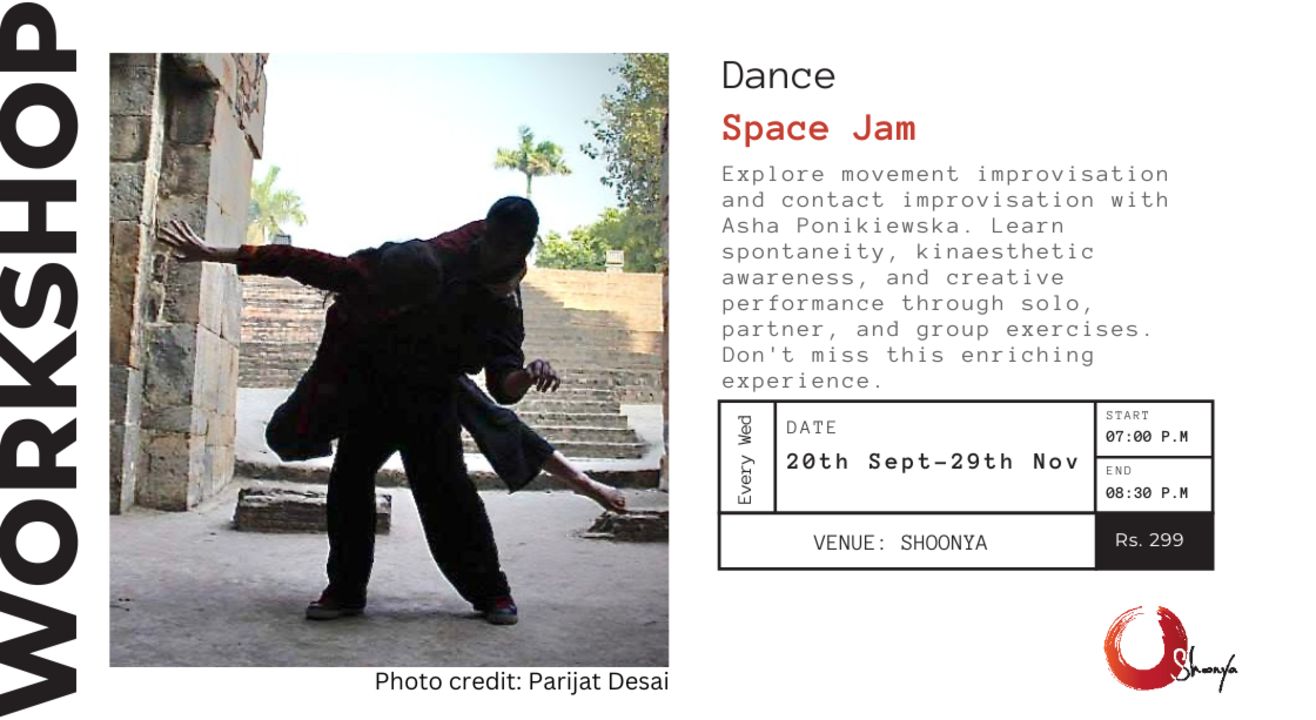 September 20 | 7PM - November 29 | 8PM
Shoonya - Centre for Art and Somatic Practices, Bengaluru
Event Guide
Masterclass
Learn from an expert
Invite your friends
and enjoy a shared experience
September 20 | 7PM - November 29 | 8PM
Shoonya - Centre for Art and Somatic Practices, Bengaluru
Event Guide
Masterclass
Learn from an expert
Invite your friends
and enjoy a shared experience
Event Guide
Masterclass
Learn from an expert
Invite your friends
and enjoy a shared experience
Space Jam is a series of weekly classes for trained and untrained bodies during which we shall explore various tools and techniques for movement improvisation and contact improvisation.
Improvisation is an art of making decisions in the moment and thus responding creatively to body, space, time and energy in a spontaneous and intuitive way. It allows for the movement to emerge out of the moment instead of following fixed pre-planned structures.
Movement improvisation is a technique that teaches us how to be more aware of the kinaesthetic, spatial and temporal relationships that we create.
Contact improvisation is a movement technique that was developed by Steve Paxton in the 1970ies. It uses principles of weight sharing, partnering work and improvisation.
During our sessions we shall explore the basic principles of weight sharing, yielding, pulling, balancing and counterbalancing through structured exercises and spontaneous improvisation.
We shall work towards increasing our movement vocabulary through a series of solo, partner and group exercises and also try to work with small instant composition scores to explore how improvisation can be used as a tool for creating performances.
Asha Ponikiewska is a Bangalore-based performer, choreographer, visual artist and expressive arts therapy practitioner.
Asha loves watching people move and expand their ways of being by engaging with various forms of art.
She abominates labels and enjoys experimenting with forms which allows her to feel at ease while working in the realm of slowness and stillness in the proscenium theatre settings as well as while dancing amongst the historical monuments of Delhi or busy streets of Bangalore.
She enjoys sharing her movement experience with others through classes and workshops and has taught teenagers as well as adults.
She has facilitated 24 editions of Space Jam at Shoonya between 2016-18 and is very happy to be able to bring it back to everyone that might be interested.
Her stage work includes performing in theatre productions such as 'Water Station' dir Sankar Venkateshwaran, 'Rorschach Touch' choreographed by Diya Naidu, 'Under Pressure' dir Aruna Ganesh Ram, 'Stroll' dir Moon Moon Singh, 'Suraj ka Satwan Ghoda' directed Rajkumar Rajak and choreographing her own pieces -'Pocchawali', 'Kintsugi' and 'We all have an expiry date'.
Shoonya - Centre for Art and Somatic Practices
4th Floor, Rear Wing, Brahmananda Court, 37, Lal Bagh Main Rd, K.S. Garden, Raja Ram Mohanroy Extension, Sudhama Nagar, Bengaluru, Karnataka 560027, India
GET DIRECTIONS
September 20 | 7PM - November 29 | 8PM
Shoonya - Centre for Art and Somatic Practices, Bengaluru
Event Guide
Masterclass
Learn from an expert
Invite your friends
and enjoy a shared experience