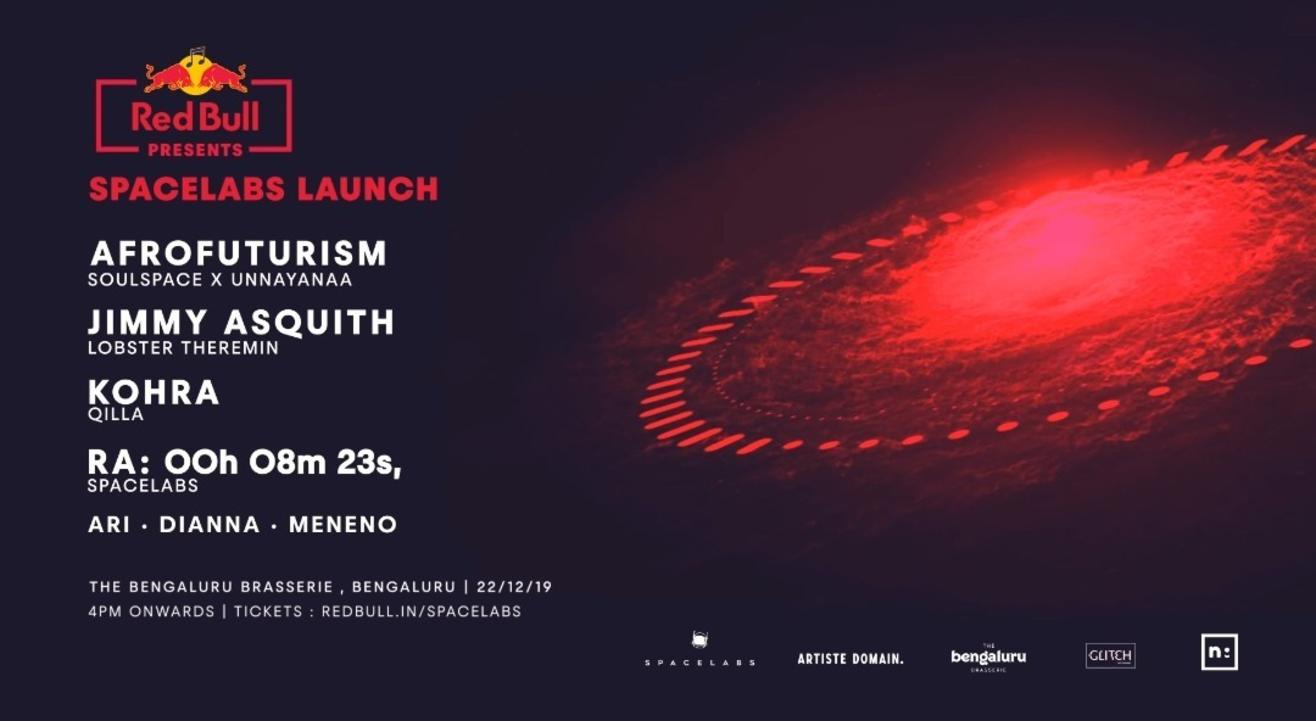 Invite your friends
and enjoy a shared experience
Invite your friends
and enjoy a shared experience
About the Event
Red Bull Presents Spacelabs Launch, A record Label, academy and events curator.
Spacelabs mission is to build culture and nightlife in the city, and to this end, for their first showcase features an array of local and international talent: London-based Jimmy Asquith, who helms Lobster Theremin, one of the best underground labels; Qilla Records boss Kohra, and a clutch of local heroes including Soulspace & Unnayanaa, who will debut their new project Afrofuturism, which explores the developing intersection of African Diaspora culture with technology.
They are joined by Spacelab's fresh new talent: RA: 00h 08m 23s as well as Ari, Dianna and Meneno on support.
The launch will take place at The Bengaluru Brassiere. It's a beautiful poolside on a rooftop where the stage will be built inside of an emptied pool, accompanied by a thundering Void Acoustics soundsystem.
About the artists:
Jimmy Asquith (Lobster Theremin):
Back in 2013, Londoner Jimmy Asquith quietly minted the now-ubiquitous record label Lobster Theremin with an impressive debut release from a promising new producer: fellow Londoner Jay Donaldson – now known world over as Palms Trax. Since then, the label boss has found himself thrust to the epicenter of the global dance music scene, operating a vast network of sub- and sister-labels, and looking after a staggering roster of artists that includes Palms Trax, Ross From Friends, DJ Seinfeld, Imre Kiss, Ozel AB and dozens of others.
Over the years the Lobster Theremin empire has expanded rapidly to incorporate a respected distribution service, and a physical record shop based in Hackney. With a physical home and vibrant team of full-time employees, the operation stands as a welcome reminder
of what can still be achieved in an industry so often assumed to be cash-strapped and devoid of prospects.
Behind the decks, Asquith maintains a busy international touring schedule whilst holding down a regular slot on Rinse FM and hosting the sell-out Find Me In The Dark parties at Corsica Studios.
Afrofuturism:
Afrofuturism is a cultural Aesthetic, philosophy of science, and philosophy of history that
explores the developing intersection of African Diaspora culture with technology. Afrofuturism is where space, pyramids and politics collide.
Soulspace:
Soulspace as a person is a Conscientious Objector who has religious, moral and philosophical convictions and as an artist he distances himself with more exploratory tempos and an experimental/ deep meditational beat-maker approach, where each track is a story
and more of a journey in sound. The electronica producer behind Soulspace – hailing from: Bangalore, South India.
Soulspace launched himself with a stunning debut selftitled LP, he's already earned support
from artists such as Laurent Garnier (F Communications), Claude Von Stroke (Dirtybird), Nick Warren (Hope Recordings), Kollektiv Turmstrasse and many more. His music its deep, emotive, binaural yet dancy, which is his signature sound. Its a journey in sound with no
genre constraints. As a DJ he believes not just about mixing two records but rather in telling stories with his sets infused with subliminal messages that keeps you hooked onto every beat.
Garnering attention from international aficionados he's been also getting signed to respected
and, critically acclaimed International Record Labels like Traum Schallplatten. And, His recent release on Get Physical Music is supported by the likes of Acid Pauli, Frankey & Sandrino, Telepopmusik, Claude Von Stroke, Steve Lawler, Shir Khan and many more. It
was also featured on Beatport Top 100 Electronica Tracks for 3 weeks.
Unnayanna:
Unnayanaa has been constantly pushing boundaries through his style of DJing and music
production for many years now. He's been a flag bearer especially for African-tinged electronic music since 2006 and has seen a steady rise in popularity for his style of afro, house and electronic music in India and around the world. His last track "Taht Min Aini" was a critically acclaimed hit that was rinsed by legends and newbies alike. His music production and collaborations with other artists are being played by top DJs such as Ame, Dixon, Trikk, Toto Chiavetta, Marcus Worgull, Solomun consistently for the last two years. His tracks have been remixed by Toto Chiavetta, Osunlade and Trikk for releases in November 2019 on Toto Chiavetta's label Border of Light (Italy). He has performed on the Red Bull North Stage at Magnetic Fields in 2018. His remixes have
reached the top 20 Afro/Latin/Brazalian charts on Traxsource and Beatport. His music has been part of noteworthy labels over the years such as Itstillmusic (Chicago), Papa Records (London), Rainy City Music (Manchester), Atypical Dopeness (New York), Borders of Light (Italy). Unnayanaa's new feather in the hat: Now an artist for Toto Chiavetta's Label Borders Of Light.
Kohra (Qilla Records):
(ک)(رہ Urdu - fog or mist) is a versatile and forward-thinking dj / producer. He expresses his visual and aural sensibilities via Qilla (لعه'''ق Urdu - fort or castle) Records which he setup in 2011 to promote a wide range of underground music from India and across the world. Over the last few years, his productions have appeared on many reputed international labels like Sol Selectas, Traum, Endangered, Parquet, Steyoyoke, Blindfold, Tulipa, and Particles, many of which have hit the Beatport Top 100 in over 4 genres. His chart breaking release 'Acid Kidz' on Qilla Records also hit the Beatport Left- field House and Techno No 1 track for four weeks straight.
The Bengaluru Brasserie
Hyatt Centric MG Road Bangalore, 1/1, Swami Vivekananda Road, Someshwarpura, Ulsoor, Bengaluru, Karnataka 560008
GET DIRECTIONS