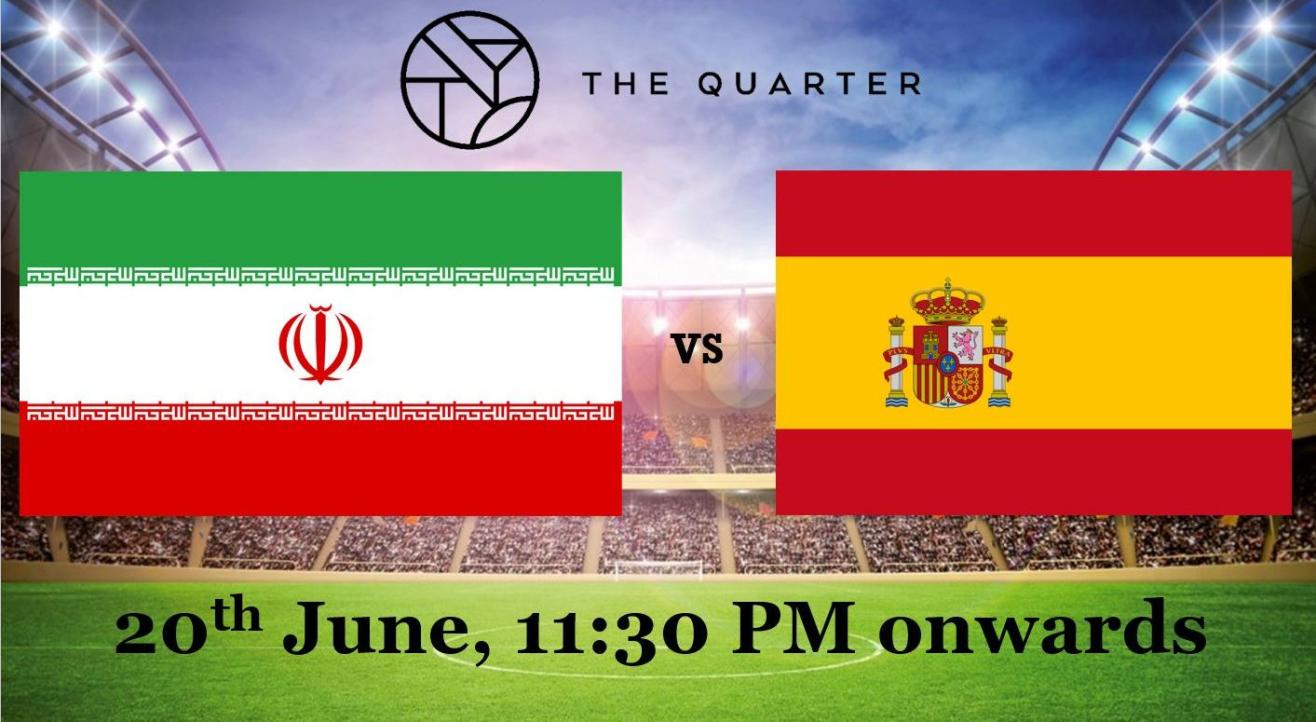 FIFA Group Stage
Iran Vs Spain LIVE at the Quarter
About
Head over to The Quarter for the FIFA World Cup as Spain and Iran battle it out on the 20th of June, 11:30 PM onwards.
Spain is a giant, while Iran fancies their chances of upsetting them. Whoever emerges victorious, it is definitely going to be an intriguing experience!
We are offering a specially curated menu just for you, so get ready to wear the colors of your favourite team and enjoy this experience only at The Quarter.
Boiled peanuts, jalapenos pickled in house (V)
Jalapeno & Cheese stuffed Mushroom, Creamy Siracha Dip (V)
Spicy Potato wedges with Ranch dip (V)
Parmesan Chicken Poppers with Creamy Siracha Dip
Crab & Fish Cake with Lemon Aioli
Black Hummus, Farro Tabbouleh with Wood Fired Oven Pita Bread. (V)
Mozzarella Melts with Spicy Tomato Chutney (V)
Gas Station Fried Chicken with Ranch Dip.
Herb Marinated Chicken Poutine.

Napolitano Pizza
Red Pizza

Marinara (V)
(San Marzano Tomatoes, Garlic, Oregano, Chilli, EVOO)

Margherita (V)
(San Marzano Tomatoes, Fresh Basil, Buffalo Mozzarella, EVOO)

The Royal Garden (V)
(San Marzano Tomatoes, Olives, Roasted Peppers, Onion, Mushroom, Edible Flower, Fresh Basil, Bocconcini, EVOO)

Pollo Fungi
(San Marzano Tomatoes, Cajun Spiced Chicken, Onions, Mushroom, Fresh Basil, Buffalo Mozzarella, EVOO)

Buffalo soldier
(San Marzano Tomatoes, Artisanal Chorizo, Buffalo Mozzarella, Buffalo Feta Asparagus, EVOO)

Sassoon Dock
(San Marzano Tomatoes, Prawns, Asian Seabass, Clams Fresh Parsley, Buffalo Mozzarella, EVOO)

White Pizza
The Farmers Market (V)
(Sundried Tomatoes, Arugula, Goat Cheese, Buffalo Mozzarella, Wild Honey)

The Fat Pistachio
(Artisanal Italian Sausage, Pistachios, Buffalo Mozzarella, Fresh Basil)

Mc. Nico
(Bacon, Sweet Potato, Flori de Latte, Black Pepper)

The Breakfast
(Buffalo Mozzarella, Egg, Spinach, Bacon, Mushroom)

Cara Cara
(Buffalo Mozzarella, Buffalo Feta, Braised Cara Beef, Dill Cream, Pine nuts)

The Quarter (V)
(Buffalo Mozzarella, Bocconcini, Burrata, Goat cheese, Fresh Basil, Pine nuts, Heirloom Cherry Tomato)
Venue
The Quarter
Royal Opera House, Mathew Rd, Opera House, Girgaon, Opera House, Girgaon, Mumbai, Maharashtra 400004, India