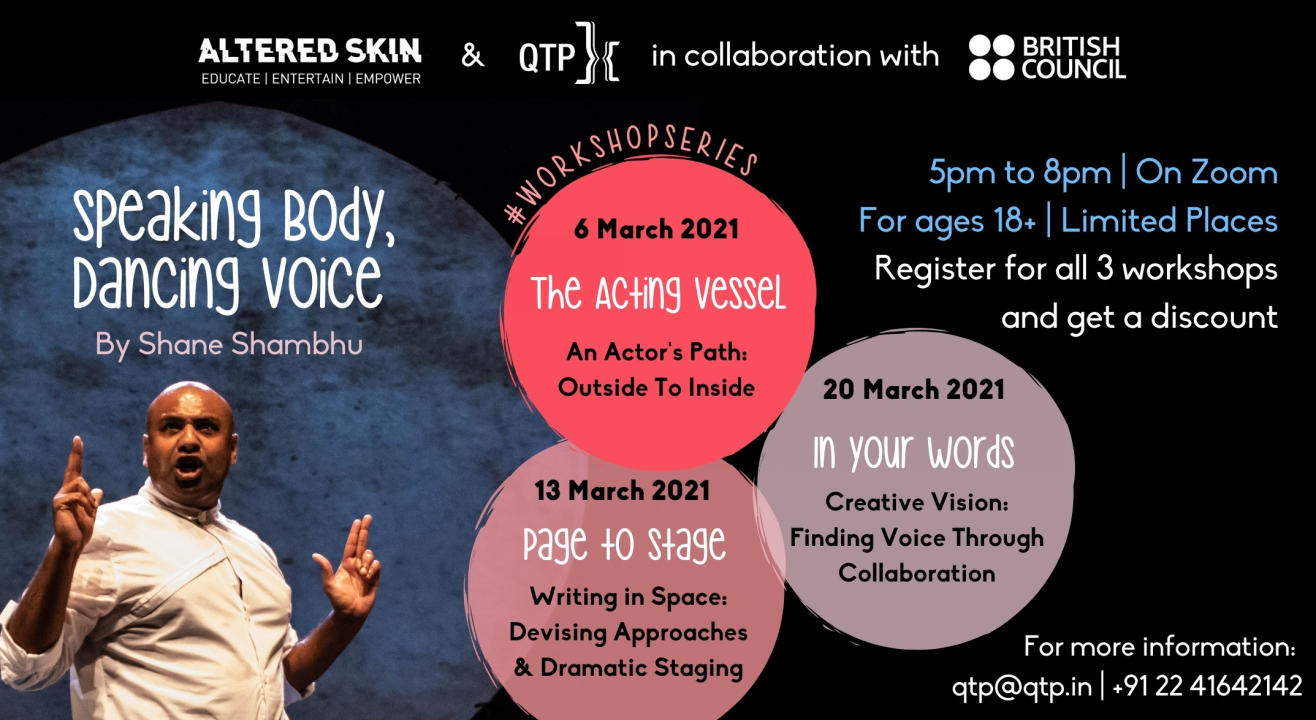 Speaking Body, Dancing Voice - A workshop series
March 6, 13 & 20 | 5-8pm IST
Enjoy this event from your home
Invite your friends
and enjoy a shared experience
Invite your friends
and enjoy a shared experience
About the Event
Altered Skin and QTP in collaboration with British Council, presents a series of masterclasses led by Shane Shambhu.
The Acting Vessel - Saturday, 6th March 2021
Page to Stage - Saturday, 13th March 2021
In Your Words - Saturday, 20th March 2021
For ages 18 and above. Limited capacity.
About Shane:
Shane Shambhu is a British writer, director, award-winning choreographer and Creative Director of Altered Skin, a multi-lingual physical theatre company. Shambhu is Associate Lecturer at E15 Acting School, Artistic Associate at CAT Yuva Gati and Artist-In-Residence at DanceXchange. As a performer, he's worked with many companies including: Complicite's Olivier Award-winning A Disappearing Number touring worldwide including National Theatre Live and BBC Radio 3 and Icon Theatre's Fringe-First Award-winning Release, where his portrayal as an ex-prisoner received raving reviews. Theatre Ad Infinitum, Menagerie Theatre, Royal Opera House, Shobana Jeyasingh Dance Company and short films, Boat and Letters From Afar are to name a few more. As a speaker, he has given many talks including International Platform for Performer Training (Grotowski Institute, Wroclaw, Poland).
Visit alteredskin.org for more information.
Facebook: @alteredskincic
Twitter: @alteredskincic
Instagram: @shaneshambhu | @alteredskincic
Masterclass 1 - THE ACTING VESSEL
An Actor's Path: Outside To Inside
Saturday, 6th March 2021 | 5pm - 8pm IST
About: Delving into a unique process of acting that works from the outside in, from the body to the voice, this session will develop the skills and tools to identify, develop and play characters with depth, clarity and authenticity. By understanding the body as a primary tool of communication and exploring its correlation and interplay with mind, breath and voice, this session will broaden an actor's emotional connectivity between breath, voice, physical tensions and nuanced reactions through psycho-dynamic processes strengthening a performer's holistic connectivity to the character and increasing an actor's playing range.
Key Takeaways:
Increased knowledge and awareness of physicality in relation to emotion and character.
New psycho-dynamic connections between body and voice.
Equipped with skills and tools to widen the playing range of character types.
Masterclass 2 - PAGE TO STAGE
Writing In Space: Devising Approaches & Dramatic Staging
Saturday, 13th March 2021 | 5pm - 8pm IST
About: Delving into the creative approaches of translating text into the physical space, this session will help to develop the tools necessary to unleash the drama within text for the stage. Through developing strong improvisation skills and exploring devising approaches, artists will examine staging different forms of text from playscripts, monologues, novels or an abstract by understanding the body in space, character status and rhythm. Artists will actively explore and investigate through play fresh new ways of presenting and staging text.
Key Takeaways:
Gain devising approaches, methods and tools
Understand staging and creating impactful theatre
Activating the imagination & play
Discovering individual performative strengths
Masterclass 3 - IN YOUR WORDS
Creative Vision: Finding Voice Through Collaboration
Saturday, 20th March 2021 | 5pm - 8pm IST
About: Delving deeply into the heart of the artist and questioning, exploring, understanding and expanding their creative voice, this session will give clarity to the artist's internal focus and vision providing specific skills that will aid in developing individual creative approaches. By working through a detailed analysis of texts and exploring from multiple departure points physically, vocally and textually this session will strengthen and widen artists collaborative approaches, artistic negotiations and the ability to sharpen and adapt their creative visioning leading to the development of individual creative methods to re-interpret a script in the artist's own vision.
Key Takeaways:
Mastering the collaborative process
Negotiating creative ideas with others
Gain clarity and sharpen creative vision
Understand management of power
Understand and develop own creative methodologies
All sessions will be held on Zoom. You can choose to participate in either one or all the sessions.
These are practical workshop sessions. Please wear comfortable clothing and ensure you have cleared space to be able to move freely.
Follow British Council India:
Facebook: @BritishCouncilindia
Twitter: @inBritish
Instagram: @inbritish
Follow QTP:
Facebook: @qtpentertainment
Twitter: @qtp_india
Instagram: @qtpindia
For any queries call on +91 2241642142 or email us at qtp@qtp.in