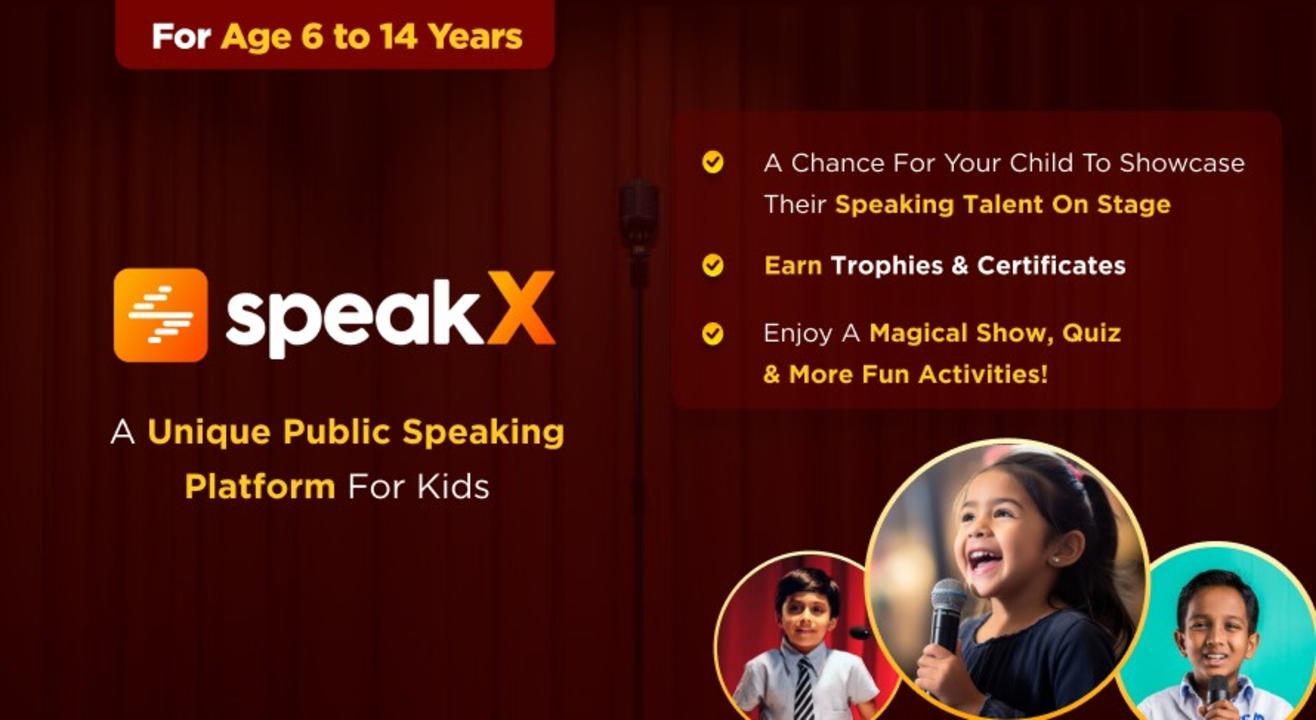 SpeakX for Kids | Gurgaon
Event Guide
Live Performance
Enjoy a unique experience
Invite your friends
and enjoy a shared experience
SpeakX for Kids | Gurgaon
Event Guide
Live Performance
Enjoy a unique experience
Invite your friends
and enjoy a shared experience
Event Guide
Live Performance
Enjoy a unique experience
Invite your friends
and enjoy a shared experience
We are excited to present our unique public speaking event, SpeakX, which promises to be an inspiring occasion. SpeakX is designed to provide a platform for young Ivykids students to showcase their blossoming public speaking skills in front of a large and appreciative audience comprising hundreds of parents, students, and esteemed guests. To celebrate their achievements, these students will receive well-deserved trophies and certificates.
SpeakX will feature a captivating magic show, an engaging quiz, and a variety of stalls to explore, including bookstalls, food stalls, and other activities.
The event is scheduled to take place on October 15th, 2023, at , from 4:00 PM to 7:00 PM.
How to Participate?
i) Prepare your child for a speech on any 1 topic (Global Warming, Kindness Matters or Healthy Eating Habits)
ii) Selection round will be on 15th October at the venue
iii)10 Selected kids will speak on stage on the topic they prepared
FAQs
FAQs
Q: Where is the SpeakX event conducted?
A: Venue for Event - Apparel Auditorium, Sector 44, Gurgaon
Q: What time will the Gates open
A: Gates will open at 3:45 PM
Q: Who can attend the SpeakX Event?
A: The SpeakX event is open to children aged 5 to 14 years and Parents
Q: Will the audition and the event happen on the same day?
A: Both the activities will happen on 15th October
Q: How much time will a child get to speak in the auditions?
A: It will be a 1 minute audition
Q: What are the Judgement parameters for the selection?
A: Confidence, Clarity & Engagement
Q: Is the event ticketed?
A: Entry is chargeable for kids if accompanied by Parents/Guardians. The ticket allows a child and upto two parents to enter all the sessions. Any product purchased from the event will be chargeable by the respective vendors
Q: Can I cancel the ticket?
A: Once purchased then you will not be able to cancel the tickets
Q: Is there any discount available?
A: Yes if you buy early bird passed or represent your school, You will get discount. For more details reach out to us at contact@ivypods.com
Q: Is food available at the Venue?
A: Yes there will be number of food stalls, You can buy and enjoy your meal.
Q: Is Parking available at the Venue
A: Yes, parking is available at the venue on first come first basis
Venue
Apparel House, Sector 44, Gurugram, Haryana 122003
Contact Us
7002530372
SpeakX Gurgaon | Public Speaking Event for Kids |15 October, 23
Epicentre
Ground, Apparel House, Fortis Hospital Road, Sector 44, Gurugram, Haryana 122003, India
GET DIRECTIONS
SpeakX for Kids | Gurgaon
Event Guide
Live Performance
Enjoy a unique experience
Invite your friends
and enjoy a shared experience