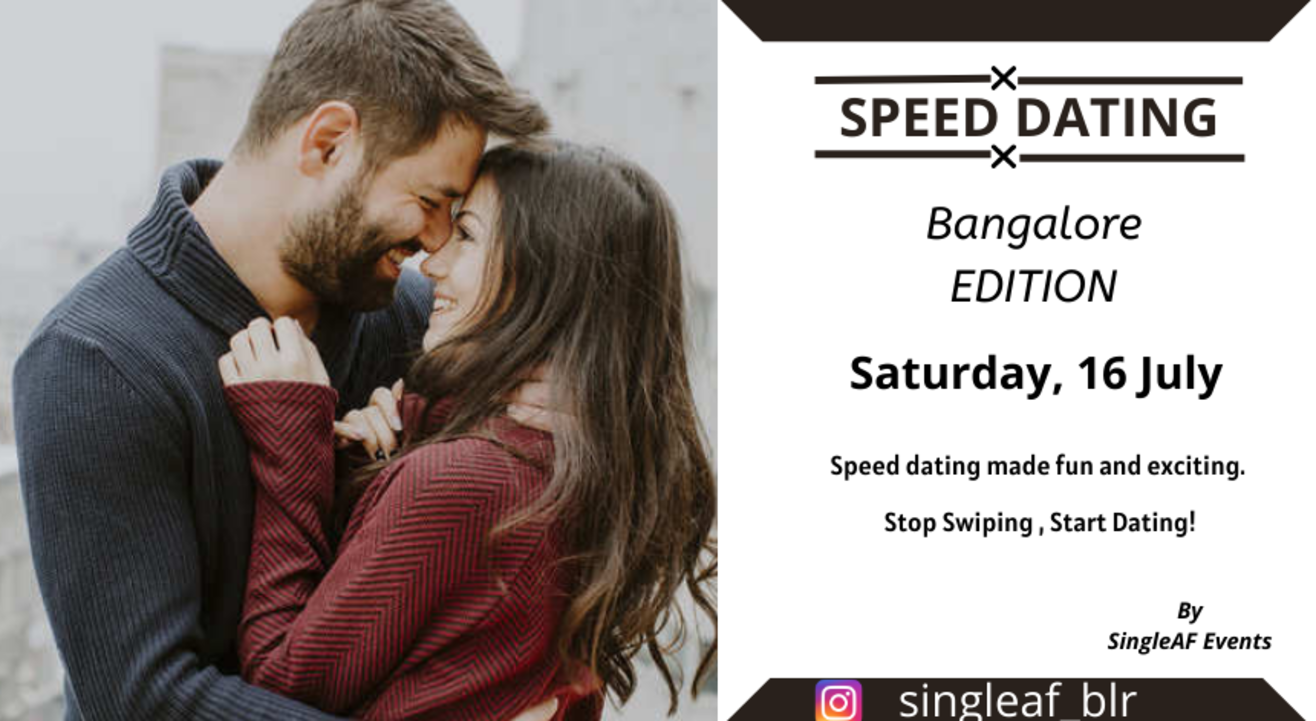 Speed Dating: You Deserve Better 2.0
Slay Coffee Bar, HSR Layout, Bangalore
Invite your friends
and enjoy a shared experience
Speed Dating: You Deserve Better 2.0
Slay Coffee Bar, HSR Layout, Bangalore
Invite your friends
and enjoy a shared experience
Invite your friends
and enjoy a shared experience
Meet-Date-Love With SingleAF Speed Dating!
Feel the chemistry offline! Mingle with other singles! No more wasting time on fake profiles, chats, messages and calls for months before you actually meet. Be a pioneer trying something trendy and fun!
How it works
Chat with minimum 4 eligible singles for 10 minutes each and score!
The day after, receive your Matching Details by email.
Get in touch with your matches!
Do not talk about personal life, ex relationships or work. Just be polite, respectful and smile all times!
Eligible singles?
Singles only. IT pros, businessmen, army officers, lawyers, models, corporate heads, doctors, celebrities, RJs, bright students and prospects with high net worth waiting to meet you!
Guarantee
SingleAF will make sure you meet at least 5 eligible singles of your age category.
If you do not like anybody, get a free ticket for the next event!
If you book and cannot attend the scheduled events for any reason, you can sign up for next event.
Privacy agreement
No one will know your full name, contact details, where you live or any other personal details.
Welcome drinks will be given out!
Girls, be the special guests! Buy 1 ticket and bring a friend for free!
Punctuality is mandatory
You have to come 15 min before time of the event to check in. Please consider traffic and be on time! Respect the time of other participants!
About the Organiser
Here, SingleAF is a platform for singles to mingle with other singles face to face (offline). They organise events and meetings for verified, eligible singles to meet each other in a social and formal way in the city.
For any queries please reach out to : 8770855382, 6006876802.
Note:
INR 499 F&B Redeemable Cover charge applicable at the venue.
Venue
Slay Coffee Bar, Kormangala
Slay Coffee Bar, HSR Layout
No. 2734, Ground Floor, 16th Cross Rd, PWD Quarters, 1st Sector, HSR Layout, Bengaluru, Karnataka 560102
GET DIRECTIONS
Speed Dating: You Deserve Better 2.0
Slay Coffee Bar, HSR Layout, Bangalore
Invite your friends
and enjoy a shared experience