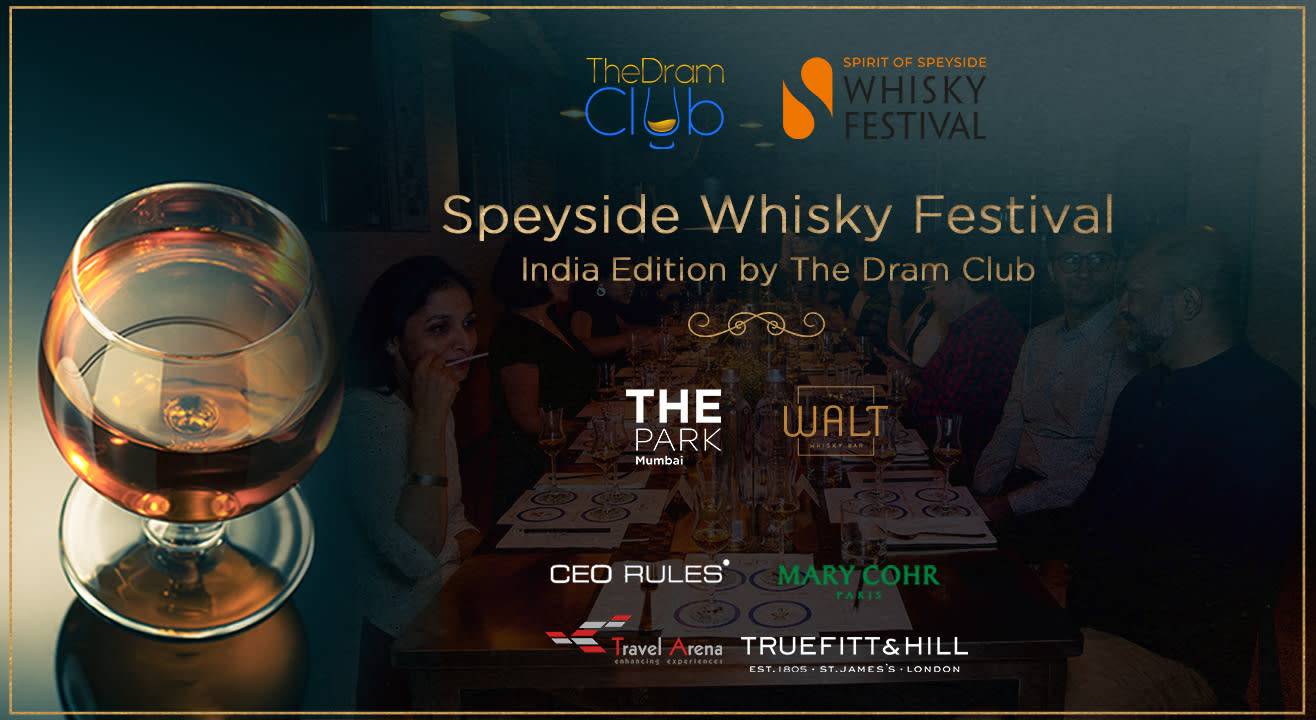 The Park Mumbai - Juhu, Mumbai
Step out and enjoy this event
Invite your friends
and enjoy a shared experience
The Park Mumbai - Juhu, Mumbai
Step out and enjoy this event
Invite your friends
and enjoy a shared experience
Invite your friends
and enjoy a shared experience
The Speyside Whisky Festival is the oldest and one of the most popular Whisky Festivals across the globe. First launched in 1999, the Spirit of Speyside Whisky Festival is annual celebration of Scotland's national drink has developed into one of the largest events of its kind anywhere in the world. The Festival events take place throughout Speyside, the biggest whisky producing region in Scotland, located in the Moray area in the North-East of the county between Aberdeen and Inverness. The region is home to some of the biggest names in the whisky world like The Glenlivet, Glenfiddich, Aberlour, Macallan, House of Chivas (Strathisla) and House of Johnnie Walker (Cardhu). During the 5 days of the festival, all the Speyside Distilleries come together and curate unique food and drinks experiences for guests who attend the festival from across the world.
Speyside Whisky Festival- India Edition by The Dram Club
The Dram Club is extremely proud to bring the Consumer Tasting/ Voting leg of the Speyside Awards to India for the first time.This day long event will gives the guests a flavor of the Speyside Whisky Festival through various masterclasses and blind tasting of the finalists.
Schedule
The Glenlivet Opening Lunch by By Chef Sarita Pereira and Lewis Anderson
Time: 12:30 PM - 2:00 PM | Price: Rs. 5,000/- per person
4 course whisky Paired Lunch
Complimentary Blind Tasting*
Access to Cocktails Lounge
Access to a Masterclass of Choice
Glenfiddich Masterclass by Angad Singh Gandhi
Time: 2:15 PM - 3:15 PM | Price: Rs. 2,500/- per person
Tasting of 5 expressions of Glenfiddich
Complimentary Blind Tasting*
Access to Cocktails Lounge.
Amrut Masterclass by Nikhil Verma
Time: 3:30 PM - 4:30 PM | Price Rs. 2,000/- per person
Tasting of 4 expressions of Amrut.
Access to Cocktails Lounge
Glengrant Masterclass by Suchana Bera
Time: 4:45 PM - 5:45PM | Price: Rs. 2,250/- person
Tasting of 2 expressions of GlenGrant paired with unique Desserts.
Complimentary Blind Tasting*
Access to Cocktails Lounge
Paul John Masterclass by Michael Dsouza
Time: 6:00 PM - 7:00 PM | Price: Rs. 2,000/- per person
Tasting of 3 new expressions of Paul John.
Access to Cocktails Lounge
Day Pass
Time: 12:30 PM - 7:00 PM | Rs. 5,000/- per person
Access to all 4 Masterclasses.
Complimentary Blind Tasting*
Access to Cocktails Lounge.
Blind Tasting Session timings for Speyside Whiskies
3:00 - 3:45 PM | 4:00 PM - 4:45 PM | 5:00 PM - 5:45 PM
5% of all ticket sales will be donated to the Welfare of Stray Dogs NGO as a part of the Festival
*Blind tasting Limited to first 50 tickets only
*All Tickets for one time entry only (No Re-entry Allowed)
*Please carry your ID proof.
*People above Legal Age of Alcohol Consumption will be permitted to enter
Chef Sarita Pereira
Chef, Lovefools


Formally trained with celebrated Catalan Chef Fernandu Jubany at his eponymous Michelin-starred restaurant, Can Jubany, in Calldetenes, Spain. The experience deeply influences and inspires Sarita's own approach to crafting her food. She has furthered her training every year since then. In 2016 she trained with a Chef in Bali on fundamentals of Balinese cuisine. In 2017 she went and worked in kitchens of Spain with little help from her guests (Cultural Ambassador of Denmark.) In 2018 she went and trained at Ferrandi for certification in Advance Pastry.



Angad Singh Gandhi
Brand Ambassador, Glenfiddich


As the brand ambassador for the world's most awarded single malt whisky in the world's biggest whisky market , Angad Singh Gandhi understands the 'liquid sunshine' like none other. He thrives on sharing his knowledge and passion with fellow aficionados and new whisky drinkers, guiding the uninitiated into the malt whisky world.



Nikhil Verma
Brand Ambassador, Amrut Distilleries


I have always been fascinated with alcoholic beverages and their flavours. The intrigue took me to studying microbiology, the root of all brewing and distilling sciences and then to hands on operational experience at UB and Radico. Post that, I graduated in Brewing and Distilling from Heriot-Watt University. I am currently working as a Brand Ambassador and Distiller at Amrut Distilleries, Bangalore.



Suchana Bera
Accomplished Marketing Expert


Experienced in managing brand management, strategy development, marketing communication, strategic alliances, events & promotions, planning & budgeting with training.



Michael Dsouza
Master Distiller of John Distilleries


Always having been fascinated with the making of alcohol, especially whisky, he chose to pursue a career in the alcohol industry soon after completing his education. The ride has been great over the years, and his passion bore fruit when he became a whisky maker in 2009.


The Park Mumbai - Juhu
The Park Mumbai, 5B CTS 1005, 1006, Juhu Tara Rd, Santacruz West, Mumbai, Maharashtra 400049
GET DIRECTIONS
The Park Mumbai - Juhu, Mumbai
Step out and enjoy this event
Invite your friends
and enjoy a shared experience