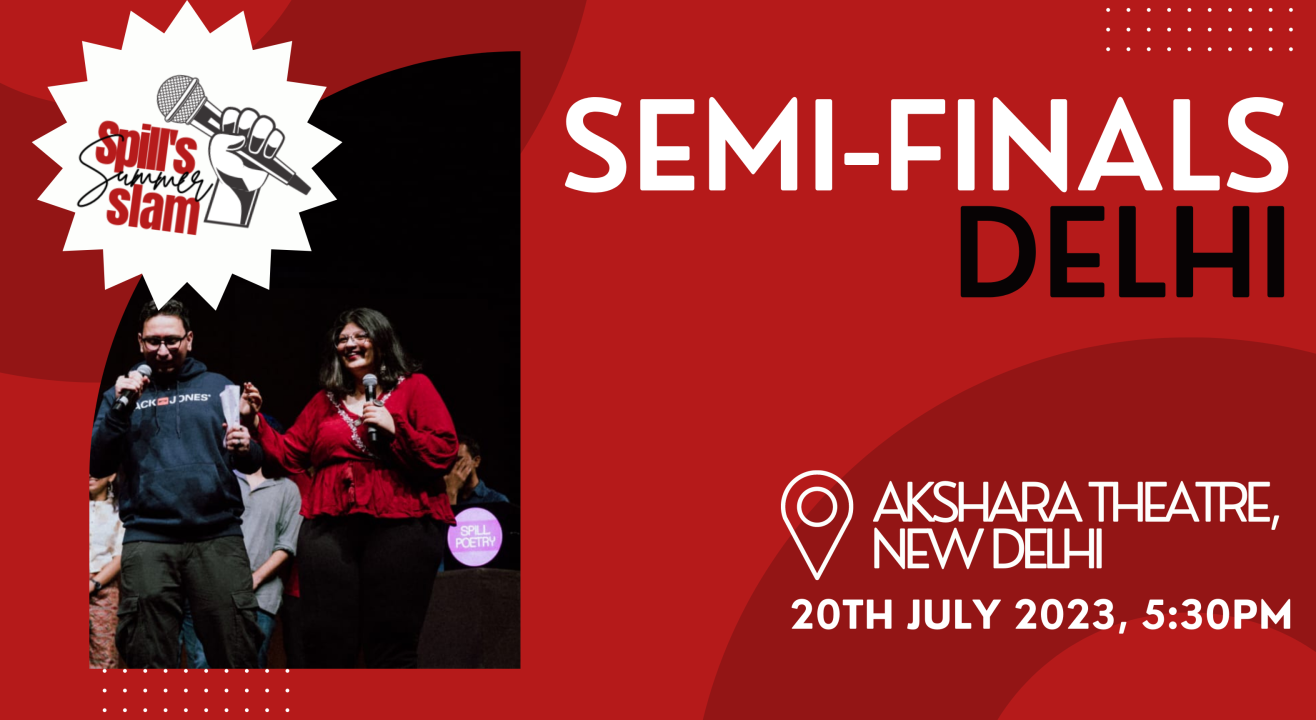 Spill's Summer Slam: Semi-Finals [Delhi]
Akshara Theatre, New Delhi, Delhi
Event Guide
Language
English, Hinglish, Hindi
Live Performance
Enjoy a unique experience
Invite your friends
and enjoy a shared experience
Spill's Summer Slam: Semi-Finals [Delhi]
Akshara Theatre, New Delhi, Delhi
Event Guide
Language
English, Hinglish, Hindi
Live Performance
Enjoy a unique experience
Invite your friends
and enjoy a shared experience
Event Guide
Language
English, Hinglish, Hindi
Live Performance
Enjoy a unique experience
Invite your friends
and enjoy a shared experience
Put your best foot forward! We are officially in round 2 for Spill Poetry's long awaited Summer Slam!
As the team heads to various cities across the country, our first stop is Delhi! So many of you made it through to the semi-final list and this is your chance to show the judges in-person all your talent!
Important information:
You can only perform at this event if you've gotten a mail from Spill Poetry's Summer Slam qualifying you as a semi-finalist.
Your friends and family are welcome to watch, but they will have to purchase an audience ticket from this event link. (Participants don't need to buy tickets for themselves).
Time limit for your performance is 5 minutes.
You need to perform a new poem at the event.
Make sure you confirm your presence over mail and be at the venue at least 15 minutes before the event begins.
For more information for participants will be informed over email.
For others who aren't participants, we gladly welcome you to watch this semi-final round unfold! See you soon!
Akshara Theatre, New Delhi
Aangan, Akshara Theatre, 11-B, Baba Kharak Singh marg, New Delhi
GET DIRECTIONS
Spill's Summer Slam: Semi-Finals [Delhi]
Akshara Theatre, New Delhi, Delhi
Event Guide
Language
English, Hinglish, Hindi
Live Performance
Enjoy a unique experience
Invite your friends
and enjoy a shared experience