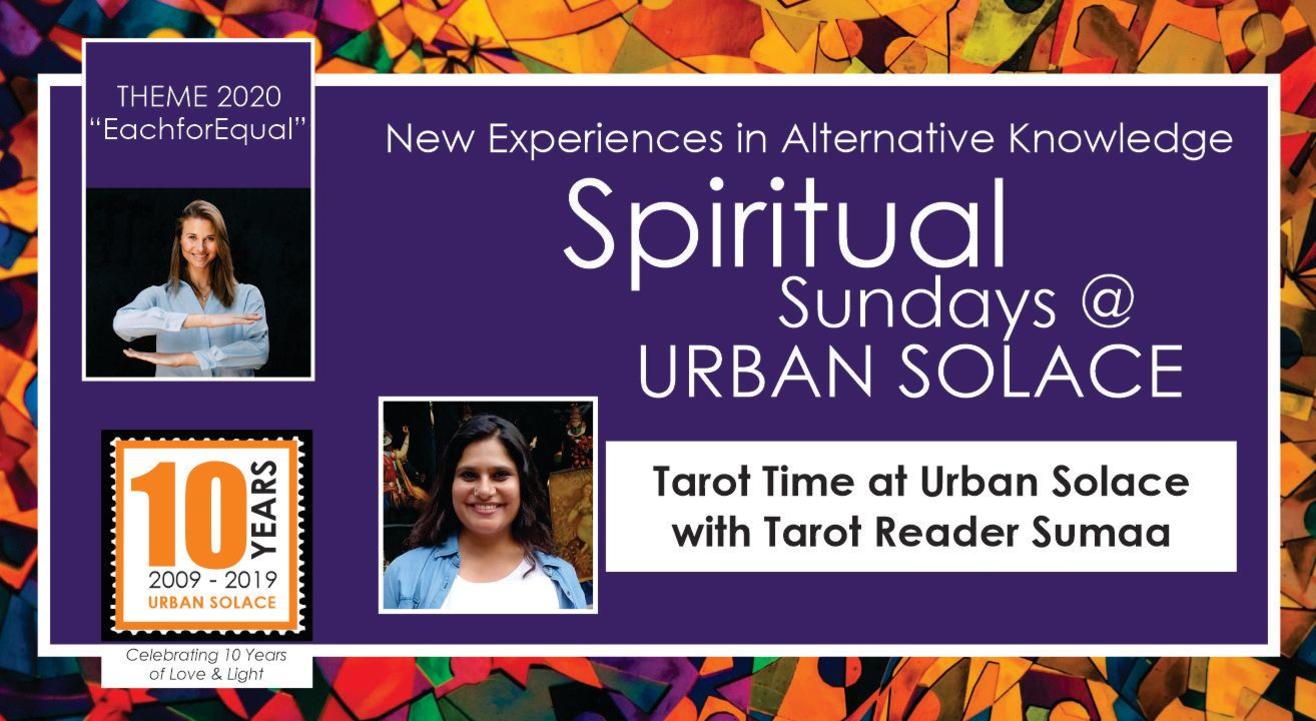 Culture
Spiritual Sundays at Urban Solace "Tarot Time with Sumaa"
About
Urban Solace - Your Café for the Soul continues to bring you innovative and exciting new ways to experience yourself. "Spiritual Sundays @ Urban Solace" is our new initiative in creating opportunities for people to connect with the meta physical world of
mystery and wonderment, a world filled with limitless possibilities.
Every Sunday Urban Solace opens itself to the limitless world of possibility that envelope Urban Solace. "Spiritual Sundays @ Urban Solace" features a range of mystic masters, leaders in their own special area of mastery for unique experiences at Urban Solace.
Tarot Time at Urban Solace
What is the prominent energy in your life right now? Is it in alignment with your life purpose and path? Let the signs and symbols of Tarot cards help you course-correct, reset, understand and apply your insights to daily life. Allow the messages to gently lead you on to a place of healing, peace, understanding and resolution.
Tarot Cards
Tarot cards are centuries-old cards that are used as a form of divination: Ask the universe a question and it responds through the cards. Tarot cards are a mirror to one's thoughts and emotions, often reaching deeper and wider than the human brain for insights. A reading can also bring back flashes from the future. A Tarot reading session itself is a healing process that promotes peace with the status of her/his journey.
In a reading, you could ask Yes/No/When questions: When will I get married? When will I find a job? Will I move overseas?
Or you could ask the cards to reveal your life purpose and soul contract: Why am I here? What am I here to achieve? What is the meaning of this life struggle? What are my relationships teaching me?
About the Tarot reader
Sumaa has over 15 years of experience in Tarot card reading, and other forms of multi-dimensional energy work, including Reiki healing, Vedic astrology and spirit work. Sumaa has helped scores of seekers find answers, resolve past issues and look ahead to the future with strength. Read more about Sumaa at www.goldenswanhealing.com
Venue
Urban Solace, Bangalore
32, Annaswamy Mudaliar Rd, Ulsoor, Bengaluru, Karnataka 560042
GET DIRECTIONS