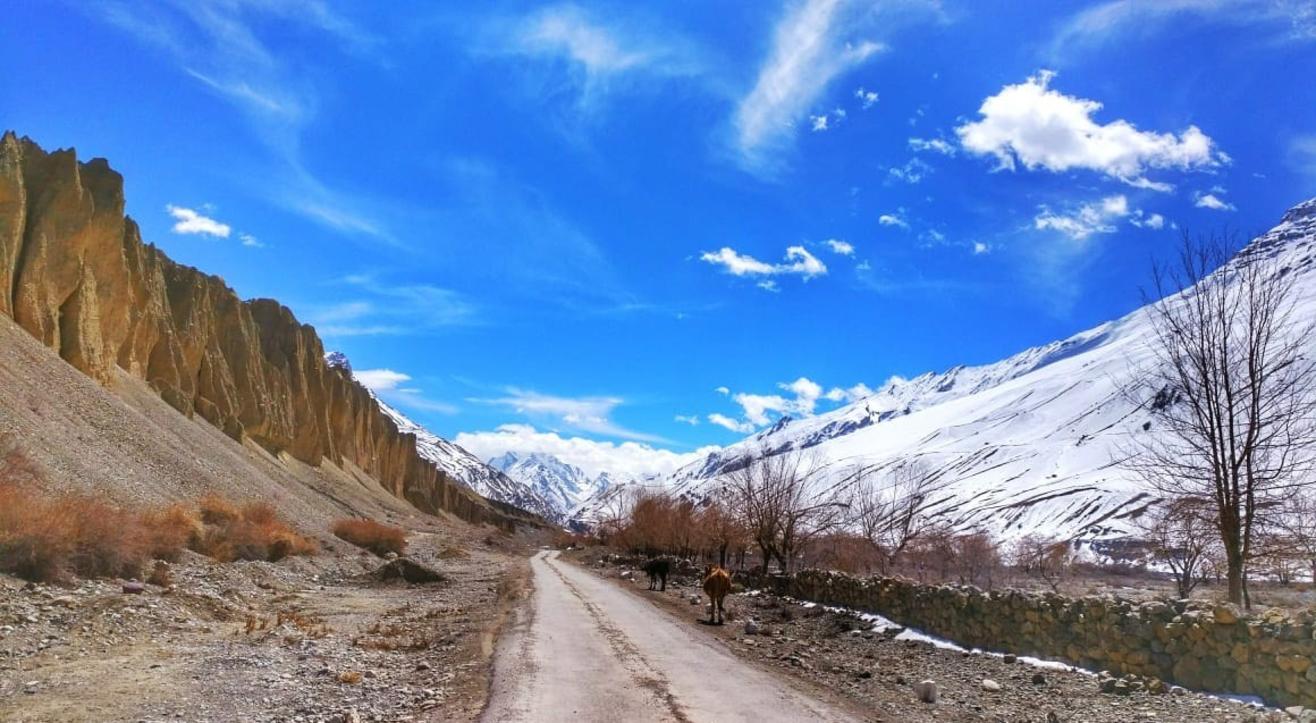 Trek
Spiti Valley in Winters
March 27 | 5AM - April 5 | 6PM
About
Description
Spiti Valley is a cold desert mountain valley located high in the Himalayas in the north-eastern part of Himachal Pradesh. The name "Spiti" means "The Middle Land", i.e. the land between Tibet and India. Winters in Spiti are extremely harsh and temperatures sometimes drop to as low as -20º Celsius. Winters here are frigid and there is no running water in taps. All that Spiti has in winters is the never-ending adventure and a white blanket of snow!
Known for its rugged terrain, a trip during Winter gets a lot trickier. During this journey we cover regions in Kinnaur Valley, visit the famous Kalpa town and several other places in Spiti Valley.
Highlights of the Tour
Snow Laden Landscape and Negative Temperatures.
Be a part of a local family during your visit and experience and understand the living in winters of Cold dessert Spiti valley.
One can find the Soul of a Place at Spiti valley in winter as it won't be crowded.
Day 1 : Overnight Travel from Delhi to Shimla
We gather at 8:30 pm. After the initial introduction, we travel overnight from Delhi to Shimla
Day 2 : Shimla Arrival. Day at Leisure
Upon arrival, we Checkin to our hotel. Have some rest. Today is all about exploring the beautiful Shimla on your own. You're free to go around the town, the mall road, the church, Jakhu temple, the ridge and so much more.
Dinner and overnight stay in the hotel.
Day 3 : Shimla to Kalpa ( 230 kms - 8 hrs)
Post breakfast, we'll start the first leg of our journey of the SPITI Valley Winter Expedition. We'll be passing through the popular towns of Sarahan and Rampur-Bushahr before entering the spectacular Kinnaur Valley. Before entering Kalpa at 7549 feet, you might catch a glimpse of the famous Kinner Kailash Peak – said to be the summer adobe of Lord Shiva while it's covered in snow. Kalpa Monastery, Suicide Point at Roghi, the beautiful Reckong Peo town are some of the most amazing places to see here.
At Kalpa, you will warm up with a piping cup of tea before checking into your homestay/hotel.
Dinner and Overnight stay at the property in Kalpa
Day 4 : Kalpa to Nako
Post breakfast, we'll continue our journey on the famous Hindustan – Tibet Highway or the NH 22. The journey today is going to be exciting with treacherous patches on the way and making our stop at Khab, the confluence of Spiti and Sutlej rivers which you will be easily able to differentiate the color of.
We'll be visiting the frozen Nako lake, the Nako Monastery and a very old, small, ancient temple said to have the impression of Gautam Buddha's foot. Spend some time getting mesmerized to one of the most beautiful sunsets you'll ever see from the sunset point in Nako.
Dinner and Overnight stay at Homestay in Nako.
Day 5 : Nako to Kaza via Tabo
We will start this day with a visit to the 1021-year-old Tabo Monastery, UNESCO World Heritage Site. You can walk around this sacred site and gain a deeper understanding of Buddhism. Unlike other monasteries in Spiti Valley, the Tabo monastery is located at the bottom of the valley. You'll be able to witness the difference in the structure of the current monasteries from that of the Tabo Monastery which is actually made of mud.
We'll reach Kaza before evening and check-in into our hotel. The rest of the day will be at leisure. You can go around the Kaza city, visit the Monastery, check out the local food.
Dinner at a hotel in Kaza.
Day 6 : Kaza – Key Monastery – Kibber – Chicham – Kaza
We will begin this day with a drive to the renowned Key Monastery. Being remotely located atop a hill overlooking endless plains, the Key Monastery is an obvious choice for those seeking peace and calm. Close to 800 years old at its core, this monastery has a school and an in-construction library and museum that are going to house the books, paintings and manuscripts currently inside the Monastery.
Then we will move farther up the valley to the picturesque village of Kibber, part of the Kibber Wildlife Sanctuary. The expanses of beautiful landscapes and immeasurable beauty of the snowy mountains make this place a haven for nature-lovers and photographers alike. Later we will visit Chicham Bridge(Asia's highest bridge) at a height of 13596 feet and Chicham village.
We will then drive back to Kaza for the overnight stay.
Day 7 : Kaza – Komic – Hikkim – Langza – Kaza
Today we will visit Hikkim – the highest post office in the world at a height of 14567 feet. What's interesting is that the post office is actually a home of a local resident. We'll then move towards Komic – one of the highest villages in the world at 4600 meters connected by a motorable road and Langza – said to the most beautiful village in Spiti valley and has the famous Buddha Statue. Back to Kaza for Overnight stay.
Day 8 : Kaza to Dhankar and back to Kalpa
We'll head towards Dhankar Village via Pin Valley (if weather permits and road is accessible). Imagine a national park with an abundance of animals and birds, with some rare plant varieties and a river that is frozen. We will then visit the Kungri Monastery and then the beautiful hamlet of Mudh – the last motorable village of the Pin Valley. Mudh Village will also let you see the trail to the Pin Parvati Pass Trek and is the end point of the Pin Bhabha Pass Trek.
Hotel and Night stay at hotel in Kalpa
Day 9 : Kalpa to Shimla
Post breakfast, we drive for Shimla from Kalpa with a bag of delightful memories and exciting stories to recount.
Once we reach Shimla, we take the overnight Volvo bus from there to Delhi
Day 10 : Reach Delhi. End of tour.
Reach Delhi by 7 am. End of Tour


Inclusions
SUV vehicle for the complete Tour.
07 night's accommodations at Homestays on Twin/Triple Sharing.
07 Breakfasts & 07 Dinners. (Veg Food)
Oxygen cylinder to travel during high altitude.
Assistance on the complete tour.
Trip Lead


Exclusions
5% GST.
Travel or Any Insurance.
Any additional expenses.
Early check-in at the hotel.
Expenses of personal nature.
Any other services not specified above.
Additional Costs due to Flight Cancellations, Roadblocks, natural calamities


Cancellation Policy
Booking amount is non-refundable.
No refund of total trip amount will be provided on cancellation, 10 days prior to departure date.
50% of total trip amount can be refunded on cancellation between 11-20 days prior to scheduled departure date.
90% of total trip amount can be refunded on cancellation between 21-90 days prior to scheduled departure date.
100% of total trip amount can be refunded on cancellation, 90+ days prior to scheduled departure date.
For Cancellations/ Refund Request , kindly reply to the confirmation mail and get in touch with the Team. All cancellations will be considered only after the mail has been received.


Things To Pack
Thermal Layers
Down Jacket
Winter Clothes
Gloves
Woolen Cap
Mufler
Shoes
Personal Toiletries