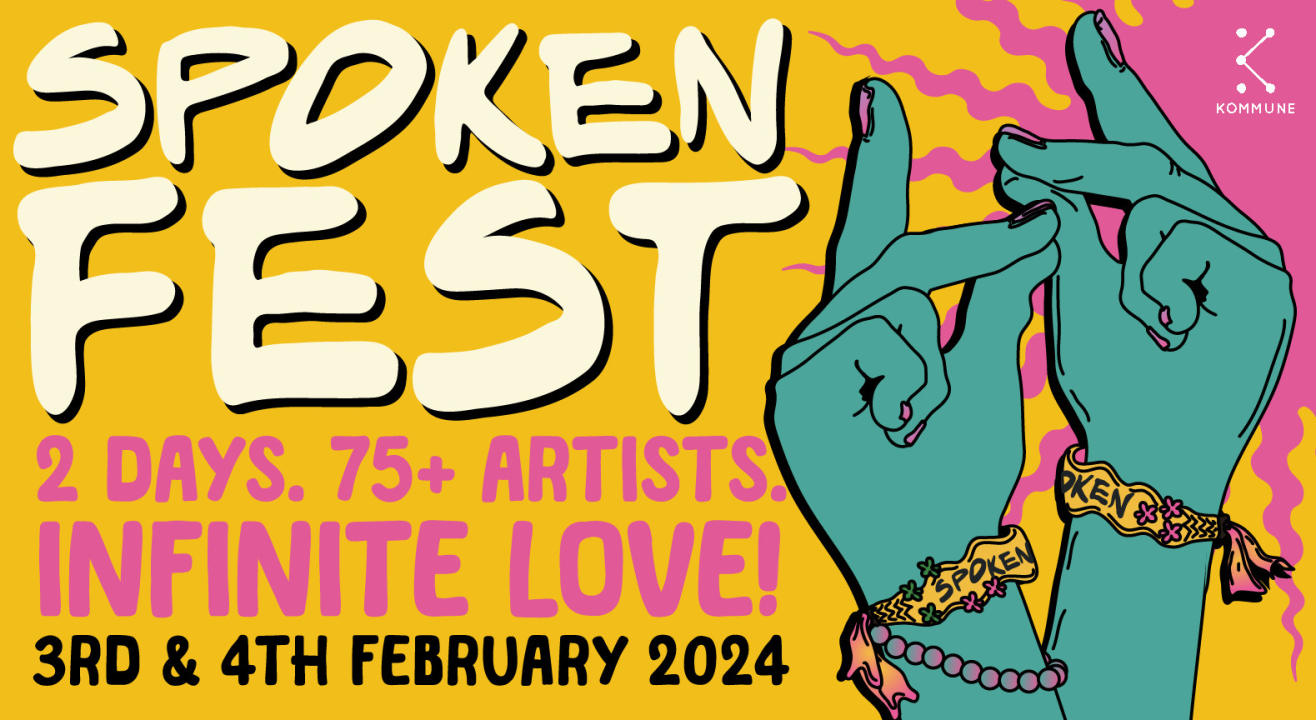 February 3rd & 4th | 1PM to 10PM
Jio garden gate 1, Mumbai
Event Guide
For Age(s)
Family Friendly
Live Performance
Enjoy a unique experience
Invite your friends
and enjoy a shared experience
February 3rd & 4th | 1PM to 10PM
Jio garden gate 1, Mumbai
Event Guide
For Age(s)
Family Friendly
Live Performance
Enjoy a unique experience
Invite your friends
and enjoy a shared experience
Event Guide
For Age(s)
Family Friendly
Live Performance
Enjoy a unique experience
Invite your friends
and enjoy a shared experience
What is Spoken?
Spoken is a celebration of words, voices and stories.
A multi-stage performing arts festival, Spoken is a two-day feelings fiesta. Expect to feel everything from laughter, tears, awe, thoughtfulness and most importantly, togetherness replete with music, theatre, poetry and stories (probably more - but our curation team won't tell us, yet).
At Spoken, there is one non negotiable requirement - you must be ready to be fully, wholeheartedly, unapologetically you.
Ethos
At our core we are a carefully curated and inclusive festival of creativity. Every Spoken is a unique Spoken in the talent it showcases and the stories it tells.. We adapt yearly to the community of creators we represent, and morph to be a stage that is both aspirational and accessible.
Our key tenets are:
Creativity
The festival exists to help everyone explore and unlock the creativity in themselves. Whether you choose to watch and get inspired or participate and learn or perform and showcase, the festival is for the creative in you.
Sustainability
At Spoken we are dedicated to creating a sustainable festival experience. We believe in leaving a positive impact, where every word spoken is as eco-friendly as the materials we use." We work with Skrap to ensure we are a zero waste festival and carbon positive festival.
Safety
We strive to make storytelling and performing art spaces in India accessible to everyone. We embrace diversity and encourage participation of artists from all different kinds of linguistic groups, ethnicities, and cultures. We are committed to providing a safe environment for all participants of the festival and make it free from discrimination on any ground, and from harassment, including sexual harassment. We will operate a zero-tolerance policy for any form of sexual harassment. All incidents and complaints will be taken seriously, treated with respect, in confidence and promptly investigated. No one will be victimized for making such a complaint.
We'll see you there.
FAQs
Do I have to be fully vaccinated (2 doses) to attend the festival?
Yes, you need to be fully vaccinated to attend the festival. By purchasing the ticket, you are declaring that you have taken both the vaccine shots at least 14 days prior to the festival date.
Do you have medical assistance on the ground?
Yes, there will be on-ground medical professionals as well as an ambulance on standby.
Is the festival wheelchair accessible?
Yes.
Do I have to bring a printout of my festival ticket?
Spokenfest is a sustainable zero waste festival. You can store your ticket PDF file on your phone and simply show that at the box office. Be warned that there is limited mobile network at the venue, so remember to save the ticket on your phone instead of accessing it on the web / through the Paytm Insider app. You can also show the SMS sent by Paytm Insider at the time of ticket purchase.
What is the age limit to attend the event?
There is no age limit to the festival. Spoken is for everyone ages 0 to 100. However we do have PA systems and multiple stages that do get loud for some performances so if you're coming with a child bear that in mind. We arrange limited seating for Sr citizens. Kids below 5 enter for free.
Can I cancel my ticket?
Once booked, tickets are non-refundable / non-transferable.
When will I receive my wristband?
You can collect your wristband at the box office before you enter the festival upon showing a valid e-ticket confirmation.
What kind of ID do I need?
Any valid, government-issued ID, such as a passport, Aadhar card, PAN Card, or driver's license is good enough to validate your identity when entering the festival.
What if I lose my band mid-event and need to get out for a bit, can I re-enter?
Wristbands that are lost or misplaced before or during the festival will not be replaced. You will not be allowed to re-enter the festival without your wristband so we would suggest you keep your wristband on for the duration of the festival!
Is alcohol available at the event?
Yes, alcohol will be served at the festival, but you'll only be served alcohol if you're above the legal drinking age! (For clarity's sake, it's 21 for beer and wine and 25 for all other spirits). Drink responsibly at the festival, since everyone there is looking to have a good time!
Can I bring my alcohol and make it a BYOB gig?
There will be ample amounts of food and beverage served at the festival. Once there you will need to ensure all outside perishables are done with or disposed of since they will not be permitted into the festival.
What all can I bring with me to the festival then?
We encourage you to have a basic checklist that should have your mobile phone, your wallet / purse, a reusable transparent bottle for water & sanitizer (one can never be too safe, right?). In the afternoon the sun sometimes gets too hot so carrying a cap would also be a good idea. Things that aren't allowed are: Illegal substances, drugs, related paraphernalia, large chains or spiked jewellery, weapons of any kind - including pocket knives, pepper spray, guns, fireworks, or any explosives. Outside food or beverages (including alcohol). Professional photo, video or audio equipment (No detachable lenses, tripods, big zooms or commercial-use rigs).
Will you confiscate my bag at the entry?
No, your bag will not be confiscated at the entry; however, we will need to check the elements in your bag to ensure none of the things listed above are present. That festival will be strictly drug-free, and any audiences' members found with illegal substances will be handed over to the authorities.
Is parking available at the festival?
Yes. The venue has ample parking space to accommodate your vehicle. Parking vehicles at the designated parking lot is at the owners risk.

Are pets allowed?
Sorry, but as much as we love our furry friends, the venue does not allow pets. Please keep your pets home safe and sound to ensure everyone, yourself included, has a hassle-free experience at the festival.
I have a query that has not been addressed in the FAQs. Who can I contact to help me with this?
Please write to team@kommuneity.co.in
Jio garden gate 1
Jio garden, G Block BKC, Bandra Kurla Complex, Bandra East, Mumbai, Maharashtra 400051, India
GET DIRECTIONS
February 3rd & 4th | 1PM to 10PM
Jio garden gate 1, Mumbai
Event Guide
For Age(s)
Family Friendly
Live Performance
Enjoy a unique experience
Invite your friends
and enjoy a shared experience