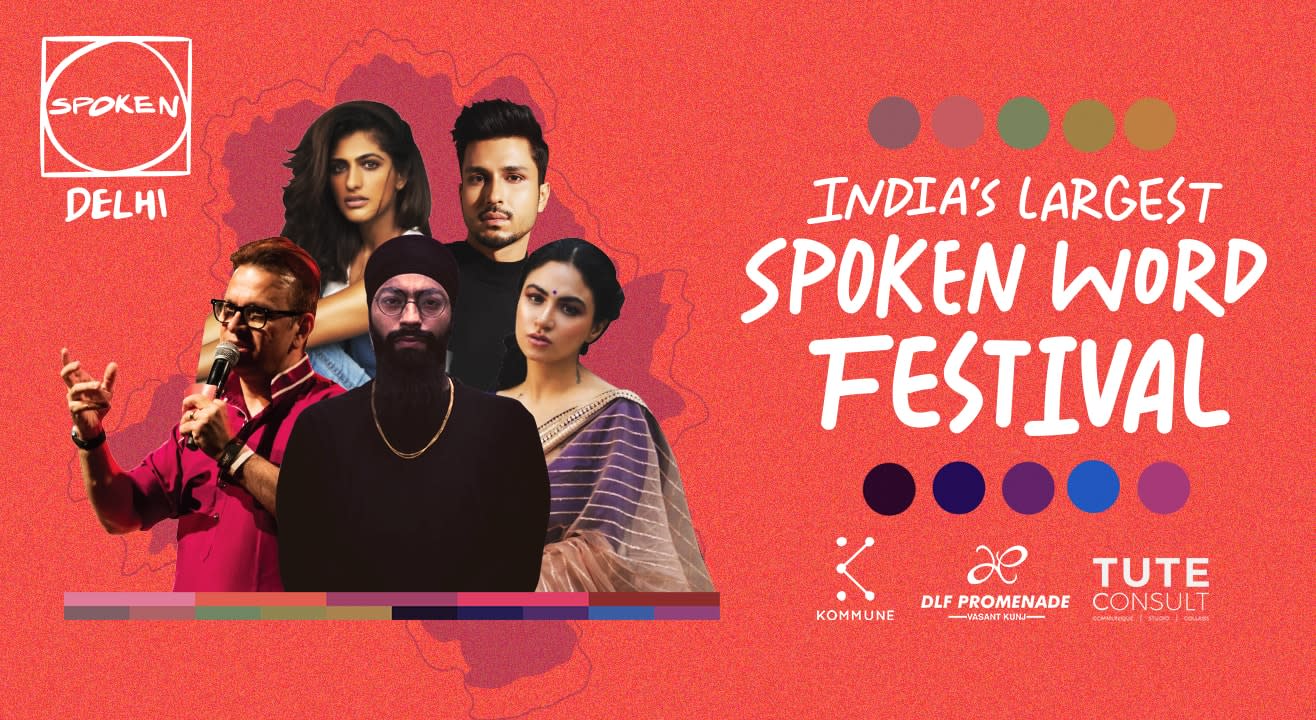 Experiences
Spoken Fest, Delhi
Nov 30 - Dec 1 | 11AM - 10PM
DLF Promenade, Vasant Kunj
About
Dear Dilli,
We heard you love speaking.
Makes sense you'd like a spoken word festival, no?
After two years of making Mumbaikars think, laugh, cry, dance and fall in love with the magic of words; we're here to make Delhiites do the same. Spend one of your chilly November weekends with this country's most vibrant voices, poets, storytellers, thespians, lyricists, comedians and musicians.
You will be caught by surprise as poets share experiences that sound eerily like your own.
You will wonder at the craft of storytellers, being vulnerable, funny and articulate all at the same time.
You will find yourself moving to songs you can't quite understand but whose meaning you feel deep in your heart.
But most importantly, you will realise that you are not alone.
You are not alone in wanting a community, supportive and inclusive of your journey and your voice. You are not alone in wanting friendships built on trust and open communication. You are not alone in wanting an oasis where you can nourish your many, many selves.
At Spoken, everyone around you wants what you do.
You know what's brilliant about a festival about the spoken word?
It tends to make everyone feel heard.
We hope to see you there.
Love,
Team Spoken Fest
Kubbra Sait // Mehak Mirza Prabhu // Rakesh Tiwari // Anshu Mor // Gaurav Tripathi // Hussain Haidry // Priya Malik // Sanjeeta Bhattacharya // Amol Parashar // Sumit Roy // Sheena Khalid // Amandeep Singh // Nidhi Narwal // Megha Rao // ALIF // Saby Singh // Samar Mehdi // Sainee Raj // Akhil Katyal // Jasmine Khurana
Spoken Fest 2019, Mumbai: Aftermovie
We strive to make storytelling and performing art spaces in India accessible to everyone. We embrace diversity and encourage participation of artists from all different kinds of linguistic groups, ethnicities, and cultures. We are committed to providing a safe environment for all participants of the festival and make it free from discrimination on any ground, and from harassment, including sexual harassment. We will operate a zero-tolerance policy for any form of sexual harassment. All incidents and complaints will be taken seriously, treated with respect, in confidence and promptly investigated. No one will be victimized for making such a complaint.
Venue
DLF Promenade, Vasant Kunj
3 Nelson Mandela Road, Vasant Kunj Mall Road, New Delhi, Delhi 110070