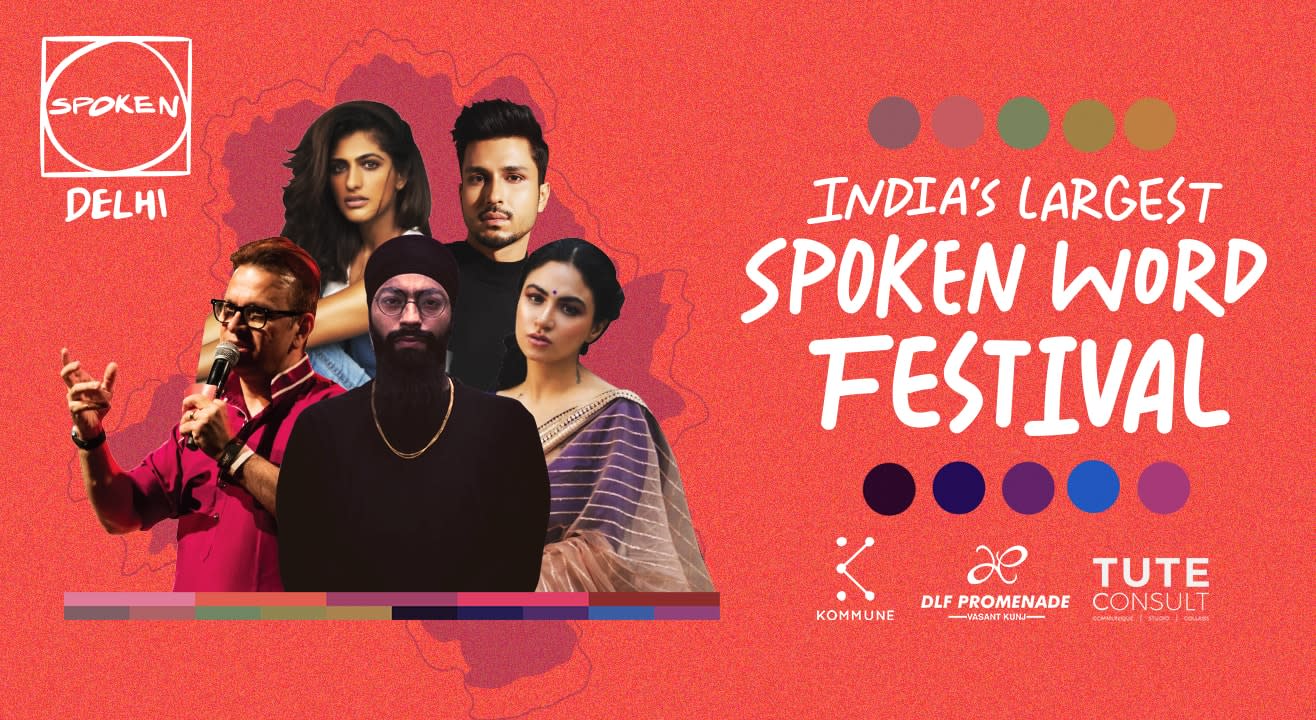 Nov 30 - Dec 1 | 11AM - 10PM
DLF Promenade, Vasant Kunj, Delhi
Step out and enjoy this event
Invite your friends
and enjoy a shared experience
Nov 30 - Dec 1 | 11AM - 10PM
DLF Promenade, Vasant Kunj, Delhi
Step out and enjoy this event
Invite your friends
and enjoy a shared experience
Invite your friends
and enjoy a shared experience
Dear Dilli,
As far as weekend plans go,
What's better than rapping along with Prabh Deep;
singing along with Ankur Tewari and Parvaaz;
listening to Roshan Abbas and Kubbra Sait bare their hearts;
or getting to know the real Amol Parashar?
Come experience all of this and more at Spoken - India's Largest Spoken Word Festival.
Music, Stories, Comedy & Poetry.
Prabh Deep
This explosive and versatile artist is putting Tilak Nagar on the world stage, one release at a time. Prabh Deep is a master of the Spoken Word—deftly switching between smooth, wavy pop-hooks and raucous political verses.



Amol Parashar
One of the most loved actors in the digital space, you probably know Amol as 'Chitvan Sharma' from the superhit web series TVF Tripling. What you get in person is someone as witty, charming and delightful, if not more.



Kubbra Sait
Model and actor, Kubbra was the breakout star of Netflix's "Sacred Games". As a Kommune storyteller, Kubbra uses the stage and mic to share her own personal stories.



Roshan Abbas
Roshan is an avid storyteller and he revived the ancient practice through Kommune, a platform for performing artists to share their voice. Roshan uses his words to weave the real with the fantastic, all for the love of stories.



Gaurav Kapur
No stranger to the immense pressures, demands and rigours of show-biz, seasoned actor-VJ-TV anchor Gaurav Kapur has lots of stories to tell. Gaurav's deep connection to his audience and in-depth understanding of storytelling will leave you spellbound.



Kusha Kapila
After working in the fashion industry for half a decade, she became a part of a popular digital content platform iDiva. She rose to fame during her stint with iDiva where she started a series of parody sketches on girls from South Delhi. She was also awarded the GQ Most Influential Young Indian Award.



Papa CJ
Papa CJ is a world-renowned stand-up comedian who has won awards for both Asia's and India's Best Stand-up Comedian. He has performed over 2000 shows in 25 countries. He holds an MBA degree from the University of Oxford. Forbes Magazine called him 'the global face of Indian stand-up' and Harvard Business Review called him one of the most influential comedians around the world.



ALIF
Alif is Urdu / Kashmiri Poetry contemporary music with ethnic sound. Poignant, relevant and bold through words & music, Alif is an experience that stays with you.



Priya Malik
Priya Malik is a lot of things—a TedX speaker, an actress, a columnist, a teacher, a comic and more—but most importantly a writer/performer whose recent viral works such as Right to Pleasure and Dear Mr Player are a testimony to her distinct voice.



Ankur Tewari
Actor, Singer, Lyricist, Composer & Director, Ankur Tewari is an artist in its truest form; having shared beautiful tales in all sorts of art forms. Ankur has mastered the art of bringing his simple and evocative songs and poems to life.



Sainee Raj
Sainee Raj is an actor-writer who wrote the award winning short films "Int. Cafe - Night" and "The Last Day". She finds poetic justice in words, and is obsessed with everything Gulzar saab and Urdu.



Sheena Khalid
Sheena Khalid is a theatre director, writer and actor based in Mumbai. A founding member of the theatre company Patchworks Ensemble, she is one of the five fellows for the "Tendulkar-Dubey Fellowship" for young theatre artist of outstanding talent.



Hussain Haidry
Hussain writes poems and songs in Hindi-Urdu about his observations on life and people around him. The artist behind viral hits like "Hindustani Musalmaan" and "Lat", Hussain has been featured in diverse spaces including Kommune, LallanTop, Radio City and The Poetry Club.



Amandeep Singh
Amandeep Singh is a storyteller and writer who has reached over 20 million people online with his stories. Having been featured by Netflix, Buzzfeed India, The Indian Express and many other media houses, Amandeep is a regular at festivals across the country.



Megha Rao
Megha Rao is a confessional poet and a surrealist artist. Her two fiction titles were published by Penguin Random House India in 2015 and 2016 and her work has been featured on platforms such as Firstpost, The Open Road Review, New Asian Writing, Homegrown and more.



Anshu Mor
A stand up comedian, an entrepreneur and most importantly, a storyteller. His versatility with spoken word will crack you up and warm your heart all at once.



Gaurav Tripathi
Gaurav Tripathi is a Hindi spoken word poet and storyteller. His writing leaves you introspecting, much like his famous piece 'Lord Ram In Court' does.



Jasmine Khurana
From a geeky economics professor, now dancing to the real soundtrack of her life as a writer and Spoken Word artist. Best known for her piece 'Banter Between Generations' that she performs with her son.



Saby Singh
Saby Singh is a singer-songwriter from Kashmir. He derives his roots from Hindustan Shastriya Sangeet and blends it with his neo-blues, alt-rock and indie-pop influences. With a major commitment to melodies, he writes in Urdu.



Samar Mehdi
Samar Mehdi is a percussive finger-style guitarist and singer-songwriter from Bhopal. He released his debut EP 'Urooj' in April which received a rave response and appreciation for its underlying wisdom and honesty.



Rakesh Tiwari
Hindi spoken word artist Rakesh Tiwari has spent over 4 years on stage, sharing his emotional poems that touch on subjects from everyday life. He uses poetry as meditation and his poems connect with audiences universally.



Sanjeeta Bhattacharya
Before graduating from Berklee College of Music, Boston, this Delhi-based singer-songwriter began her journey in music training in Hindustani Classical music while simultaneously exploring the worlds of jazz, RnB, flamenco and Latin styles.



Mehak Mirza Prabhu
Mehak Mirza Prabhu is fuelled by her passion for storytelling to the extent of making it her identity. She writes and narrates original fictional stories in Urdu, Hindi and Marathi, and voice modulations is her unique strength.



Sumit Roy
A tri-lingual rapper and a visual artist, Roy confronts the reality of an industrialized nation while occupying the Indian context. Sumit juxtaposes an aspirational visual universe and the cult of global stardom with quotidian sights and attitudes from his immediate locale.



Akhil Katyal
Akhil Katyal is a Delhi-based poet. His second book of poems How Many Countries Does the Indus Cross won the Editor's Choice Award from The Great Indian Poetry Collective. He recently translated Ravish Kumar's Hindi poetry book Ishq Mein Shahar Hona.



Nidhi Narwal
Nidhi Narwal started performing poetry socially in February, 2018. Her writing in Hindi is raw has garnered more than 30 million views over YouTube, Facebook and Instagram.



Swanand Kirkire
Swanand Kirkire is a National Award-winning lyricist, playback singer, writer, assistant director, actor and dialogue writer, both in television with Marathi and Hindi films.



Afreen Akhtar
Afreen Akhtar is a storyteller and activist who seeks to promote awareness about social issues, especially those related to women and children through discourse and dialogue.



Pallavi Mahajan
A dentist by profession, Pallavi started her Spoken Word journey 2 years ago. She is famous for her piece titled "Sukoon" performed on innervoice, which apart from earning her millions of views also got her praise from Farhan Akhtar.



Shantanu Anand
Shantanu Anand is the co-founder of Airplane Poetry Movement. He considers it a full-time job to make people fall in love with poetry. As Airplane, they have performed for audiences all over the country, and are currently curating a collection of poems and essays, which will be published by in 2020.



Kausar Munir
A contemporary lyric, dialogue and screenplay-writer, Kausar Munir has scripted lyrics for scores of films such as Ishqzaade, Youngistan and Dear Zindagi and penned dialogues for Bajrangi Bhaijaan and Begum Jaan among others.



Shubham Negi
A poet who holds nostalgia as his prime inspiration, Shubham started writing when he got selected in to the dramatics team of his college. We found Shubham while curating for the Secret Road Trip, and haven't fallen out of love with his writing since.



Tess Joseph
A patron of the performing arts, Tess Joseph has been on stage, behind the camera and in the director's chair. One of the co-producers on Girl Rising, Tess also plays a starring role at Kommune, both as its Director and one of its finest storytellers.


Spoken Fest 2019, Mumbai: Aftermovie
We strive to make storytelling and performing art spaces in India accessible to everyone. We embrace diversity and encourage participation of artists from all different kinds of linguistic groups, ethnicities, and cultures. We are committed to providing a safe environment for all participants of the festival and make it free from discrimination on any ground, and from harassment, including sexual harassment. We will operate a zero-tolerance policy for any form of sexual harassment. All incidents and complaints will be taken seriously, treated with respect, in confidence and promptly investigated. No one will be victimized for making such a complaint.
DLF Promenade, Vasant Kunj
3 Nelson Mandela Road, Vasant Kunj Mall Road, New Delhi, Delhi 110070
GET DIRECTIONS
Nov 30 - Dec 1 | 11AM - 10PM
DLF Promenade, Vasant Kunj, Delhi
Step out and enjoy this event
Invite your friends
and enjoy a shared experience