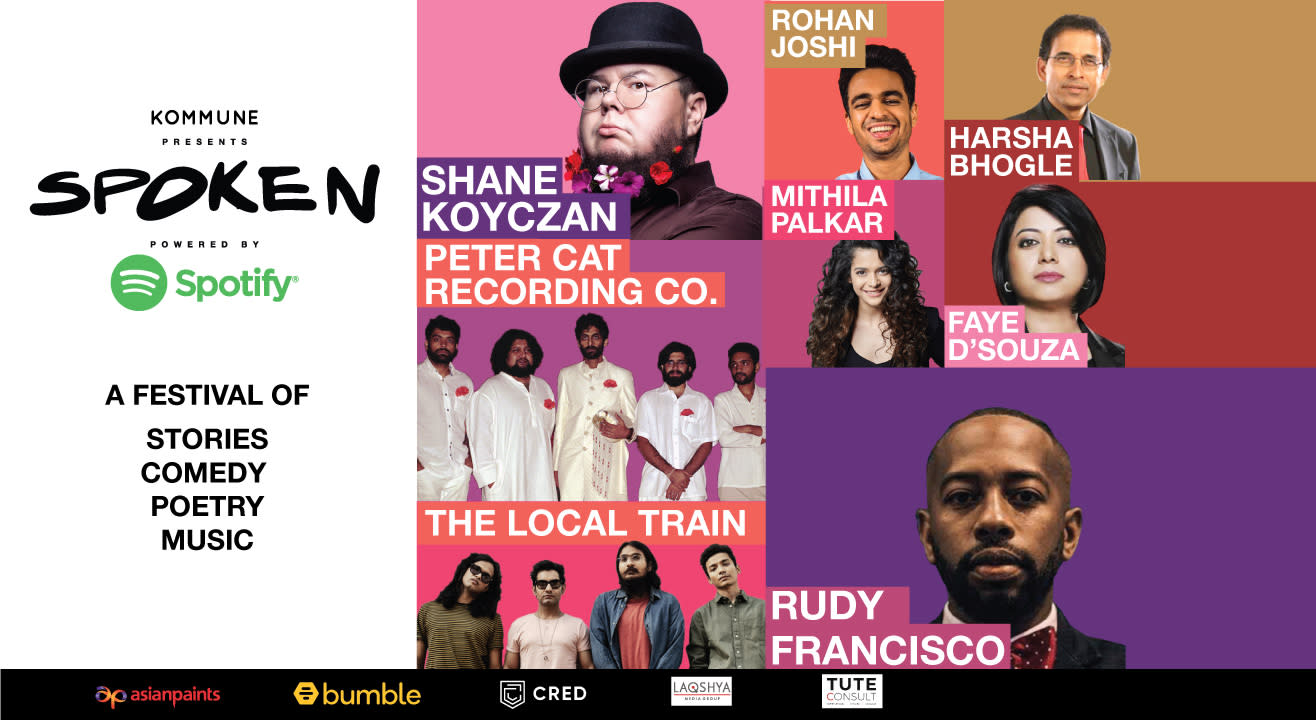 January 11 - 12 | 2PM - 10PM
Step out and enjoy this event
Invite your friends
and enjoy a shared experience
January 11 - 12 | 2PM - 10PM
Step out and enjoy this event
Invite your friends
and enjoy a shared experience
Invite your friends
and enjoy a shared experience
Spend a weekend under the stars as words fill Mumbai's crisp January air with love, warmth and real human stories.
Let artists, comedians and storytellers like Amol Parashar, Jasmine Khurana and Rupesh Tillu weave worlds around you with their words. Feel the deep, intense meaning hidden behind every syllable spoken by poets like Megha Rao, Rudy Francisco and Shane Koyczan. Be swept away in the soul-stirring music of Slight Diversion and Samar Mehdi.
All the while, surrounded by people exactly like you yet different.
Each a wonderful piece of this puzzle we call humanity.
Each hiding their own story.
Stories waiting to be Spoken.
The Local Train
The Local Train is a Hindi Rock Band from New Delhi who write and produce their own music. The band launched 4 singles over a year before releasing their debut album 'Aalas ka Pedh' in 2015. Their second album 'Vaaqif' was released in January 2018 which generated very promising sales and was one of the most streamed independent albums on Apple Music India. Post the success of their albums, TLT witnessed a huge demand for their live shows and are frequently invited to perform for their fans all over the country.



Peter Cat Recording Co.
Formed in New Delhi around 2010 by the crooner Suryakant Sawhney, PCRC is a group that's mutated over time, shedding members and accruing more, always evolving musically with each album.



Rudy Francisco
Rudy Francisco is one of the most recognizable names in Spoken Word Poetry. Rudy Francisco seeks to create work that promotes healthy dialogue, discourse and social change. Furthermore, Rudy has made conscious efforts to cultivate young poets and expose the youth to the genre of Spoken Word Poetry via coaching, workshops and performances at preparatory schools and community centers. Rudy has also received admiration from institutions of higher education. He has conducted guest lectures and performances at countless colleges and universities across the nation.



Shane Koyczan
In 2010, the world caught a glimpse of Koyczan's prodigious talent with his presentation at the opening ceremonies of the Winter Olympics in Vancouver. Shane had been an artist, inches away from living on the street, who even in those troubled times was putting out work like To This Day, a video that's garnered 24 million views and is used worldwide in classrooms as a teaching tool, as well in speech and forensic competitions. His second book, Stickboy, was adapted into an opera by Vancouver Opera. His voice has been sought after by luminaries like George Miller, who worked with Shane on Mad Max: Fury Road. Koyczan also created the piece, Shoulders, which he toured with David Suzuki as part of The Blue Dot Tour, a movement to enshrine environmental rights in the constitution. A collaborator with artists such as Ani DiFranco, Dan Mangan, Tanya Tagaq, and others, Koyczan has elevated the art form of Spoken Word from its humble beginnings in after- hour cafes to stages both grand and distant. Shane brings an authenticity to his work that connects with audiences, as evidenced by his fiercely honest TED Talk, which highlights the kind of humanity he brings to each performance.



Mithila Palkar
This 26-year-old Mumbai girl has taken the web by storm, she's the new age internet superstar. Her career kick-started with Filter Copy's 'News Darshan', and was followed by a couple of sketches on the same channel. She bagged her 1st full length web series titled 'Girl in the City', where she plays a girl who is new in Mumbai, on UTV network's Bindass channel. They have successfully completed the 1st sand 2nd Season. She has set her foot in Bollywood with "Karwa" opposite Irfan Khan. Her latest release is "Chopsticks" with Abhay Deol and "Little Things 3" on Netflix.



Slight Diversion
Slight Diversion seem to write intensely personal songs that speak to the complexities of the human heart. In joy, in time, in close up. The spare guitar work and haunting backing vocals support a lyrical structure and delivery that springs from that impulse when emotion and perspective are distilled into music. Their work shuns the pop vocabulary and generalities and speaks to that midnight moment when only truth remains. These are songs about time, honesty and hope. These are songs for grown ups.



Rohan Joshi
Rohan Joshi is a writer, digital creator and a popular Indian stand-up comedian. Starting off as an open micer and writer in 2010, he cut his teeth writing award shows like the Filmfare awards. In 2012 he helped found AIB, one of India's first and largest independent online content creators. He is currently working on his next stand-up special.



Taba Chake
A dreamer from a small town called Doimukh in Arunachal Pradesh, Taba Chake's music has made waves around the country. Having grown up in a Nyishi tribal family; his music inspired by tribal folklore, birds and nature played with his signature finger-style guitar sound have settled into people's hearts with quite a degree of permanence.



Varun Grover
Varun Grover is a standup comedian, lyricist, short fiction, and screenplay writer based in Mumbai, India.



Yahya Bootwala
Also known as the lover boy in the poetry circuit, Yahya Bootwala rose to fame after his piece "Shayad Woh Pyaar Nahi Hai" went viral on the internet. With 10M+ views, he is the most viewed Spoken Word Artist in Asia. He has also given two TEDx Talks. Not just this, he is an aspiring actor, storyteller and has worked with Radio Mirchi. He is also one of the founder writers at "Once Upon A Conversation" This night turned shayar is a Theatre Enthusiast.



Hari Sankar
Hari Sankar is a powerhouse who graduated in Bcom(H) from Shri Ram College of Commerce, Delhi University, co-founded Beatmap and found love for performing arts along the way. Though he kick-started as an entrepreneur, he eventually started juggling that with his new found flair for storytelling. On further exploring his talents, Hari became a TedX speaker, a vivid storyteller and an excellent corporate trainer. He has performed all around the country and captivated hundreds of people with his stories.



Spitfire
Inspired by the likes of rapper-poets like Bohemia, who deftly spoke to the world in a language comfortable to them, Spitfire overcame his self-consciousness about his English and started working on rhymes for all the Hindi and Urdu poems he had scribbled over years in his notebooks. Thus began Spitfire's journey into underground hip-hop in India. His lyrical fluency and way with words became apparent with his contribution to Gully Boy, for which he wrote most of the protagonist, Murad's rap battles His single for the feature, 'Asli Hip-Hop' was used to introduce a Bollywood dependent audience to the real value of Spitfire's beloved genre.



Rupesh Tillu
Rupesh Tillu is an actor, director and independent film-maker, born in Mumbai India. He holds MFA in Physical Comedy from The National School of Dramatic Arts, Sweden.



Vipul Rikhi
Vipul Rikhi is a singer, poet, fiction writer, translator and Tango dancer! He's been immersed in the oral traditions of Kabir and other Bhakti and Sufi poets for over a decade.



Sainee Raj
Sainee Raj is an actor-writer who wrote the award winning short films "Int. Cafe - Night" and "The Last Day". She finds poetic justice in words, and is obsessed with everything Gulzar saab and Urdu.



Shruti Vyas
Shruti Vyas is an actor and artist, who loves learning anything that is artistic - acting, singing, dancing, cooking and writing. What she loves most about writing is that it enables her to say all those things that she's not otherwise allowed to say. Because sometimes life doesn't give you the courage to express yourself freely, but art always does.



Amandeep Singh
Amandeep Singh is a storyteller and writer who has reached over 20 million people online with his stories. Having been featured by Netflix, Buzzfeed India, The Indian Express and many other media houses, Amandeep is a regular at festivals across the country.



Amol Parashar
One of the most loved actors in the digital space, you probably know Amol as 'Chitvan Sharma' from the superhit web series TVF Tripling. What you get in person is someone as witty, charming and delightful, if not more.



Anshu Mor
A stand up comedian, an entrepreneur and most importantly, a storyteller. His versatility with spoken word will crack you up and warm your heart all at once.



Megha Rao
Megha Rao is a confessional poet and a surrealist artist. Her two fiction titles were published by Penguin Random House India in 2015 and 2016 and her work has been featured on platforms such as Firstpost, The Open Road Review, New Asian Writing, Homegrown and more.



Kausar Munir
A contemporary lyric, dialogue and screenplay-writer, Kausar Munir has scripted lyrics for scores of films such as Ishqzaade, Youngistan and Dear Zindagi and penned dialogues for Bajrangi Bhaijaan and Begum Jaan among others.



Gaurav Tripathi
Gaurav Tripathi is a Hindi spoken word poet and storyteller. His writing leaves you introspecting, much like his famous piece 'Lord Ram In Court' does.



Priya Malik
Priya Malik is a lot of things—a TedX speaker, an actress, a columnist, a teacher, a comic and more—but most importantly a writer/performer whose recent viral works such as Right to Pleasure and Dear Mr Player are a testimony to her distinct voice.



Jasmine Khurana
From a geeky economics professor, now dancing to the real soundtrack of her life as a writer and Spoken Word artist. Best known for her piece 'Banter Between Generations' that she performs with her son.



Sumit Roy
Roy is a tri-lingual rapper and a visual artist currently based out of New Delhi. With his art, he confronts the reality of an industrialized nation while occupying the Indian context, Sumit Roy juxtaposes an aspirational visual universe and the cult of global stardom with quotidian sights and attitudes from his immediate locale. The same approach extends to his music, where he uses the subversive, trans-continental form of hip hop to articulate ongoing contemporary political anxieties in India. As an artist working with sound, text and image, he is able to tap into a range of sensibilities while defying them all.



Karan Deshmukh
Assisted at the Coke studio &Mtv unplugged. Worked With Ar Rahiman, Salim Sulaiman, Benny dayal, Papon & Jason Derulo. Band member in- Karsh kale, Alif, rhapsody, nihira joshi. Has solo electro fusion acts. 15 Million Plus Views on YouTube other social media for the Game of Thrones Tabla Cover. Tedx speaker. Acts in Short Films, and Movies.



Sriti Jha
In the last 12 years, Sriti Jha (@itisriti) has entertained millions of people with her performances on television shows like India's Dhoom Machao Dhoom and Kumkum Bhagya. She has won various awards like Aadhi Aabadi Women Achiever Award, 6th GR8 Women Awards, Zee Rishtey Awards, Indian Telly Awards, Bollystar Vazana Awards (indonesia) and others. Armed with a newfound love of poetry, Sriti is set to warm your hearts at Spoken.



Samar Mehdi
Samar Mehdi is a percussive finger-style guitarist and singer-songwriter from Bhopal. He released his debut EP 'Urooj' in April which received a rave response and appreciation for its underlying wisdom and honesty.



Mahitha
Mahitha swapped her life in Chennai as an etiquette columnist & trainer featured in a 'top 10 in the country' list, for one in Mumbai, hanging about backstage at rehearsals, making tea and checking to-do lists, when, luck by chance, she landed her first screen role in Sacred Games, playing Dr.Ponnuthai nuclear scientist, aka the Bomb Aunty.


Set your voice free and learn how to create podcasts.
Clown around with a professional clown as they show you the secrets of clowning.
Let a storyteller show you how to find your language of art and deal with your inner critic.

From fanfiction writing to coffee cupping, there's a workshop for everyone at Spoken.
At Spoken, you will experience warmth, joy and a full-on rollercoaster of emotions.

You will make new friends and find new ways to connect with old ones.
You will be caught by surprise as poets share experiences that sound eerily like your own.
You will wonder at the craft of storytellers, being vulnerable, funny and articulate all at the same time.
You will find yourself moving to songs you can't quite understand but whose meaning you feel deep in your heart.
But most importantly, you will realise that you are not alone.

Spoken is a Safe Space.

We strive to make storytelling and performing art spaces in India accessible to everyone. We embrace diversity and encourage participation of artists from all different kinds of linguistic groups, ethnicities, and cultures. We are committed to providing a safe environment for all participants of the festival and make it free from discrimination on any ground, and from harassment, including sexual harassment. We will operate a zero-tolerance policy for any form of sexual harassment. All incidents and complaints will be taken seriously, treated with respect, in confidence and promptly investigated. No one will be victimized for making such a complaint.
We'll see you there.

Love,
Team Spoken.
Words, Celebrated: Spoken Fest 2019 Aftermovie
JioWorld Garden
Plot No: RG1A, G Block, Bandra Kurla Complex, Bandra East, Mumbai, Maharashtra 400051
GET DIRECTIONS
January 11 - 12 | 2PM - 10PM
Step out and enjoy this event
Invite your friends
and enjoy a shared experience