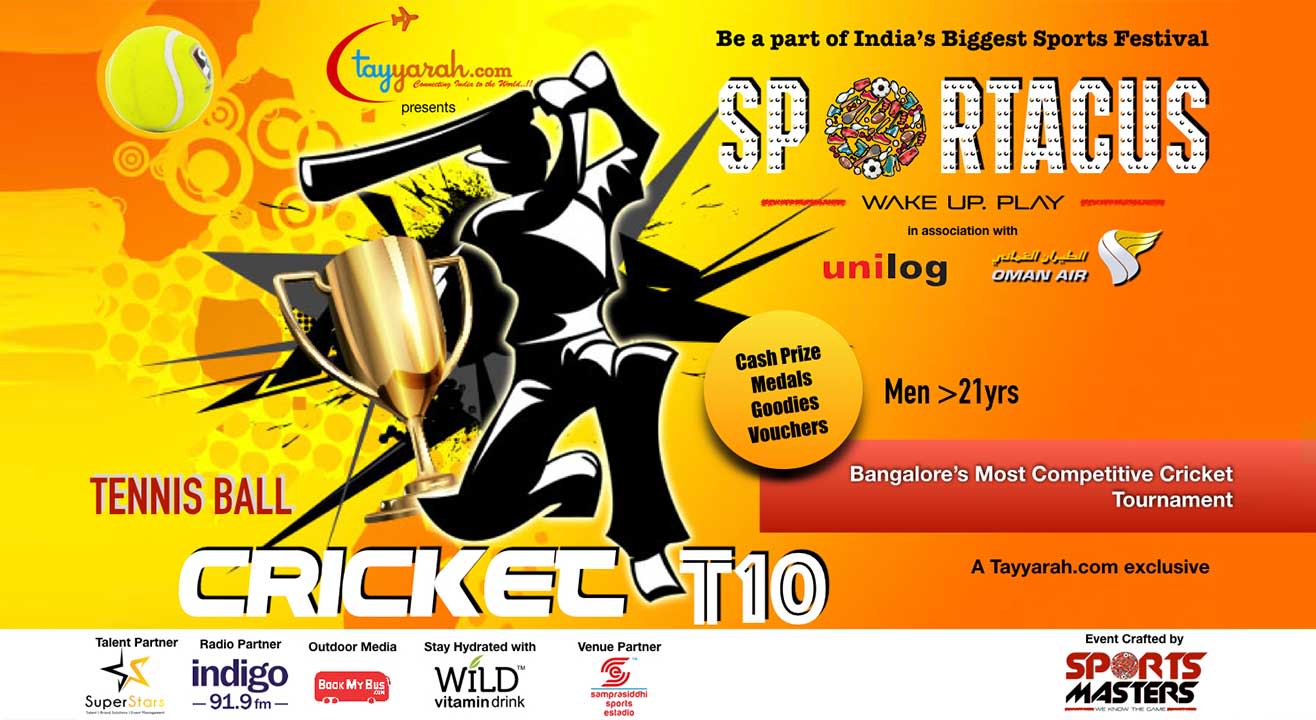 Cricket
Sportacus | Cricket T10 - Tennis Ball - Open To All > 21 yrs
Samprasiddhi Sports Estadio
About
Sportacus is a mega sports festival with multiple sports, open to every size and kind of business, institution or organization, and to every individual person above the age of 21 years


Sportacus is targeted towards promoting a healthy lifestyle, and urges you to make your weekends sporty & healthy!

So, wake up and play!

Cash rewards, medals, goodies and vouchers for winners and runner-ups in all sports.

So come on, be a sport, play a sport


Categories: Only Men > 21 years

Squad size: 12 members (minimum 10)

Schedule:
21st July - 29th July 2018; Saturdays & Sundays only

Format: League cum knockout. Minimum 2 league matches.

1st Prize: Rs 10000 + Trophy + Certificate + vouchers
2nd Prize: Rs 7000 + Trophy + Certificate + vouchers

Man of the Finals: Rs. 1500 + Certificate + vouchers
Captain Cool: Rs. 1500 + Certificate + vouchers.
Games are played between two teams of 10 players
Each game consists of a maximum of 8 overs bowled by each side
Maximum 2 overs per bowler - 4 bowlers
A tournament points system awards two points for each match won
All matches upto Quarter-Final stage will be played on a round robin league basis
Only one team from each group will qualify to the knock-outs
All other standard rules of Cricket will apply
All matches will be played with hard tennis ball.
Cash prize & trophies for winner & runner-up
T-shirt for all participants - 12 members
Wild Vitamin - water beverage
Drinking water.
Lunch/snacks (can be purchased).
Venue
Samprasiddhi Sports Estadio
#14 thirumenahalli opp Haj Bhavan main road, Thanisandra, Bengaluru, Karnataka 560064