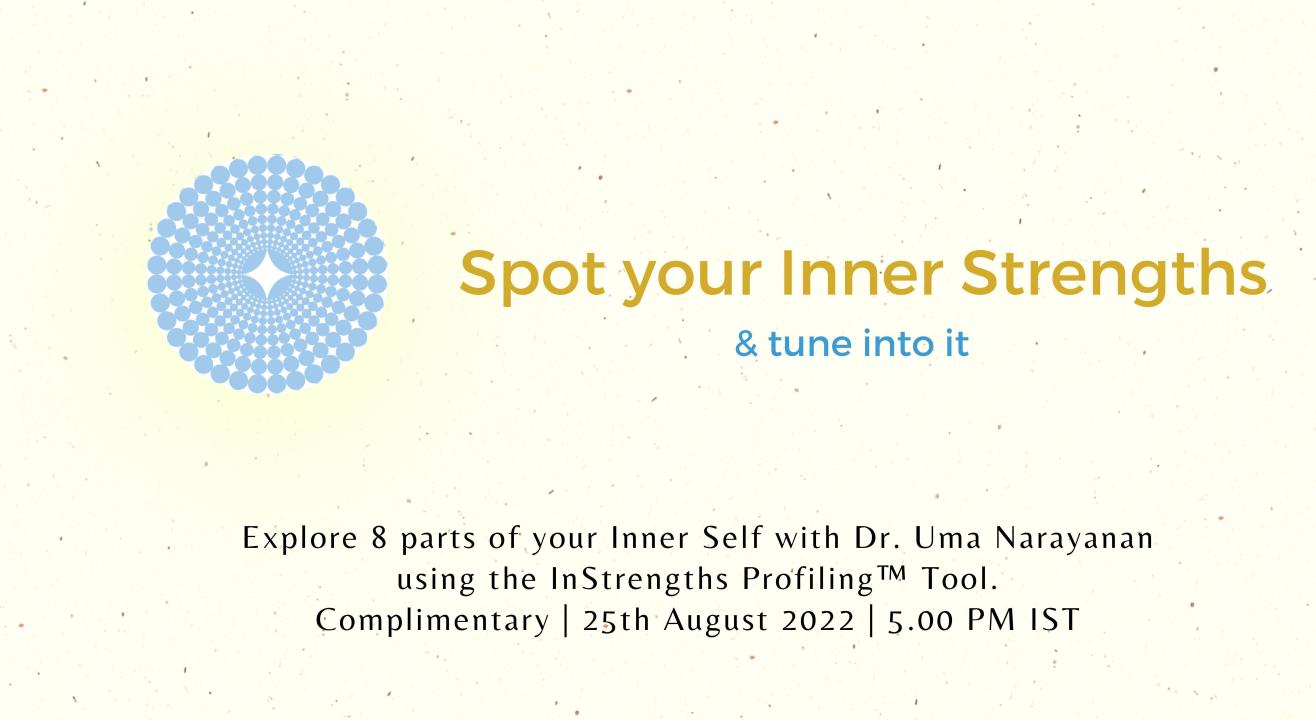 Spot your Inner Strengths with Dr. Uma
Enjoy this event from your home
Event Guide
Live Fitness
Workout with a pro
Invite your friends
and enjoy a shared experience
Spot your Inner Strengths with Dr. Uma
Enjoy this event from your home
Event Guide
Live Fitness
Workout with a pro
Invite your friends
and enjoy a shared experience
Event Guide
Live Fitness
Workout with a pro
Invite your friends
and enjoy a shared experience
"What we put our attention on expands in our awareness"
Being self-aware and not be consumed by it. Being present and able to make those 'in the moment' shifts to better handle our external actions and behaviours. How does that look like and how do we act from it? For these, one's own inner awareness of different parts within us is critical and self-empowering.
Spot your Inner Strengths Workshop is an opportunity for you to tune into 8 parts across your mind, body, energy & deeper self. Get to know yourself in a different way and touch the richness of each part of inner-self.
We use the InStrengths Profiling™ Tool - as your guide to look within, gain insights about ourselves and our interactions in life and work. We use InStrengths Lite for the workshop (complimentary overview of your 8 Parts of Being).
For a good immersion, Join Dr. Uma Narayanan as we tap into and craft practices for our resourcefulness and external excellence. 25th August 2022, 05:00 - 06:00 PM IST.
Take this time for your own self-awareness and self-leadership.
Spot your Inner Strengths with Dr. Uma
Enjoy this event from your home
Event Guide
Live Fitness
Workout with a pro
Invite your friends
and enjoy a shared experience