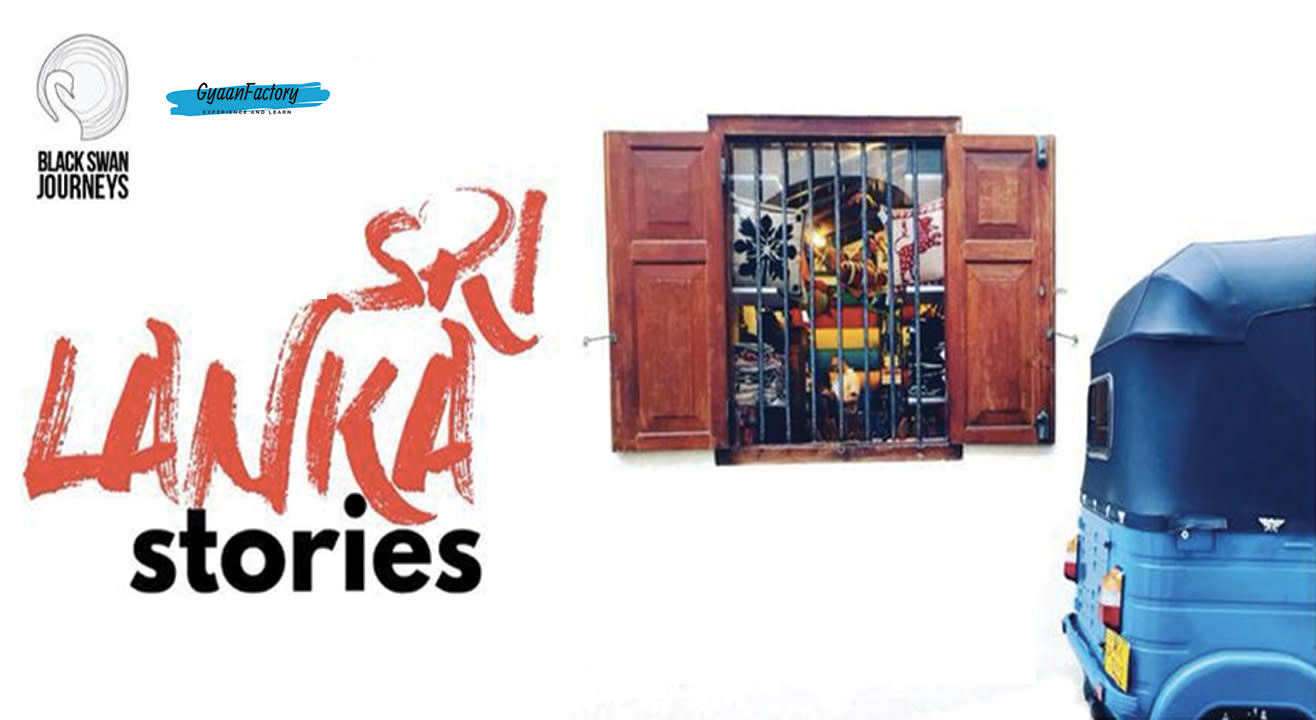 Experiences
Sri Lanka Stories | Food, history & a festival
About
A guided sojourn through the beautiful island of Sri Lanka, where we explore the island for its rich history and traditions.
Curated by Archaeologist & Culinary Anthropologist Dr Kurush F Dalal and food blogger and entrepreneur Rhea Mitra-Dalal, and led by Dr Kurush Dalal, this trip will lead you through the landscape, art, architecture, history, and cuisines of Sri Lanka. Also, witness the sublime yet colourful festival of Esala Perahara that commemorates the arrival of the Sacred Tooth Relic of the Buddha from India.
Architecture
See the works of the celebrated contemporary architect, Geoffrey Bawa, whose love for the built form and nature combined to globally revolutionise tropical architecture. Also, see the grandeur of ancient Anuradhapura built by architects unknown.
History
An expert guided tour to the dramatic Sigiriya fortress majestically perched on a rocky outcrop, and the iconic Temple of the Tooth, will provide insights into the engaging myths and history of Sri Lanka. Witness the extravagant festivities of Esala Perahara at this temple
Cuisine
Take a gastronomic journey through the country visiting a coffee boutique, spice plantation, cooking class, and curated dining experiences
Accommodation and Meal Plan as per shared itinerary (B = 8,L = 3, D = 7)
Private air-conditioned coach and an English-speaking Guide as per shared itinerary
Meet and greet at the Colombo airport
Exclusiveexpert guided visits with Dr KurushDalal
Guided visits as per itinerary with entrance fees as per program
Cooking demos as per itinerary
Visit Anuradhapura with an Archeologist
Bottle of Water and welcome flower garland on arrival
Sri Lanka government taxes and service charges
19th August 2018| Arrival in Colombo (B, D)
On arrival at Colombo airport, our local representative will receive you. You will then travel to Unawatuna – a beach side town brimming with activity. (Approx. 130kms,2.5 hrs.). En-route there will be a stop for breakfast (packed).
On reaching Unawatuna, you may check in and freshen up. *Early check-in is subject to availability.
Post lunch (on your own), we take an hour's drive to Matara – a booming city which will give you a unique peek into Sri Lanka as it is quite off the tourist radar. On arrival here we first visit the Matara Star Fortress – located on the banks of the Nilwala River. Built by the Dutch, its unique architecture guarded it from all sides during attacks.
Later we visit the Geoffrey Bawa designed Ruhuna University building, which was built by the Dutch contractors and took about 8 years to complete. Here you will explore the history and architecture of this building with an expert.
Post this visit, you will return to your stay. Dinner and night spent at Unawatuna.

20th August 2018| Unawatuna (B, D)
After an early breakfast at the hotel; you will board your transfer for your explorations to the west of Unawatuna.
An hours drive will take you to Balpitiya for a guided boat safari on the Madhu River and a visit to a Cinnamon plantation and factory. A rural rustic exploration in this tiny fishing village of Balpitiya, awaits. From here you will cruise on the Madhuganga river through wetlands and imposing mangroves. A pit stop on one of the islands will give you an insight into the Cinnamon plantations. (Carry hats and rain wear. Floaters are recommended)
On return to dry land, you will proceed to visit the wooden Mask Making Museum in Ambalgonda and learn about the techniques of this traditional art form.
Break for lunch (on your own).
Post lunch, you will drive to Galle – a historic city with a European vibe. On arrival, enjoy a guided visit to the Galle Dutch Fort – A UNESCO world heritage site that is surrounded by the ocean on three sides! Later proceed to visit the Galle National Museum – established in one of the oldest Dutch buildings.
Post the visit, drive back to Unawatuna. Dinner and night spent at Unawatuna

21st August 2018| Unawatuna to Colombo (B, L, D)
Enjoy breakfast at your stay, checkout and board your vehicle for an approximately 2-hour drive to Colombo.
On arrival, head straight to your cooking demo at a restaurant. Here, you will explore the culinary delights of Sri Lankan cooking.
Post the cooking demo, indulge in a mouthwatering lunch with some of the dishes you made during the demo. Later drive to your stay, check in and freshen up. Standard Check-in is at 1400hrs.
Later you will visit the Dutch Hospital – located in the Fort area, considered to be on of the oldest building in the fort. It has been transformed into a shopping and dining precinct but the historic architecture has been preserved.
Post this visit, enjoy a guided Colombo City tour –where you will view some of the must-see sights on a panoramic drive through the capital.
You will enjoy a Local Dinner in a traditional setting at Nugagama or the Banyan Village located in the Cinnamon Grand Hotel. This will give you a unique insight into the culinary world of rural Sri Lanka. It is also considered to be Asia's first carbon neutral venue.
Later, drive back to your stay.
Night spent at Colombo

22nd August 2018| Colombo – Anuradhapura (B,D)
Check-out early from the stay and head straight for breakfast at the Whight and Co Café – a very popular coffee place that sources its raw materials from central Sri Lanka. Interact with the restaurant manager, who will also share some insights on the coffee growing tradition in the country.
Today, you will travel to the historical city of Anuradhapura with an Archeologist. After breakfast we head to view the ruins of Anuradhapura – the first capital of Sri Lanka, which is now a UNESCO WH site and contains ruins that date back to 380 AD.
Post this we will drive onwards to Sigiriya and check-in to your stay for the next two nights.
Dinner and night spent at Sigiriya.

23rd August 2018| Sigiriya and Habarna (B, L, D)
After a leisurely breakfast at the resort we will embark on a guided tour of Sigriya – a mammoth of a rock outcrop rising from the central plains. Another UNESCO WH listed site, it is also known as the Lion's rock. Although, a rather steep climb up the rock, travelers are rewarded with some unique rock paintings and breathtaking views.
Post this, drive onwards to Habarana.
On reaching Habarana, enjoy a walk in the traditional village along with a cookery demonstration of local dishes. Enjoy a delicious lunch here
. Post the visit, return to resort and relax.
Dinner and night spent at Sigiriya.

24th August 2018| Sigiriya to Kandy; Spice Plantation visit and local cooking class (B, L, D)
After a leisurely breakfast at the resort, checkout and drive onwards to Kandy.
En-route, we break the journey and visit a Spice Plantation – you will be introduced to the various types of spices grown here and the processing techniques used to package them. You may purchase local spices here.
Later, drive onwards to Kandy and head straight to a local home where you cook some local Sri Lankan delicacies, in traditional clay pots using local ingredients. Later, enjoy lunch here in this rural and quaint setting.
Post this, drive onwards to Kandy. On arrival check in and relax. Evening is at leisure.
Dinner and night spent at Kandy.

25th August 2018| Kandy – city tour, tea factory visit and Randholi Esala Perahera (B, D)
Enjoy breakfast at the hotel. Today we have planned a Kandy City tour and a visit to the Temple of the Tooth Relic of Lord Buddha. On this tour, you visit the highlights of the city that make it one of most popular destination in the country.
Post the city tour; you will visit a tea factory and plantation for a guided tea tasting session. Break for lunch.
Later you will be able to witness the Randholi Esala Perahera – with VIP seating. One of oldest Buddhist festivals, it is an extravagant parade of dancers, jugglers, musicians, fire-breathers, and lavishly decorated elephants. The purpose of the Kandy Esala Perahera Procession is to beseech the blessings of the gods to obtain rain for the cultivation of crops and to enrich the lands of the kingdom. Witness this celebration down the roads of Kandy.
(Note: Be seated a min of 1.5hrs before the start of the parade. Kindly carry snacks and enough water to keep you hydrated till the evening.) After the parade, late at night head back to your stay. Dinner and night spent at Kandy.
26th August 2018| Pinnawala - Departure from Colombo (B)
Breakfast at the hotel and checkout. You will be transferred to Colombo airport.
En-route visit Pinnawala Elephant Orphanage – a conservation project that aims to provide a safe haven for these mammals.
Post this, drive onwards to Colombo. Break for lunch (on your own). Late evening head to the airport for your flight home.
Board your departure flight.