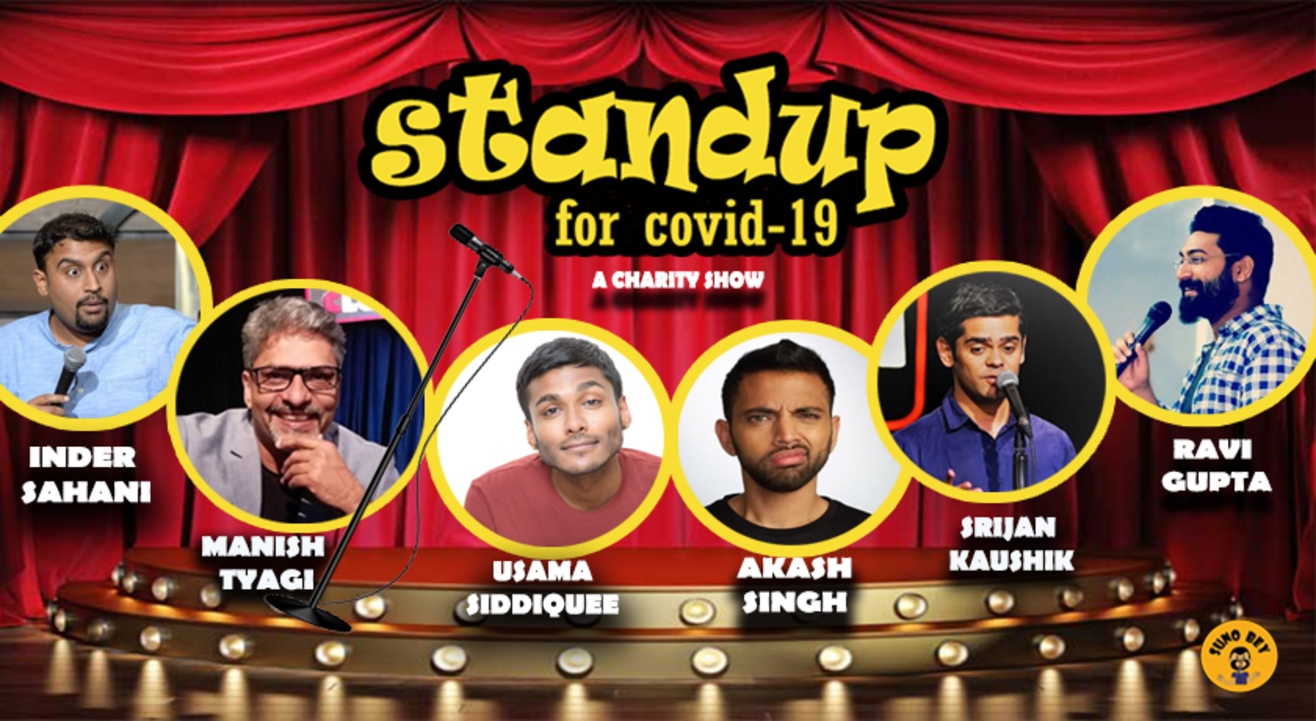 Stand up for Covid-19 l A charity show
Enjoy this event from your home
Event Guide
For Age(s)
Family Friendly
Live Performance
Enjoy a unique experience
Invite your friends
and enjoy a shared experience
Event Guide
For Age(s)
Family Friendly
Live Performance
Enjoy a unique experience
Invite your friends
and enjoy a shared experience
About the Event
A charity show for the covid-19 affected patients. Watch the best in standup from India and abroad
We are donating to Hemkunt Foundation - https://hemkuntfoundation.com/
About Hemkunt - Our journey has led to 10 years of deep transformations whilst touching lives of many. Our relentless work towards society began with a small project of running free schools in 3 districts of New Delhi. 10 years later, the year 2020 marks a milestone for our 12+ ongoing projects, especially for COVID-19 relief.
The journey from 2010 until now has not only brought countless smiles but also given our team the motivation, zeal and enthusiasm to continue to help everyone grow together- globally!
Comedians on Board-
Akash Singh- An Indian born and raised in Texas, Akaash is a nationally touring stand up comedian who is quickly working his way up to become a household name. His comedy is driven by cultural differences, an intense upbringing, and a desire to challenge the audience. He was on Fuse TV's highest rated show "Video on the Trial", and can be currently seen on "The Bracklet" on the MSG channel, and was also a cast member ofWild 'N Out on MTV2 for two seasons. Akaash was also a writer for other MTV shows such as The Hookup and MTV2 shows such as Jobs That Don't Suck. In December 2014, it was announced that Singh would be one of the new cast members of Season 5 of the MTV2 show, Guy Code. He then went on to make appearances on shows such as The Leftovers and on the second season of Joking Off.
Usama Siddique- is a Bengali-American stand-up comedian, teacher, and actor from Season 15 of America's Got Talent. He is based in New York. His audition in Episode 1502 was made up of telling jokes about his name, and him being in a relationship. Judges Howie Mandel, Heidi Klum, Sofia Vergara, and Simon Cowell all voted "Yes", sending him to the next round of the competition. His first standup television debut was on BET's 50 Central.He has been featured on Showtime's Desus and Mero, MTV's News, and Bravo's Cash Cab. He was a finalist for the 2017 New York's Funniest Competition at Caroline's and also a finalist in the 2017 NBC Standup Competition. He was the 1st place winner of the 2016 Laughing Devil Cup Comedy Festival in New York, the 1st place winner of the 2015 Yonkers Comedy Festival as well as the 1st place winner of 2015 Make Me Laugh Albany Comedy Festival.
Manish Tyagi- Manish used to be a Commander in the Indian Navy before he decided to become a Stand up Comic sometime in 2014. An Officer and a Gentleman, he has some very funny tales to tell from his life experience. His style is full of unprecedented stories blended with wit and humour.His Facebook page and YouTube channel have over 1,30,000 followers, with multiple videos having almost 2 million-plus organic viewership. His jokes have also been aired on 91.1 FM and 94.3 FM in the past. His video Le Kaun Raha Hai Be is already touched 2.6 million views on YouTube
Srijan Kaushik - Born in Delhi, brought up in Rajasthan, studied in Gujarat and worked in Bengaluru, that sums up Srijan Kaushik's identity crisis issue. This comical version of Sheldon Cooper was raised in a dysfunctional joint family, which means, lots of comedy content at your disposal. He has a perfect environment to derive his humourous anecdotes from.Generous life offered so many different scenarios and options to pursue but somehow Srijan succeeded at being mundane (he says, we don't believe) and went on to do his engineering and MBA.
Inder Sahani- 9 months and 16 days. No, he's not talking about the baby, which may seem to be fully grown by now, it's the time he has been taking comedy 'seriously'. Inder, a 34 year old looking 21 year boy, who always likes to talk in 3rd person because the first two ignored him badly. He brings in 7 years of theatre experience and an 'extremely fit' physique to entertain the audience.
Ravi Gupta - He is a Delhi based Stand Up comic who rose to fame quickly with his new viral video. His observational based desi humor, distinct dialect, and his ability to make you burst into gut wrenching laughter out of nowhere has made him one of the most sought after comics in Delhi right now. Dont believe us? Check his videos on Youtube and then come and get your tickets.